According to Vilma Juodkazien, a food expert at the Iki retail chain, quoted in the press release, veganism is often described as a plant-based diet, but it encompasses much more. Vegetarians do not eat or use animal products. Vegetarianism is a way of life. Vegetarians often talk about the health and environmental benefits of vegetarianism.
V. Juodkazyene claims that veganism is nothing new. It goes back at least to the ancient Greeks, but vegetarianism was first introduced in 1944 when Donald Watson founded the first vegetarian society in Britain.
A food expert says that some vegetarians do not eat meat, fish or dairy products, eggs, but also, for example, honey. Vegetarians also cannot eat some sweets, as many of the most popular mass-produced products contain animal-derived gelatin.
Unexpected combinations
It might sound different if you're not too curious, but in reality, vegans don't just eat salads or different grains. Vegetarian, plant-based steaks, burger patties, ground meats, sausages or cheeses abound these days. Those who have more time at home can easily make buckwheat, other favorite cereals, bean steaks or meatballs.
Blog Archive Photo. /Seitan on Cauliflower Rice in Sweet and Sour Sauce
Seitan, also known as "wheat meat," is becoming more and more popular among vegetarians. According to the food expert, in the traditional way of making seitan, the wheat dough is washed with water until the starch granules are removed. It looks a lot like chicken or soy meat, and the taste is slightly similar, but in most cases, seitan is the type of seasoning used in cooking.
Another popular vegetarian product is soy tofu cheese. Tofu is commonly found in East and Southeast Asian cuisine. Due to its delicate taste, tofu is easy to use in the preparation of various dishes: it is used to season soups and spreads. Tofu is added to salads or other vegetable dishes.
V. Juodkaziene shares some simple recipes that will appeal not only to vegetarians or vegans, but also to meat eaters.
Lentil puree soup
Composition:
1 cup of lentils;
1 medium onion;
2 carrots;
2-3 cloves of garlic;
1 can of canned tomatoes;
a few leaves of cabbage;
a slice of lemon juice;
cumin;
curry powder;
salt;
angle;
olive oil.
Create:
1. Prepare the vegetables: finely chop the onion, rub the carrot on a fine grater. Wash the cabbage.
2. Heat the pan, add olive oil. Fry the chopped garlic, add carrots and onions and fry until the vegetables are soft. After cooking, take the cabbage leaves and fry them in the pan.
3. Put carrots, onions and cabbage in the pot. Add the chopped canned tomatoes. Boil the whole mass a little.
4. While the vegetables are cooking, boil a cup of washed lentils in a separate pot. When they are cooked, pour them into a pot with vegetables and rub the entire mass of soup with a blender.
5. Add cumin, curry, salt and pepper and cook for another 20 minutes. at low temperatures.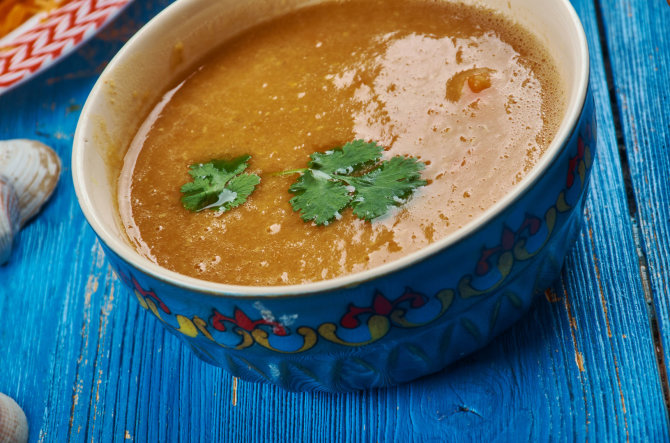 Vida Press Photo/Red Lentil Soup
Buckwheat flour pancakes
Composition:
150 g buckwheat flour;
1 tea. spoon of baking soda;
a pinch of salt;
250 ml of almond milk;
1 tea. spoon vanilla sugar;
a pinch of cinnamon;
1 tablespoon. spoon of coconut oil.
to serve:
120 g of raspberries;
10 fresh mint leaves.
Create:
1. Mix all the ingredients specified in the recipe in a deep bowl, cover the dough and keep it at room temperature for about half an hour.
2. Heat a pan, melt coconut oil and cook pancakes – about half a spoonful of batter is enough for one pancake. Fry the pancakes on both sides until small air bubbles rise and fry lightly for another minute or two.
3. Serve with fresh raspberries and mint.