It does not matter if you buy sauces or make them yourself, it is important to consider their composition and nutritional value, after all, sauces are part of our diet – they can be rich in useful and valuable substances.
As the weekend approaches, Brigitta Baratinskaite, Head of Food Production at Maximos, shares three recipes for homemade sauces in a press release. They are perfect for the summer table – various dishes, salads, vegetables and hamburgers.
Spicy curry sauce
This hot sauce is well known to those who like hot sushi because it is often served with it. However, Karai sauce goes well with meat dishes, stir-fries, Buddha bowls, and even grilled salmon or other fish.
Composition:
2/3 cup mayonnaise;
2 tablespoons. a spoonful of Sriracha hot pepper sauce (the amount is given in advance, adjust its amount according to the desired spiciness);
1 tablespoon. a spoonful of lemon juice;
1 tablespoon. spoon of sesame oil.
Create:
Put all the ingredients in a bowl and mix well.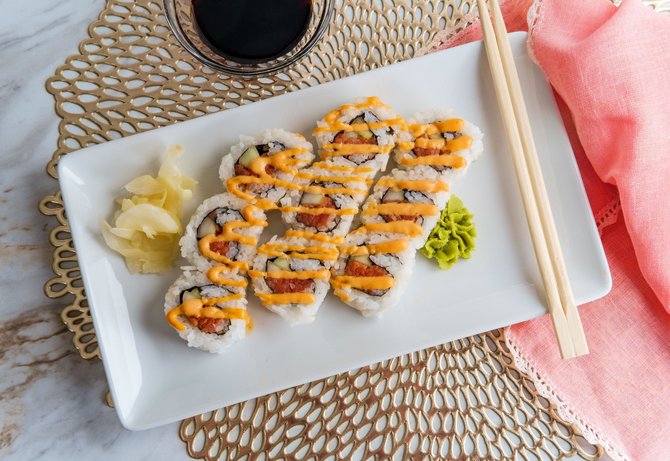 Vida Press photo/Karai sauce is usually served with sushi
Burger sauce with secret ingredients
Composition:
0.5 cups of mayonnaise;
2 tablespoons. a spoonful of pickled or pickled cucumber puree;
1.5 tbsp. a spoonful of mustard;
0.5 tbsp. spoon barbecue sauce;
1.5 tbsp. spoon of apple cider vinegar;
0.5 tea. a spoonful of garlic powder;
0.5 tea. spoon of onion powder;
0.5 tea. a spoonful of paprika powder;
a pinch of salt.
Create:
1. Cucumber puree is what a food production expert calls the secret ingredient of this sauce. You can make a puree by grating a short pickled or pickled cucumber and slightly straining the liquid.
For this you will need: 2 cups of chopped cucumber, half a cup of chopped onion, half a cup of vinegar, a quarter cup of sugar, 1 teaspoon of corn flour mixed with water, a pinch of fennel, mustard and coriander seeds.
Mix the chopped cucumber and onion with a teaspoon of salt and pour into a strainer placed over the bowl. Separate the juices and drain for about 3 hours. Then drain the liquid from the bowl and wrap the cucumber and onion mixture in a cloth and press.
Pour the vinegar, sugar, and a little salt into a small saucepan and heat, stirring constantly, until the sugar dissolves. Then reduce the heat and cook for another 3-4 minutes. Pour the cucumber and onion mass into the pot, heat for about 2 minutes while stirring. Add the cornstarch puree and mix for about 1 minute. Remove the pot from the oven, transfer all the contents to a bowl, add spices. Do not close. Cool completely – at least an hour and a half. This secret sauce ingredient is best made the night before and enjoyed the next day.
2. When the cucumber puree is ready, mix it with mayonnaise, mustard, barbecue sauce, apple cider vinegar, seasoning powder and salt. Then keep the sauce in the refrigerator for at least an hour.
If you plan to use this sauce for salads rather than hamburgers, make it more liquid – add a little milk or rice vinegar.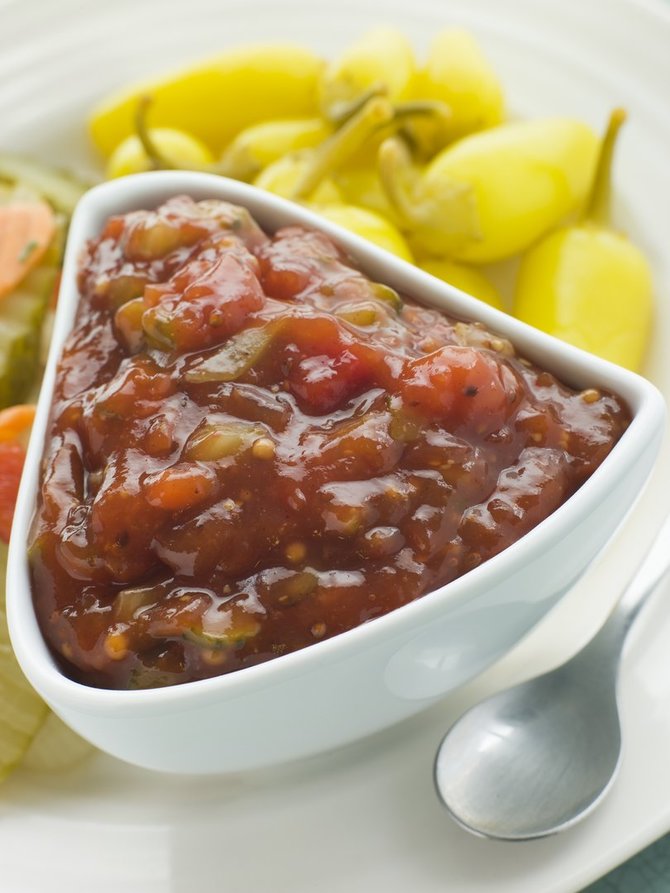 Photo by Vida Press/Tomato Sauce
Vegetarian thousand island dressing
You can use this sauce instead of butter when making sandwiches. It goes well with French fries, roasted vegetables and salads.
Composition:
0.5 cups of vegetarian mayonnaise;
1 tablespoon. a spoonful of ketchup;
0.5 pickled or pickled cucumber (cut);
1 tablespoon. spoon Dijon mustard;
a slice of lemon juice;
1 tea. a spoonful of maple syrup or liquid honey;
a pinch of salt;
a pinch of smoked paprika powder;
a pinch of onion powder;
a pinch of garlic powder.
Create:
Combine everything in a container and mix well. Before serving, the sauce can be kept in the refrigerator for half an hour.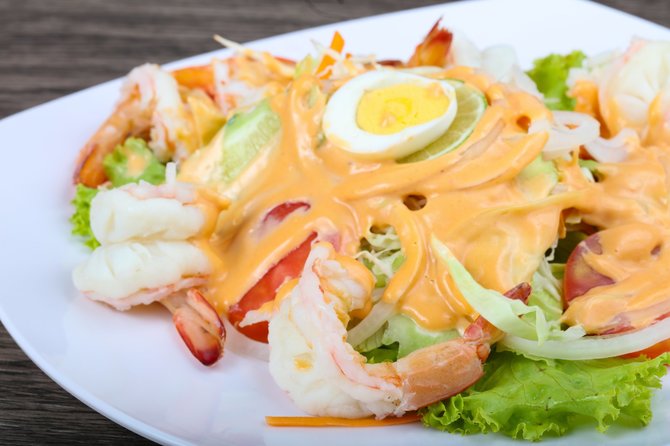 Vida Press Photo/Thousand Island Salad