Council no. 1: Wash gently but gently without rinsing. Some lettuce leaves are strong, others are delicate, but none of them need to be washed under a strong stream, squeezed and crushed. It is best to fill a large bowl full of cool clean water and wash a few handfuls of greens in it.
Council no. 2: Don't forget to drain. The dressing doesn't "stick" to the wet leaves, and ultimately the flavor of the salad doesn't need that extra moisture. Dry the lettuce thoroughly in a centrifugal salad dehydrator or pat dry gently with a paper towel.
Council no. 3: Massage and soften with salt. Greens and vegetables, such as cabbage or kale (street), can be tough in a shared salad bowl. Therefore, it is better to soften them a little first. Wash it, cut it very finely (cabbage) or tear it (kale), put it in a bowl, then add salt well, squeeze it with clean hands and make a "massage". After that, leave it for a few minutes, and only then peel and pour the rest of the ingredients.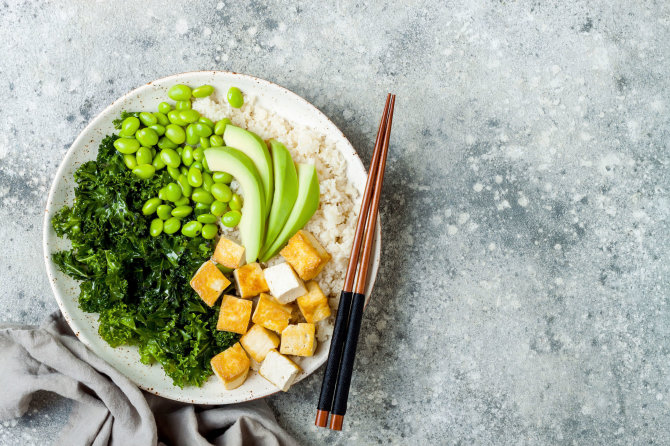 123RF.com photo/Tofu Cheese with Green Vegetables – Cabbage, Beans, Avocado and Cauliflower
Council no. 4: Don't be afraid of contrasting flavors and textures. Dishes with similar flavors and textures on the plate are a safe bet, but don't shy away from surprises and more interesting combinations. Try to combine hard and soft leaves of greens, if all the ingredients are soft, add sour, citrus or salt (olives, anchovies).
Council no. 5: Toast and cool if you like nuts. Various nuts – peanuts, walnuts, cashews, pistachios, almonds, pine nuts – add additional flavor and crunch to the salad. However, before you add any nuts you no longer use to your salad, it's a good idea to gently roast them until they release their delicious aroma. The nuts will toast evenly in the oven, just keep an eye on them because a minute or two is too long and they will start to brown. Cool after frying and only then add to the salad.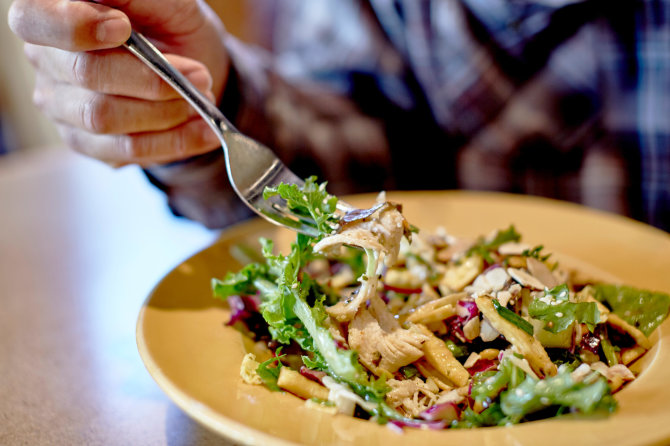 Vida Press photo/Cale salad with chicken
Council no. 6: Do not go overboard with the intensity of the sauce. In recent years, not only balsamic vinegar, but also vinegars flavored with various additives, from thyme to honey or berries, have become popular. Sure, it's fun to try new sauce ingredients, but moderation is key. If you are afraid that the salad will run out of sauce, all the ingredients are not sprinkled on it, you can dilute it a little with cold boiled water – the sauce will increase, and the taste will not be too intense.
Council no. 7: Serving and eating – wide bowls. It's no fun tossing a salad in a small bowl, so don't skimp on it and use a wide bowl with high sides for mixing and serving. Similarly, it is more convenient and tastier to eat them not from small bowls or flat plates, but from wide half bowls or bowls with high rims. It will be useful not only for salads, but also for tasting pasta dishes.
Now for your attention – ten salad recipes: