However added desserts gelatin is easy to prepare, it is useful to know a few rules, – says Thierry Lovray, confectionary expert of "Iki" trade chain, in a press release.
For example, fresh or frozen pineapple, figs, kiwi or ginger root should not be added to jelly. Because these fruits contain an enzyme called bromelain, which breaks down gelatin and loses its structure. And this enzyme is no longer active in processed fruit, so canned pineapple or kiwi is fine to use.
According to T. Lavrey, you should not use too much sugar in gelatin desserts – it can change the texture and taste of this dessert. A variety of liquids can be used instead of water to make gelatin, including fruit juice, coconut or plain milk, and various plant-based beverages. This jelly gives a creamy taste to desserts.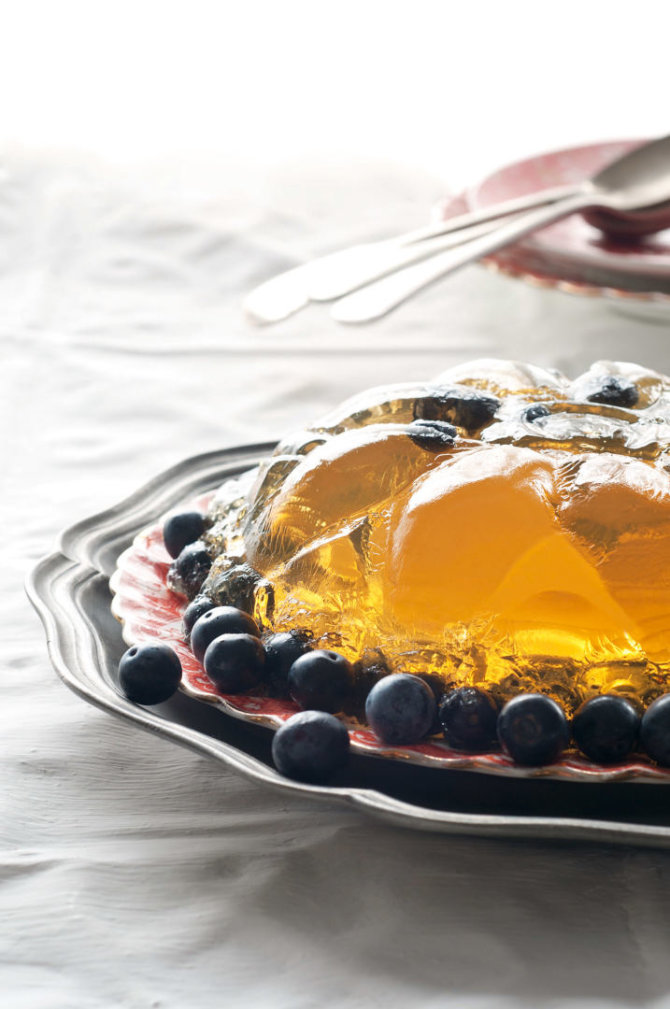 Vida Press Photo/Jelly Dessert
Gelatin is derived from animal products, so not everyone likes sweets with it – vegetarians or vegans usually avoid jelly. An excellent plant-based alternative to kitchen gelatin will be suitable for them – agar made from several types of seaweed.
T. Lavrey also shares recipes for several desserts that can use gelatin and beautifully decorate the New Year's table.
Cake with peaches
Composition:
5 eggs;
180 g of brown sugar;
50 ml of oil;
200 g of coarse flour;
2 tablespoons. spoon of cocoa
to fill:
500 g of mascarpone;
500 ml of whipped cream;
2 tablespoons. a spoonful of lemon juice;
100 g of honey;
10 g of gelatin;
1 tea. spoon vanilla extract.
to include:
500 g of peaches;
300 ml of water;
3 tablespoons. spoon of maple syrup;
2 tablespoons. a spoonful of apricot jam;
10 g of gelatin.
Create:
1. Preheat the oven to 180°C. Line a 30×35 cm baking tray with baking paper.
2. Mix flour and cocoa in a small bowl. In a large bowl, beat the egg whites until stiff peaks form and slowly pour in the brown sugar as you continue to beat. Beat for another 2 minutes, then add oil and egg yolks. Finally, while stirring, add flour and cocoa to the liquid mass and mix until the dough is smooth. Pour it into the mold and put it in the oven for 30 minutes.
3. Place the gelatin in cold water and allow it to swell.
4. Heat 100 ml of cream in a saucepan, pour in the swollen gelatin and mix until dissolved.
5. Mix mascarpone with lemon juice, honey and dissolved gelatin, add a teaspoon of vanilla extract and mix until smooth.
6. Beat the rest of the cream with a pastry brush until stiff and mix it into the mascarpone mixture. Spread this mixture evenly over the baked cookies and refrigerate.
7. Also put the gelatin powder for the top layer of the cake in cold water and let it swell.
8. Peel the washed peaches and cut them into small cubes.
9. Boil water in a pot, add maple syrup and apricot jam. When the jam starts to melt, add peach pieces, gelatin, mix everything well and leave to cool. Then pour the mixture over the cake and leave it in the refrigerator for at least 4 hours.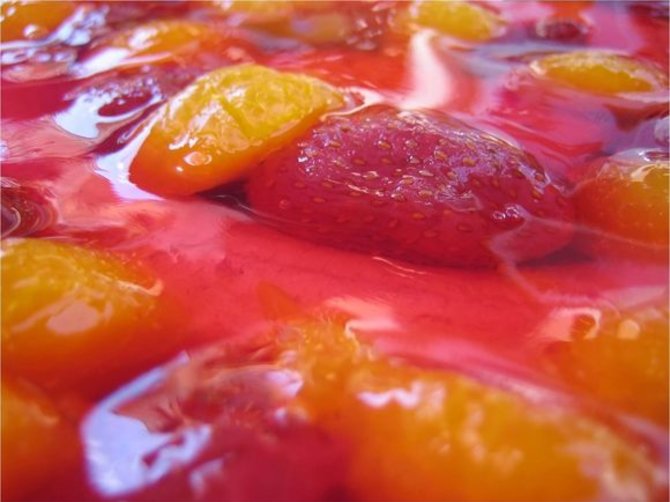 123rf.com photo/Jelly
Festive cake with berries and fruits
Composition:
for the biscuit:
120 g butter at room temperature;
180 g of sugar;
1 package of vanilla sugar;
2 eggs;
170 g of flour;
1 tablespoon. spoon of baking powder;
a pinch of salt;
grated peel of 1 orange;
125 ml of milk.
for the cream:
200 g of white chocolate;
400 ml of cream;
10 g of gelatin;
1 tablespoon. spoon of powdered sugar.
For the fruit sauce:
1 peach;
100 g of raspberries;
100 g of strawberries;
100 g of black berries;
100 g of blueberries;
100 g of red currants;
2 tablespoons. a spoonful of sugar;
100 ml of water;
fresh mint leaves (for decoration).
Create:
1. Wash the fruits, clean them, if necessary, cut them into small pieces. Put all the fruits in a saucepan with a thick bottom, add sugar and water. Cook for about 2-3 minutes, being careful not to overcook the fruit. Let them cool after cooking.
2. Prepare an 18 cm wide form for the cake, line it with baking paper, grease the edges with butter, and sprinkle with flour.
3. Cream the butter with the sugar and vanilla sugar until the mixture is creamy – this may take about 5 minutes. Add the eggs one at a time, mixing constantly. When the mass is uniform, mix slowly and add flour mixed with baking powder and milk. Add a pinch of salt and grated orange peel.
4. Pour the resulting mass into a cake mold and place it in a preheated oven. Bake at 180 °C for about 40 minutes.
5. Prepare the cream. Dissolve gelatin in water according to package directions.
6. Heat 200 ml of cream in a small saucepan. Remove the pot from the stove until it boils. Pour the gelatin into the cream and mix well.
7. Break the chocolate into small pieces and pour half of the cream and gelatin mixture over it. Let everything sit for 1 minute, then stir until the chocolate has melted and the cream is smooth. Allow the mass to cool.
8. Beat the rest of the cream, add the chocolate mass, mix a little and leave in the refrigerator for 15 minutes.
9. Baked and cooled cookies are divided into three layers, spread the resulting cream and fruit sauce on each layer.
10. Cover the entire cake with the remaining cream. Refrigerate it for at least an hour and garnish with remaining fruit and mint leaves.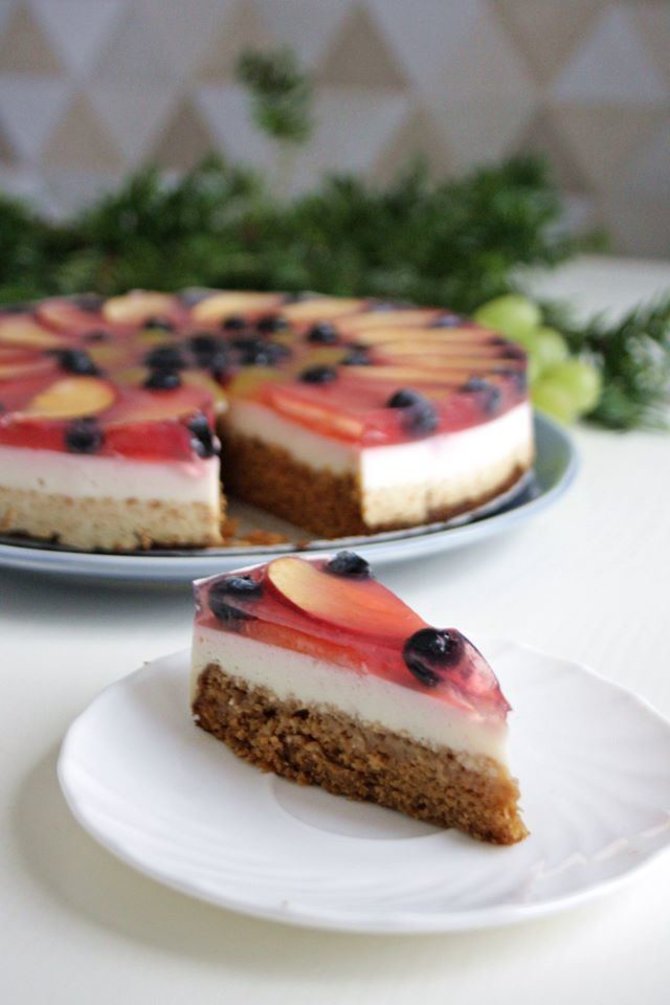 Blog Archive Photo. / New cake
Blueberry Panna Cotta Cake
Composition:
1 liter of whipped cream;
250 ml of milk;
80 g of sugar;
20 g of gelatin;
a little water;
2 tea. a spoonful of vanilla extract;
Grated peel of 1 lemon.
For the blueberry sauce:
400 g of blueberries;
50 g of sugar;
150 ml of water;
2 tablespoons. a spoonful of lemon juice;
1 tea. spoon corn starch;
5 tablespoons of cold water;
10 mint leaves.
Create:
1. Mix gelatin with water and leave to swell.
2. Pour milk and half a liter of cream into a saucepan, add sugar, ground lemon peel and heat the mixture. When the mass boils, reduce the heat and boil for another 2 minutes. Then remove the pan from the heat and add the swollen gelatin while stirring a little. Once the gelatin has dissolved, add the vanilla extract and the remaining cream to the saucepan.
3. Pour the prepared mass into a spiral silicone cake mold and let it cool for a couple of hours at room temperature. After that, send the panna cotta to the refrigerator and leave it for 8 hours.
4. For the blueberry sauce, combine 200g blueberries, sugar and water in a stainless steel saucepan and heat over medium heat for about 5 minutes.
5. Grind the resulting blueberry mass with a blender, then add lemon juice and cornstarch dissolved in water while reheating on low heat. Heat, stirring, until sauce thickens. Then remove from heat and let cool.
6. Remove the hardened panna cotta from the refrigerator, carefully invert it and remove it directly from the silicone mold onto a serving plate. Pour the blueberry sauce over the top and add the remaining fresh blueberries.