Freeze, drink, stuff, wrap, bake, eat alone, make a salad or salsa – sweet melons are unique and versatile, as they are suitable not only as a delicious snack, but also as a delicious addition to holiday and everyday meals.
Among Lithuanians, melons are more popular than many other fruits and berries that we love. According to Vaidas Boudrien, the communication manager of the "Iki" trade network, however it is a great refreshment among shoppers on hot summer days melons popular in all seasons.
"Melons travels to store shelves from sunny countries: Brazil, Italy or of Spain. "They are usually eaten alone as a snack, but consumers combine them with delicious ingredients such as ham or various cheeses," says V. Boudrinier.
Ir tasty and valuable
Melon is popular not only in Lithuania. They are especially popular in Japan and South Korea, where they are usually served as a dessert at the end of dinner or lunch. Apparently, she is a beautiful Asian woman with glowing skinthey don't just use the fruit for themselves.
Although most valued for their taste and delicious aroma, melons are rich in vitamins for beauty and well-being.
Regular consumption of melons improves the condition of the skin: they are rich in vitamin E, which helps neutralize the effects of sunburn. In addition, melons contain skin-rejuvenating antioxidants, vitamins C, B6 and K, potassium, magnesium, copper and folic acid. In addition, this juicy fruit is completely fat-free and low in calories.
Melons are usually very long ikeep fresh. According to Jolanta Sabaitiene of Iki's fruit and vegetable department, an undamaged and uncut melon will last for about a day or two at room temperature, and if stored in the refrigerator, it can be used up to 10 days. 14 days.
Boldly combine the melon with olive oil, lime, mint, basil, honey, cured ham (prosciutto), feta, mozzarella and other cheeses.
Melon and mozzarella Buddha bowl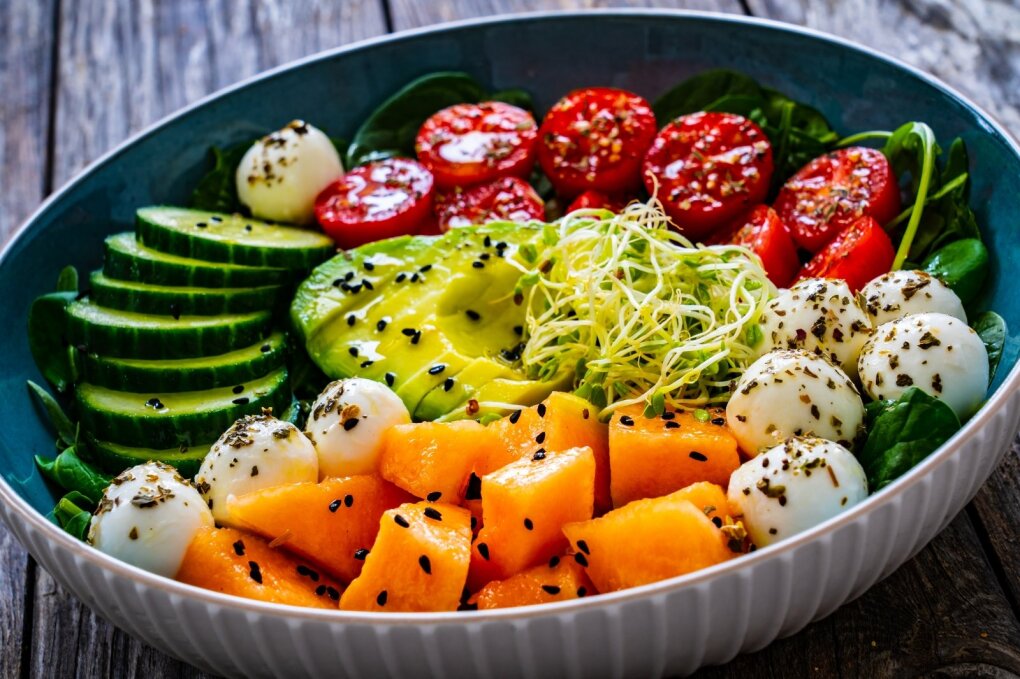 Source: Shutterstock

Buddha bowl Buddha bowl) refreshes the eyes and the stomach. A colorful and nutrient-dense dish filled with vegetables, fruits, cheeses, nuts, fish and other delicious ingredients.
You will need:
● 100 grams of melon (yellow, cantaloupe, Piel de Sapo melons are suitable)
● A handful of fresh spinach
● half an avocado
● Small fruit cucumber
● Five cherry tomatoes
● 50 grams of mozzarella
● Sunflower sprouts (any sprouts you like are fine)
For the sauce:
● Black sesame seeds
● Half a teaspoon of honey
● Olive oil
● A pinch of lemonwounds
● Salt or soy sauce to taste
● Favorite herbs
The cooking process is very simple: cut the melon and mozzarella into bite-size pieces, cut the avocado and cucumber into slices, and cut the tomato in half. Mix the ingredients for the sauce. Place the spinach leaves in a bowl, arrange all the chopped ingredients, drizzle with the sauce and enjoy.
Melon salsa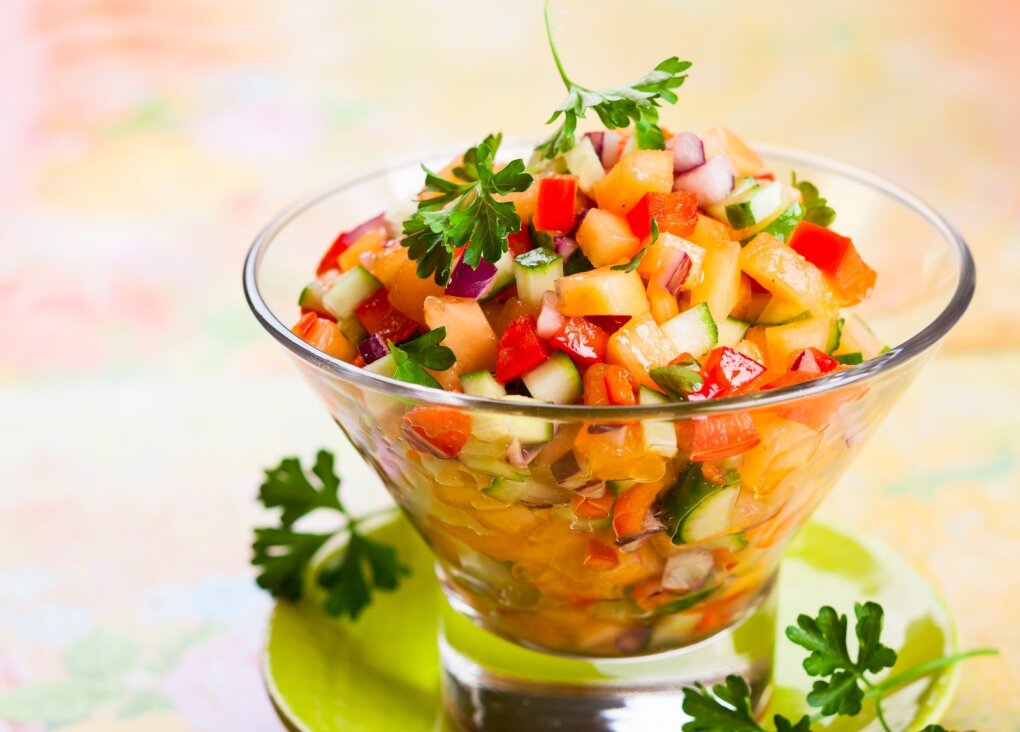 Source: Shutterstock

Salsa, also known as a chopped vegetable and fruit condiment, is very popular in South America and the Mediterranean region. Juicy, colorful, with the most unexpected flavors, spices are usually served alongside grilled meat, fish and seafood.
You will need:
● A quarter of a melon (any kind is fine)
● One green sweet pepper
● Red onion
● Two small fruit cucumbers
● One tomato
● A teaspoon of apple cider vinegar or white wine vinegar
● Olive oil
● Salt to taste
● Herbs (basil, coriander are excellent)
Cut the melon and all the vegetables as small as possible and put them in a bowl. If you don't like the pungent smell of onions, soak chopped onions in a mixture of water and vinegar for a few minutes before adding them to the salsa. In a separate bowl, mix the vinegar, olive oil, salt and herbs. Pour the resulting sauce over the chopped vegetables and melon. Salsa prepared this way can be stored in the refrigerator for several days – it will taste even better the next day!
Cold melon soup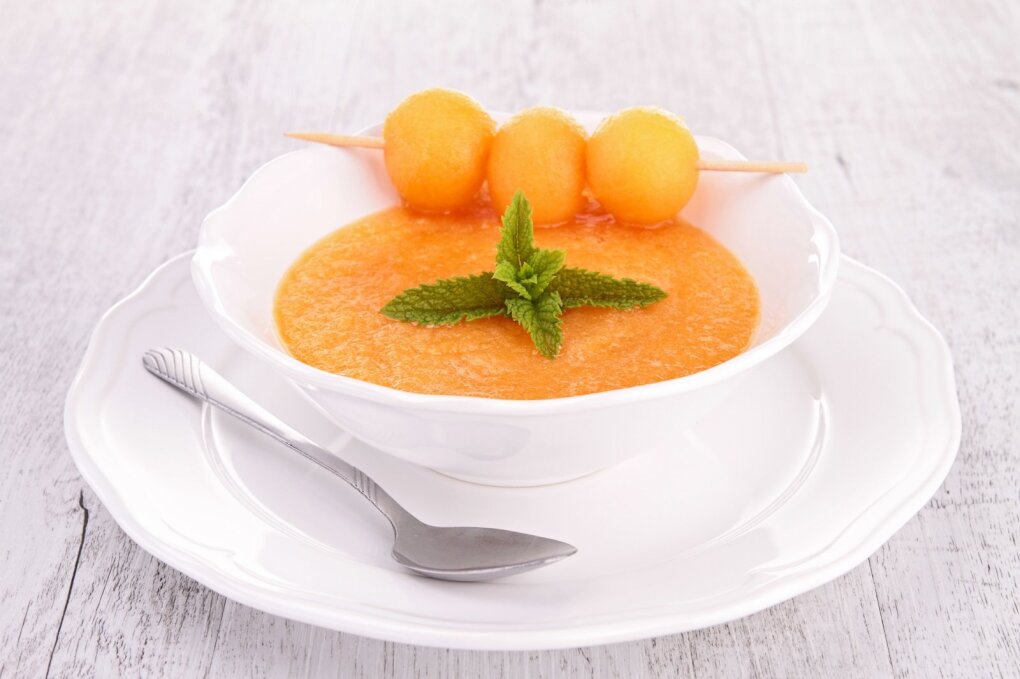 Source: Shutterstock

Lithuanians are proud of Šatiboršči, so are Spaniards gazpachobut both will surely enjoy the exotic variation of cold soup with melon.
You will need:
● Medium size Cantaloupe melon
● 4 medium sized tomatoes
● 1 small cucumber
● Half a small red onion
● 3 cloves of garlic
● 2 tablespoons of vinegar
● 3 tablespoons of olive oil
● 1 teaspoon Tabasco sauce
● Salt and pepper to taste
Remove the melon seeds and peel, cut the flesh into cubes. Peel the tomatoes. Chop tomatoes, onions, and cucumbers. Place the melon, garlic cloves and vegetables in a blender and blend until almost smooth. Add vinegar, oil, Tabasco sauce, salt and pepper to it and shake some more. Leave the cold soup in the refrigerator for half an hour and enjoy. Cold melon soup stays fresh for several days in the refrigerator.
"Carefree summer" special project