Low calorie and healthy
There's really a lot to choose from: crunchy 'Iceberg' squash, delicious nutty romaine, spicy horseradish, neutral Chinese or delicate soup and more – a fresh summer salad. It is best to use them as a side dish for meat or fish dishes, and by mixing different types, with cheese, different tasty mixes or spicy sauce, the salad will be a satisfying dinner.
According to nutritionist Dr. Edita Havelien, all green leafy vegetables and salads are good for us because they contain folic acid, B group and some other vitamins and many minerals. "The nutrients in different salads vary very little, and the fibers are similar in nature. Since there are very few differences, it is better to choose a salad according to taste and try different ones. In the pyramid of healthy nutrition, they are classified as dark green vegetables, and they are also considered as a food product with a large volume, but low calories," says the nutritionist.
The nutritionist reminds us to wash lettuce, every leaf of it, under running water. People with low immunity should wash lettuce carefully.
Labeling ensures reliability
Information confirming the quality of lettuce is important for buyers: it is grown without additives, it is fresh. On the salad packages, we notice various symbols that not only guarantee the quality of the salad, but also remind us of sustainable consumption and environmental protection. "Buyers may have noticed that lettuce growers have moved away from plastic pots and replaced them with cardboard containers. All lettuce grown in Lithuania is sold locally. Their packaging notes that there are no additives to keep the lettuce fresh and that once the roots are harvested, you can plant them in a pot and grow your own lettuce. Green plants with the label "I love ecology" have particularly strict requirements: less fertilizers, growth-stimulating additives. It is true that they should be used as soon as possible," advises Rimi product manager Ruta Geniene.
How to save them
Sometimes after buying a bunch of crisp lettuce, we quickly notice that their leaves are wilted and withered. Rimi's representative Ruta Geniene reminds us that salads like to be cold. "If you buy lettuce with roots and soil, refrigerate it after picking. Often the outer leaves of iceberg lettuce are slightly bruised, but don't discard them, remove them and set them aside. Then cut off the right amount of leaves and wrap the entire batch in those outer leaves to keep the salad fresh for a long time. "Cut this salad right before consumption because it oxidizes and turns brown," says the expert, sharing his experience.
R. Guenene noticed that both salad mixes, which are especially convenient for a quick lunch, and special salads used in Asian cuisine – Chinese Pak Choy or Romaine – are becoming popular. According to the expert, prepackaged salad mixes should be kept unopened in the refrigerator, in the vegetable drawer. And if you didn't use it all at once, put the salad in a bowl, at the bottom of which you need to put paper towel leaves to absorb moisture. It is recommended to consume such a salad within two days.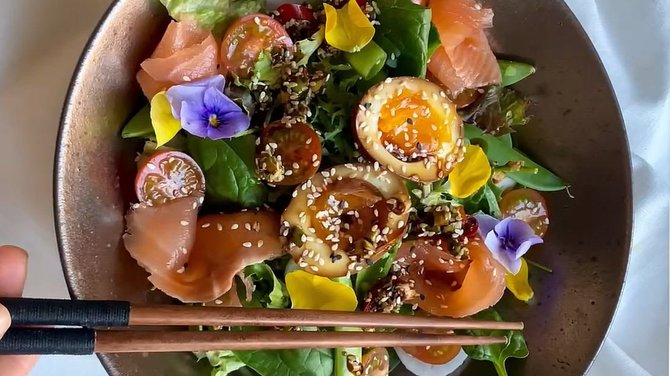 Photo by RIMI/Salmon salad with pickled eggs and fresh vegetables
For a delicious dinner, Rimi offers a salad of salted salmon with pickled eggs and vegetables.
RECIPE
For the salad you will need:
125 g salad mixture;
1 piece. white radish;
100 g of cherry tomatoes;
10 pieces. beans;
30 g. salted salmon fillet;
3 pcs. chicken egg;
4 pcs. onion leaves;
4 cloves of garlic;
1 red hot pepper;
50 g. sesame seeds;
250 ml light soy sauce;
250 ml of water;
4 tablespoons of honey.
Production process:
We'll start with the eggs because they take time to marinate. We wash the eggs and boil them for 6 minutes. For best results, place room temperature eggs in slightly boiling water and after 6 minutes, place them in cold water.
Meanwhile, we prepare the marinade – chop onion leaves, chili and garlic, put them in a container with sesame, add soy, water and melted honey, mix well. After the eggs are boiled, we can peel them beautifully, it is convenient to use a spoon!
We put it in a container, pour it with marinade and leave it in the refrigerator for at least two hours, and preferably overnight.
We put the salad in a bowl and decorate it with cherry tomatoes, white radish and peas. We wrap the salmon slices and place them next to it, cut the marinated egg and season everything with sauce, which also serves as a sauce. We decorate everything with salt and toasted sesame.
Tasty!