Mesainis is the king of street food, which has more and more places on the menu of the Lithuanian grill season. Some choose the classic with beef and pickles, while others experiment by replacing the meat with grilled cheese or vegetables. There is no dispute about the taste and there is unanimous agreement – hamburgers are becoming serious competitors of barbecue and are among the most popular dishes of the grilling season.
"Hamburgers have been growing in popularity in Lithuania for several years in a row, and last summer they experienced a real renaissance in general, as evidenced by the growing sales of hamburger buns." The understanding of what a hamburger should be and with what ingredients it should be prepared at home is constantly growing," says Tadas Aleknavičius, Head of Product Development at Gardesio Bakery, in a press release.
But what are the most important rules to know when making the perfect burger?
Regulation no. 1: Texture balance is important
The secret to a great burger is the balance of different textures. A soft but very firm bun, crunchy vegetables, a mild sauce and a juicy patty – everything should be together.
Toasting the bun is also very important, its crispiness is a prerequisite for a good hamburger.
Whether you choose a vegetarian or meat pie for the filling, be sure to toast it properly, which will give it a crunch. A well-heated grill or pan is the first step. Also, toasting the bun is very important, its crispness is a prerequisite for a good hamburger.
"After baking the cake, the sugars in it caramelize and make the surface harder. This gives the burger a crunchy texture that contrasts well with bland toppings or sauces. In addition, the crispy layer does not allow all the juices of the hamburger to soak into the bun, so the sandwich does not get wet so quickly, it keeps its shape," explains T. Aleknavičius.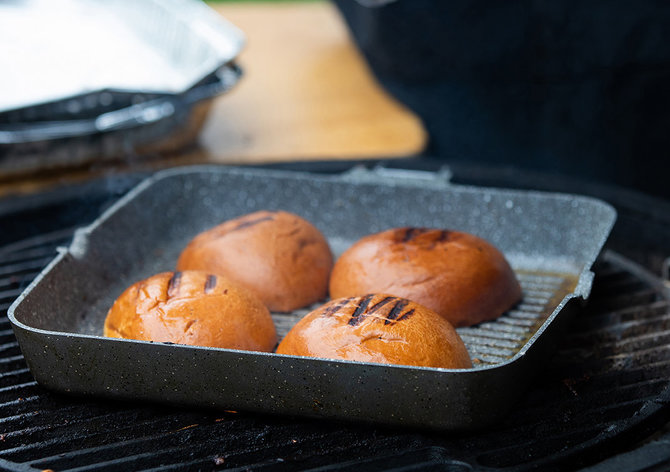 Manufacturer Photo/Burger Buns
Regulation no. 2: Don't be afraid of bold flavors
A good hamburger tastes like a combination of different flavors, so mix freshness, spiciness, sweetness, bitterness and sourness. Also, do not forget that one of the most important elements of taste is umami. While many meats and seafood naturally have umami, plant-based patties require a little effort. Soybeans, mushrooms, sun-dried tomatoes, garlic, onions, nuts, and toasted sesame oil are popular plant-based umami ingredients in plant-based diets. Vegetarians can also enhance the umami flavor by adding cheeses.
The taste of the bun is also not important – it cannot be too intense so as not to overshadow other flavors, but it cannot be completely invisible either.
Regulation no. 3: Avoid ingredients that are too wet
Dense, does not fall apart when bitten and does not stretch – these are important criteria for a good hamburger, and how to achieve this can be a bit of a headache. One of the most important things is to balance the moisture, which is very simple – you can lightly roast or saute the vegetables before adding them. It should also be properly layered, for example, don't put moist tomatoes directly on top of the bun, so it doesn't get too wet.
Firm buns that can absorb the juices of the meat or other ingredients are also important for burgers that don't spoil. "The bun should be soft and fluffy to be pleasant to bite. On the other hand, it needs to be very stable and sturdy enough to support roast beef, fish, portobello mushrooms, or whatever burger you choose. A good hamburger will release a significant amount of juice, so the right bun will absorb the juice and act like a sponge. Also, they do not fall into hands or plates," says T. Aleknavičius.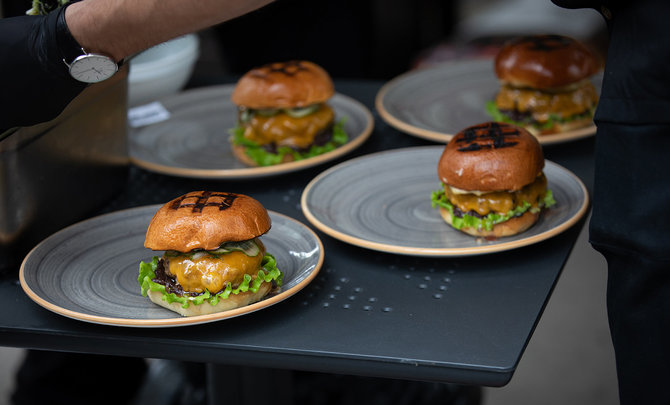 Manufacturer's photo/Burgers
Regulation no. 4: Don't overcook and let it "rest".
The fat and juices in the meat are a prerequisite for a good hamburger. Therefore, always do not overcook the cake, do not use it and do not dry it out and leave it to "rest" after baking.
Vegetable patties don't contain animal fat and don't release much juice, but you don't have to worry about running out of moisture: add soy, hot pepper sauce, olive oil, barbecue sauce or fresh lemon juice when making vegetable patties. . You can also use juicy vegetables like beets, zucchini and carrots, which release natural juices.
You can also experiment with ingredients such as tzatziki, hummus, barbecue or honey and mustard sauce.
Appropriate sauces and toppings are also important for juiciness. A simple mayonnaise or spicy tomato sauce are classic ingredients, but you can also experiment with ingredients like tzatziki, hummus, barbecue or honey mustard sauce – the options are endless.
Try different burger recipes at home and find the best one for you!
Beef burgers with caramelized onions and mushrooms
Composition:
2 pieces of beef;
1 handful of brown mushrooms;
2 hamburger buns;
2 thick slices of your favorite Swiss cheese;
1 handful of Bulgarian pepper;
2 tablespoons. a spoonful of mustard;
part of olive oil;
a pinch of salt;
ground black pepper.
For the caramelized onions:
1 medium onion cut into rings;
1 tablespoon. a spoonful of olive oil;
0.5 tea. a spoonful of sugar;
a pinch of salt.
Create:
1. Heat oil in a pan, add onions cut into rings and fry for about 5 minutes until golden. Then add salt and sugar. Reduce the heat to low and cook the onions for about 20 minutes, stirring constantly.
2. Cut the brown mushrooms into slices. Heat a pan with olive oil and fry the mushrooms for 2-3 minutes until well browned. Sprinkle them with salt, pepper or other favorite spices.
3. Cook meat patties. Cooking time depends on the thickness of the pancakes, on average about 2-5 minutes. from each side. When flipping the meat patties, add slices of your favorite Swiss cheese to melt it.
4. Lightly toast hamburger buns and spread with mustard. Then add baked meat pies with cheese, mushrooms and onions. Top with a handful of chives.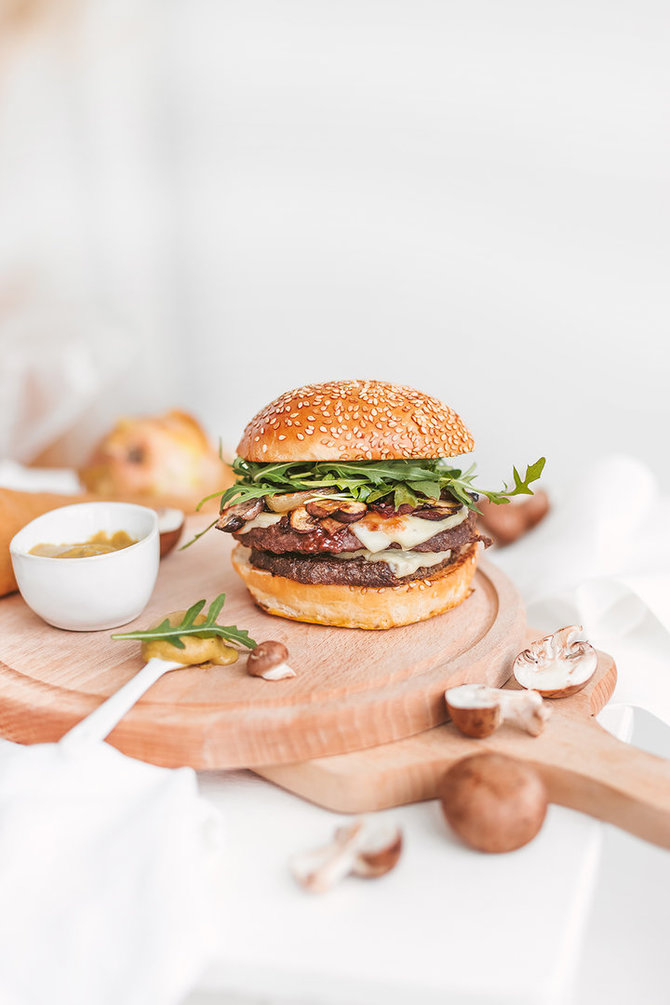 Producer's photo/Burger with beef, caramelized onions and mushrooms
Vegetarian sandwiches with hummus
Composition:
2 favorite vegetable muffins;
a few slices of tomato;
2 hamburger buns;
a handful of salad leaves;
2 slices of your favorite cheese;
½ ring cut red onion;
4 tablespoons. a spoonful of hummus;
4 tablespoons. a spoonful of tomato sauce;
salt;
ground black pepper.
Create:
1. Bake your vegan brownies of choice in a skillet or on the grill. After flipping them over, top with your favorite chunks of cheese to melt it.
2. Lightly fry the buns in the oven or in a dry pan. Spread the bottom half of the buns with hummus and the top half with tomato sauce.
3. Put patties with cheese, onions cut into rings, and tomatoes cut into slices in the bottom bun. Sprinkle with a pinch of salt and pepper.
4. Finish the credels with lettuce leaves and cover with the other half of the bun.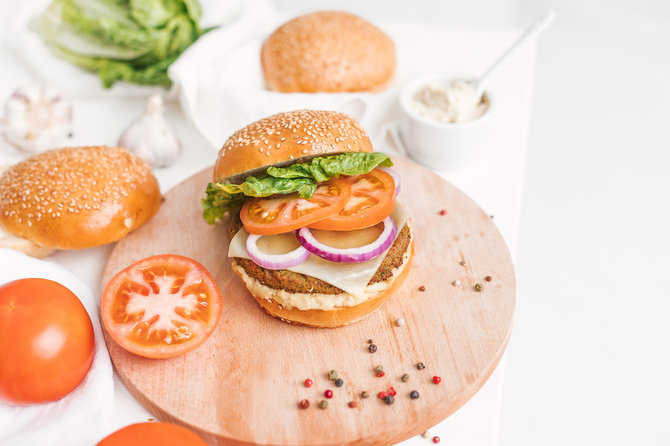 Manufacturer Image/Vegetarian Foods