It offers a creative approach to food
The statistics are shocking – until now, about a third of the food products in the world, and supermarkets throw away about 10 percent. from this amount. Sometimes this is done due to the habits of buyers, although the appearance of a fruit or vegetable does not determine its taste characteristics (sometimes even the opposite – a less attractive, ripe fruit is tastier). In fact, what's the difference: bigger or smaller, perfectly symmetrical or not, fruit or vegetable, you can use them all.
By not wasting food, we save not only our money, but also the earth's resources, and we live more sustainably. It's true that not everyone has the time and energy to think about what to make of extra food at home, so we throw out good food. "Reducing food waste is one of our strategic priorities, and everyone can contribute to it. To achieve our goals, we have found a convenient way to provide the last opportunity to buy fruits and vegetables at a really good price, thus contributing to not wasting food. The project was very successful, so we sold more than two tons of fruits and vegetables. We plan to further expand the project in the future," says Ludvikas Aleliunas.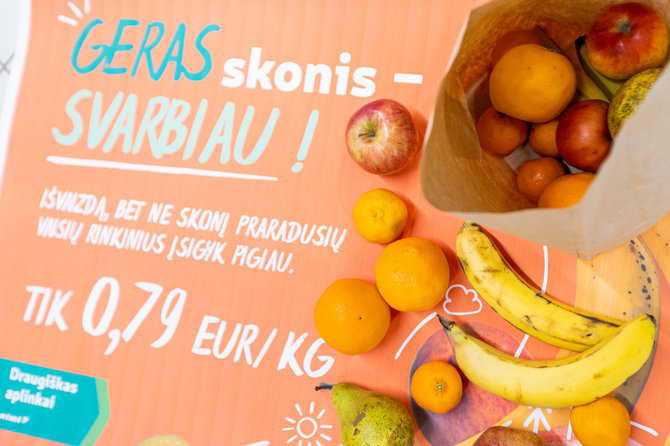 Photo by Rimi/Contents by Fruits
The innovation has been successfully tested in several Roman supermarkets: customers can find a variety of fruits or vegetables in an environmentally friendly paper bag, which costs only 79 cents per kilogram. L. Aleliyunas advises shoppers who buy the kits to consume them within 1-2 days or freeze them. And unripe fruits are healthy and tasty, they should be eaten quickly or the damaged part should be cut off.
let's learn to save
To prevent products from getting stuck in the refrigerator or kitchen cupboards and to avoid missing the expiration date, experts recommend ordering them from the earliest expiration date at the front to the longest at the back. Then products are less likely to be discarded if they are noticed too late. Planning, discipline and creative ideas in the kitchen will not only lead to sustainable living, but also save money.
Fruits and vegetables with quality defects are restocked several times a day in Rimi stores. Fruits that are still edible are given to the Food Bank, and if they are rotten or moldy, they are immediately destroyed, as very strict quality criteria are followed. "From now on, fruits that are really safe for consumption are packaged and sold at symbolic prices. We want to learn to save together with customers, we encourage them to look at the product differently. "Promoting the consumption of fruits and vegetables is one of the directions of Rimi's health care strategy – we aim to consume at least 400 grams of fruits and vegetables per day by 2025," says the specialist.
Let's remember grandmother's compotes
Although berries and fruits are often frozen or mashed into smoothies, buying large quantities of fruit can also be used to make healthy, low-sweet (or sugar-free) purees, jams or compotes, which can be sweetened with honey. In addition, if you have the necessary devices at home, use modern technologies – vacuum or lyophilization of fruits.
According to L. Aleliyunas, responsible shopping starts with careful planning for choosing food at home – while preparing dinner, you can think about how to use leftovers for lunch the next day. If you run out of ideas for what to do with leftovers, you can get them from the "Rimi.lt" application, where a virtual chef offers healthy and quality recipes after combining the food items in the refrigerator.
"We want to learn to save together with customers, we want to promote a different approach to the product. With these small steps, we aim to inspire consumers, other merchants and ourselves to be fearless and look for innovative, environmentally friendly solutions," says Rimi's Social Responsibility Strategy and Development Manager.