Spicy green tomato chutney
Composition:
1 kg of green tomatoes (ideally, if you remove the peel after briefly blanching the tomatoes);

500 g of red onion;

150 g of raisins;

3 cloves of garlic;

a pinch of cayenne pepper;

a pinch of black pepper;

1.5 tea. spoon of salt;

400 g of brown sugar;

1 glass of white wine or vinegar.
Create:
1. Cut tomatoes and onions into cubes. Wash the raisins well. Mash the garlic.
2. Add all the ingredients and pour into a heavy-bottomed pot. Heat it over medium heat and cook for 1-1.5 hours, stirring constantly (often at the beginning and end, less in the middle). – onions and tomatoes are boiled until the mass thickens.
3. Heat small jars and pour chutney into them. Cool and screw on. To keep the chutney safe for as long as possible, pour enough olive oil to cover the chutney after it has cooled.
Such chutney goes well with Indian dishes, as well as with various cereals, rice, sandwiches with cheese, and you can season hamburgers with it. If you dilute it with a little water and lemon juice, you will make an interesting marinade for meat. Experiment!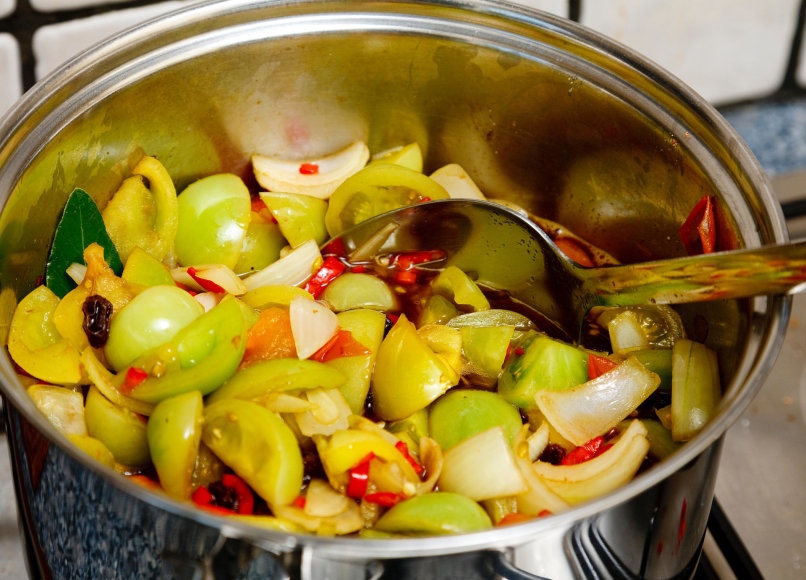 Photo by Vida Press/Cooking Green Tomato Chat
Crispy fried green tomato slices
Composition:
3 green tomatoes;

1 egg;

100 ml of butter;

3 tablespoons. a spoonful of corn or rice flour;

3-4 tablespoons. spoon wheat flour;

a large pinch of black pepper;

0.5 tea. spoon of salt;

oil (for frying).
Create:
1. Cut the tomatoes into slices, sprinkle with salt, put them in a large sieve, put it in a large bowl and leave it for about 15 minutes. drain, then dry again with paper towels.
2. In a medium bowl, whisk together the eggs and buttermilk. Mix the two flours with salt and pepper, then add to the wet mixture and mix everything – you should get the consistency of sour cream.
3. Heat the oil in a small pot or pan with higher sides to 180 degrees.
4. Dip the tomato slices in the batter and then add them to fry a few at a time. Fry until browned on both sides. Wipe off excess oil with a paper towel, then season with a little more salt and serve immediately.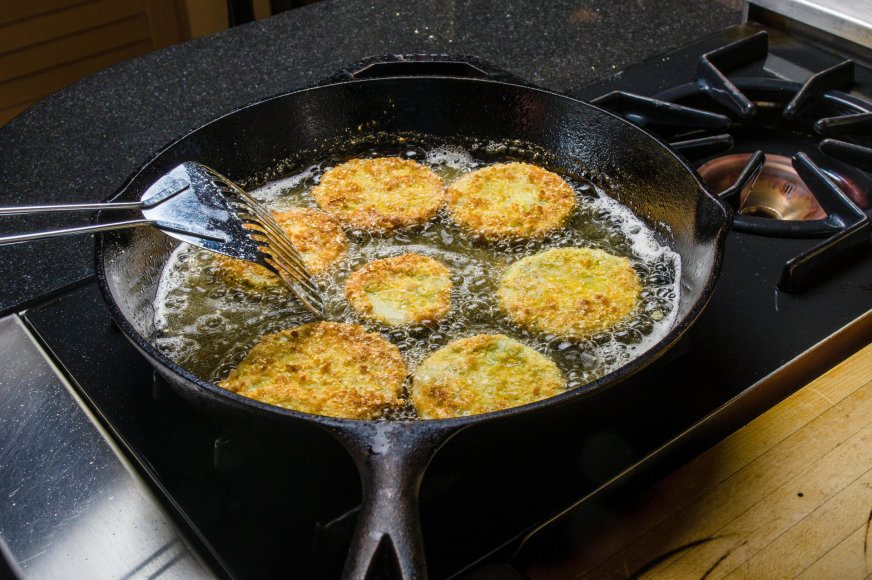 Photo by Vida Press/Roasted Green Tomato Slices
Special offer
*Additional operator service is included when paying by phone. In addition, paying with a bank card does not require you to do anything extra.
Subscription

Entrance
Sign in with or
Enter your mobile phone number and we will send you a code
We sent a code to the mobile phone number. Enter it