Beata, is hamburger a frequent guest at your house?
Really common. After all, this is a dish that always pays off. After all, hamburgers are always a favorite among children. Plus, they're super easy to make! The whole secret is delicious buns and quality meat.
And how to choose these products correctly?
The burger bun should be soft and the right size. Otherwise, you will have to make very large meat patties to cover the area of ​​the bun. When choosing the most suitable buns, care should be taken so that they do not swell when soaked with meat juices and sauces. Before serving, it is important to fry the buns for a few minutes so that the cut side is beautifully golden and crispy. Now for quality hamburger buns, for example, classic or so-called brioche, in supermarkets and you can buy one or two ready-made hamburgers for the whole family. When choosing meat, it is important to choose high-quality meat, and also pay attention to the fact that it is not too lean, otherwise it will be dry after cooking. By the way, you can also buy a special tool for forming meat patties. Then they come out the same size and shape.
Although hamburgers are quickly becoming popular in our country, not everyone decides to make them themselves. What advice would you give to someone who wants to cook up some great tasting burgers in their backyard?
Cooking hamburgers for the first time can sometimes be a little stressful – there are buns, meat patties, vegetables… My advice is to prepare all the ingredients in advance and plan to cook the meat patties last, just before serving. . This allows you to pay enough attention to the taste of the meat, which will remain juicy. First, wash and cut all the vegetables. Prepare the necessary sauce, heat the buns, and only then start frying the meat. When making a hamburger, it's important not to overcook the meat and keep the right proportions of flavors and ingredients, just don't overdo it with sauce.
Making a burger, perhaps like any other dish, leaves room for imagination and improvisation. What advice would you give to those looking for exotic ingredients, i.e. non-traditional ingredients to spice up their burgers?
The combination of sweet and salty goes very well in burgers. For example, gorgonzola cheese and caramelized onions, grilled pineapple and cheddar cheese, or goat cheese and peaches. By the way, pickled vegetables will raise any hamburger to new heights, not only kerkins – it can be capers, canned jalapeño peppers, pickled sweet peppers, olives.
Although the name of the burger refers to meat, vegetarians are also happy to eat it. What kind of veggie burger would you recommend for non-meat eaters?
For vegetarians, I would even recommend trying a few recipes. Roasted portobello mushrooms, goat or halloumi cheese steaks are great substitutes for meatloaf. You can also make delicious malts and legumes instead of the usual meat pie.
And what is your favorite hamburger recipe?
I usually make my own beef burgers. I add finely grated onion or onion powder to the beef that they use, sometimes I sprinkle grain mustard on it, I sprinkle it with good quality black pepper, I add Worcestershire sauce, I think it works great here. If you want it spicier, add a pinch of cayenne pepper.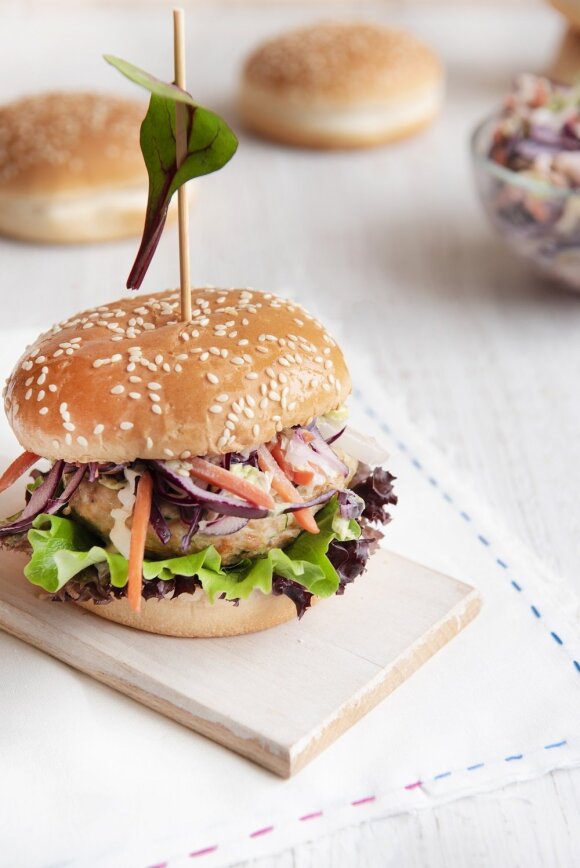 Beata Nicholson's Burger
© Recipe author
Use of information published by DELFI on other websites, media or elsewhere, or distribution of our material in any form without consent is strictly prohibited and DELFI must be credited as the source if consent is obtained.