Tomas Petrila, founder of Lithuanian Grilling and Smoking, the largest grilling association in the Baltic States, assures you that you need to know a few rules to make a great hamburger.
"Today, the main trend in the taste of hamburgers is one thing – the hamburger is becoming more and more "rough": its volume is increasing, fresh vegetables are replaced by pickled vegetables and their number is decreasing, experiments are being made with expressive cheeses, mixing their types. In addition, the list of hamburger ingredients is complemented by elements of fried street food – potato chips, fried onion rings," says T. Petryl.
Vida Press photo/Burger
According to the barbecue enthusiast, now is more time than ever to make a great burger at home, with quality ingredients readily available. Due to this, manufacturers claim that hamburgers are becoming popular in Lithuania.
"In many countries of the world, meat products are usually eaten together with flour dishes – buns, bread, pita bread." In Lithuania, this trend is gradually gaining ground and it is most popular in the category of hamburger buns, the range of which is increasing every year. Consumers are becoming more discerning: for example, the buttery brioche bun was until recently a real novelty associated with gourmet foods, but now it has become an integral part of the hamburger," noted Tadas Aleknavičius, Head of Bakery Development. Gardesios, quoted in a press release.
Manufacturer's photo /Mini hamburgers with grilled chicken
So, what are the most important rules to keep in mind when making the perfect hamburger at home?
Meat pie should be about 20 percent. wider than a bun because the meat shrinks as it cooks.
1. The main thing is not to dry the meat pie. Even if you're making a big burger, make it with thin but double or triple patties instead. This ensures that they cook evenly and dry out less in the short cooking time. "It is very important to form a meat pie of the correct diameter. It should be about 20 percent. wider than a bun because the meat shrinks as it cooks. And there is nothing worse than a small meat pie hidden in a bun," says T. Petryla.
2. The right bun is very important. Grill lovers offer a selection of quality brioche buns for hamburgers. They are rich in ingredients such as milk, eggs, and butter, so they have a very soft texture and a slightly frozen taste. This bun pairs well with sweet and savory burger ingredients.
"Brioche buns are called in France mononosis and baked goods such as butter cones. They are very rich and moist in taste compared to other types of bread. Most importantly, the brioche remains firm enough to hold most of the ingredients while making the burger. In addition, it is very delicate, soft and light. In addition, a good hamburger releases a lot of moisture, and a brioche bun absorbs these juices and acts like a sponge," says bread expert T. Aleknavičius.
3. The cheese should be melted. The rule of thumb is that the cheese should melt easily, so cheeses like Manchego or Parmesan are not the best choice because they have a high melting point. Instead, opt for a hearty gruyere that pairs well with the sweetness of caramelized onions. Also try smoked gouda or cheddar cheeses. You can add a little blue cheese to diversify the taste.
4. Sauces are an opportunity to experiment. A good hamburger cannot be prepared without an expressive sauce that balances the combination of meat, cheese and vegetables. T. Petryla urges not to be afraid to use different sauces.
"Experiment with different toppings, like putting mayonnaise-based sauce on the bottom of a hamburger bun and barbecue sauce on top of the bun." You can also see hot versions of Mexican cuisine's sauces, which are dominated by jalapeno pepper and hot pepper. Or vice versa – choose mild and creamy peanut butter-based sauces," added the barbecue enthusiast.
Mini hamburgers with grilled chicken
Ingredients (for 2 servings):
4 mini hamburger buns;
4 small marinated chicken steaks;
1 medium carrot;
1 medium cucumber;
1 handful fresh chopped coriander;
2 tablespoons. a spoonful of walnut oil;
1 tea. spoon chili sauce;
2 tablespoons. a spoonful of lime juice;
1 tea. a spoonful of soy sauce;
1 tablespoon. spoon of maple syrup;
2 tablespoons. spoon 18 percent thick coconut milk;
3 tablespoons. a spoonful of roasted peanuts;
1 tablespoon. spoon of sesame oil;
1 handful fresh chopped coriander;
a pinch of salt.
Create:
1. Fry the chicken steaks in a well-heated pan or grill.
2. Make the sauce: In a small bowl, combine 2 tablespoons of peanut butter (use liquid butter), 1 teaspoon of chili sauce, 1 tablespoon of lime juice, 1 teaspoon of soy sauce, 1 tablespoon of maple syrup, 2 tablespoons of from coconut milk. Mix everything well to get a homogeneous mass.
3. Cut carrots and cucumbers into thin straws with a grater or by hand. Mix 1 tablespoon of sesame oil with 1 tablespoon of lime juice, add fresh coriander, pour the resulting sauce over carrots and cucumbers, mix. Season with salt and pepper.
4. Finally, grill or grill the hamburger buns until lightly browned. Spread the prepared sauce on the buns and add the chicken steaks, carrot and cucumber salad and roasted peanuts.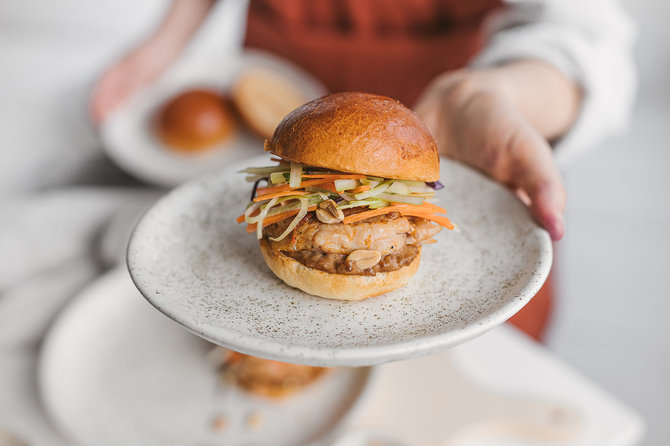 Manufacturer's photo /Mini hamburger with grilled chicken
Mexican hamburger with ground beef
Ingredients (for 2 servings):
2 hamburger buns;
400 g slow-cooked minced beef;
1 well-ripe avocado;
2 tea. a spoonful of mayonnaise;
0.5 lime juice;
1 clove of garlic;
0.5 red onion;
0.5 sweet pepper;
a pinch of cumin;
a pinch of coriander;
1 tablespoon. a spoonful of chopped pieces of pickled jalapeño pepper;
1 tablespoon. a spoonful of fresh chopped coriander;
2 branches of cherry tomatoes;
salt;
angle;
olive oil.
Create:
1. Cook the slow-cooked ground beef in an oven preheated to 180°C or on an indoor grill.
2. Prepare the guacamole sauce: after mashing the ripe avocado, add a very finely chopped red onion and a crushed or finely chopped garlic clove to the mixture. Also add 1 tablespoon of fresh chopped coriander, 1 tablespoon of chopped pickled jalapeño pepper pieces, squeeze the juice of half a lime. Season the guacamole with salt and pepper.
3. Cut the pepper into slices, season with a pinch of cumin and coriander, salt and pepper. Grill or fry in a pan with a little oil.
4. Fry the hamburger buns until golden brown. Spread mayonnaise on both buns. Add bell peppers, ground beef and guacamole. Serve all with fresh or lightly roasted cherry tomatoes.
Manufacturer's photo /Mexican hamburger with cheese