The history of the burger is very unclear, there are different opinions about how this dish originated. There is such a version hamburgers came to the United States in the 19th century, when German immigrants from Hamburg arrived. Originally called Hamburg "steak", this dish was not at all like a modern hamburger, as it was simply a large piece of beef served on a plate with onions and breadcrumbs.
America quickly adapted the German version to its own needs – thus, an inexpensive, low-calorie, tasty dish that did not require special presentation was born: buns, meat, salad, cheese, sauce.
The current type and composition of the hamburger belongs to several people. One of them was Charlie Nagrin, who came up with the idea of ​​sandwiching a piece of meat between two pieces of bread at the Seymour Fair in 1885.
The beginning of the hamburger era is called 1920, when several restaurant chains appeared, offering hamburgers as a main dish on their menus. Currently, hamburgers have reached the menu of exclusive restaurants. For example, the world's most expensive hamburger, which costs $5,000, has a truffle-flavored bun, marbled meat, Foie gras and served with truffle sauce at Fleur.
However, such exclusive products are not necessary for a special hamburger, the chef of the Wall Street Avenu restaurant in the capital shares 3 recipes. By the way, he emphasizes that the most important thing to prepare a delicious hamburger is to use fresh ingredients, prepare the necessary sauces for the hamburger at home, and not be afraid to experiment.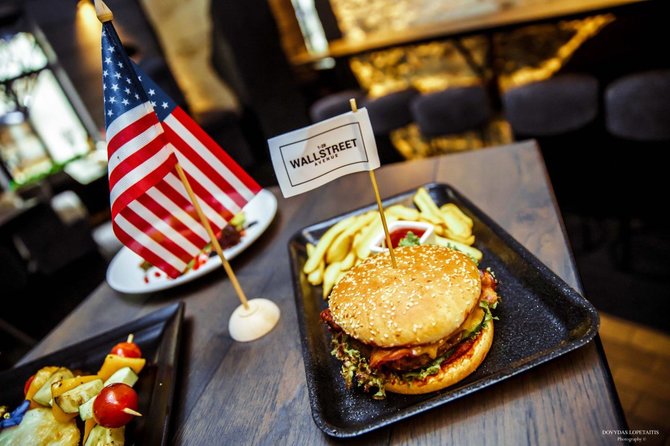 Wall Street Avenue Burger
A classic American hamburger
Composition:
6 buns with sesame seeds;
800-900 g of chopped beef;
3 tomatoes;
6 slices of cheddar cheese;
150 g of pumpkin salad;
2 red onions;
2 pickled cucumbers;
3 tablespoons. a spoonful of tomato sauce;
3 tablespoons. a spoonful of mayonnaise;
3 tablespoons. a spoonful of oil;
salt;
ground black pepper.
Create
1. Wash and chop the lettuce. Wash the tomatoes and cut them into slices. Peel the onion and cut it into slices 3-4 mm thick. Also cut the pickled cucumber into slices.
2. In a bowl, mix the beef with the spices and a pinch of salt. Make 6 muffin-sized patties.
3. Fry the onion in a pan over medium heat for 4-5 minutes. Sprinkle with salt and pepper. Place in a pan.
4. Fry the steaks in a pan for 3-5 minutes on each side.
5. Cut the buns in half. Spread tomato sauce on top and mayonnaise underneath. Spread the salad on the lower part of the bun, add onions. Top with steak, then 1 slice of cheddar cheese, a slice of tomato and pickle. Tear off the top of the bun and taste.
Modern hamburgers are similar to their predecessors in only one aspect – they are still eaten with hands. Of course, a regular restaurant offers you a knife and fork, but if you want to experience the real pleasure of eating – you don't need tools.
Worcestershire Chicken Burger
Composition:
900 g of minced chicken;
6 hamburger buns;
3 tomatoes;
6 lettuce leaves;
6 tea. a spoonful of mayonnaise;
3 tea. spoon Worcestershire sauce.
Create:
1. Mix minced meat with Worcestershire sauce and make patties. Grill them.
2. Cut the buns in half and heat them on the grill.
3. Place the cooked chicken patties, mayonnaise, tomatoes, lettuce, and the other half of the bun on one side of the bun.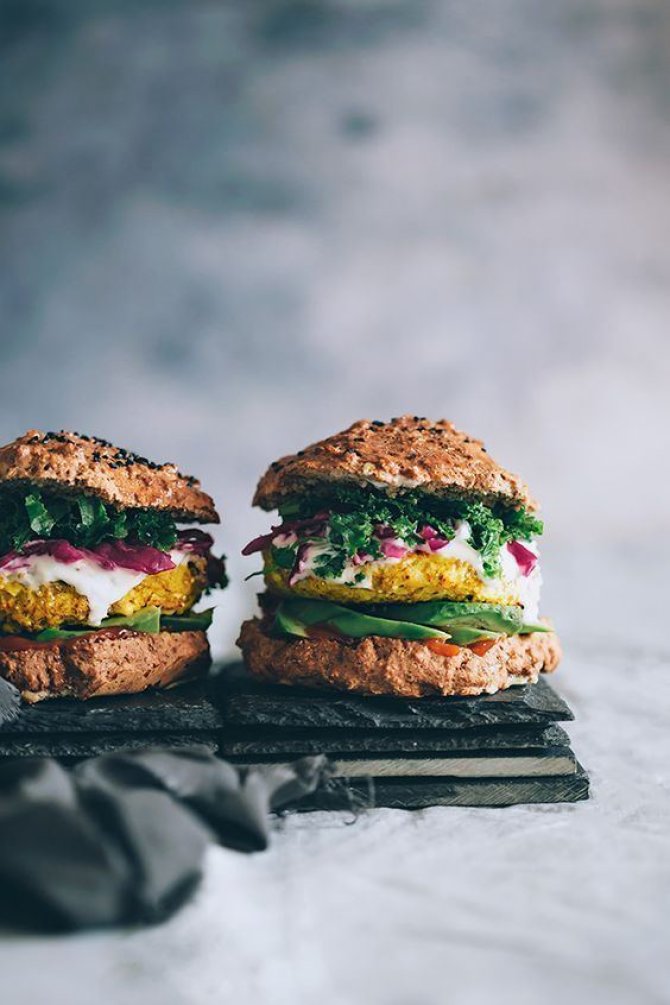 Vegetarian burger
Vegetarian lentil burger
1 small loaf (ciabata or other favorite);
1 glass of lentils;
1 cup of ground breadcrumbs;
1 onion;
2 cloves of garlic;
2 tablespoons. a spoonful of olive oil;
1 tea. spoon soldier;
salt;
black pepper;
100 ml of boiling water;
1 avocado;
1 red onion;
1 tablespoon. a spoonful of lemon juice;
1 small Beijing cabbage.
Create:
1. Cover the orange lenses for 3-4 hours. If you choose green lenses, you can wear them in the evening. After soaking, rinse and boil.
2. Put the cooled lentils, breadcrumbs, chopped onion and garlic cloves, olive oil and water into an electric food processor and blend until smooth. Add curry powder, salt and pepper to taste and mix again.
3. With wet hands, make small patties and place them on a baking sheet lined with baking paper. Bake in an oven heated to 200 degrees for about 20 minutes.
4. Peel the avocado, cut it into several parts, chop the green onion and put it in an electric blender. Add lime juice, salt to taste, ground black pepper and mash.
5. Slice the bread in half, spread the pulp of the avocado, add a couple of lentils (depending on the size), top with a handful of chopped Chinese cabbage, and… delicious!
Pickles or pickles go well with these lentil burgers.