Renata Nichajienye, creator of the Seasonal Kitchen blog, says anyone can learn how to grill if they know a few simple rules. The interviewer talked about his love of cooking outdoors, why he came up with the idea to give his readers a grilling recipe book, and what foods you never ask for.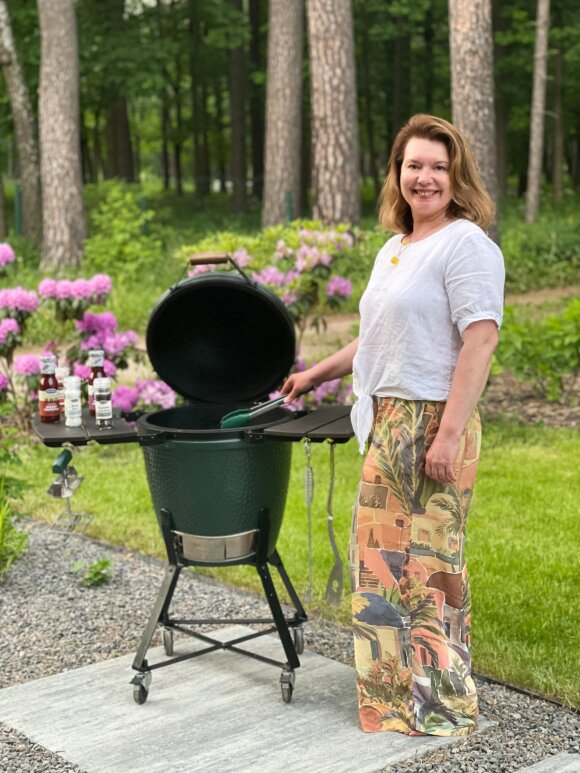 Renata Nichajien. The author of the photo is Egle Juzumas
The warm season begins. What foods do you associate it with?
Summer usually smells like berries and barbecue smoke to me. My husband and I have been together for many years, and when summer comes, we move our kitchen to the terrace, closer to the barbecue. Food cooked outside is always tastier and we spend more time in the fresh air when we cook it. Grilling season was a bit late this rainy spring, so we've been especially looking forward to summer and warmer weather, as well as moving the kitchen outside.
Have you noticed how popular kamado grills have become in recent years?
In recent years, recipes adapted to the grill have become especially popular. It seems like every backyard now has a kamado-type barbecue. Although my husband and I have owned seven different grills in our grilling career, we've had this one for years. In recent years, Lithuanians have been preparing more and more different dishes on the barbecue, and from traditional barbecue chefs, they have become chefs of open kitchens of various cuisines of the world.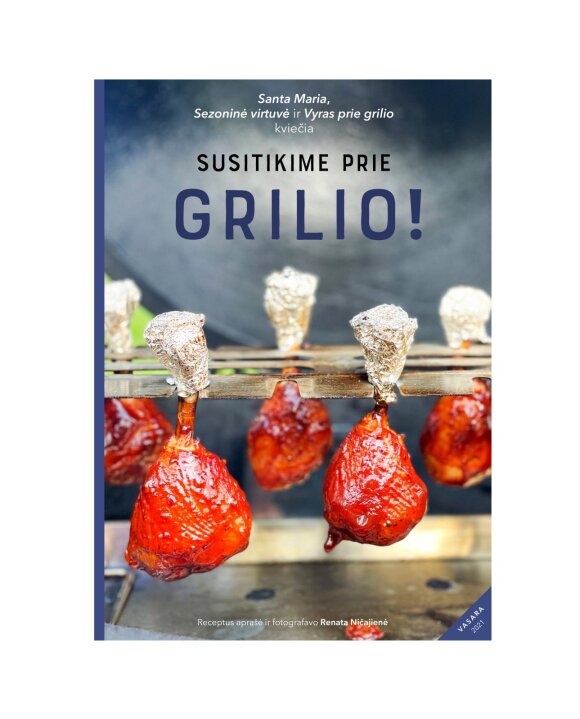 "Let's meet at the grill!" book.
You are one of the most popular food bloggers in the country. How did you come up with the idea to create a free recipe book for your followers?
This is the fourth free e-recipe book that readers can easily and easily download from my blog at the click of a button. I prepared these e-books with Santa Maria. This latest book is just in time for summer and "See you at the grill!" is called.
In addition to e-books, I have created 7 traditional print books. Since readers are interested in e-content and recipes that are easily available online, I came up with the idea of ​​creating sponsored themed e-recipes that readers can download completely free from my blog (click HERE). Judging by the number of downloads of these books, I can tell that they are very popular with readers!
What will readers find in your book? Is it for beginners who love grilled food, or are experienced cooks looking for unique recipes?
In a new email I made with my husband, Martin, "Let's Meet at the Grill!" everyone will find a recipe to their taste in the book. The main criteria for choosing recipes for the book are barbecue recipes that are easy to check and popular. The book contains 12 new recipes, including 3 chicken, 2 beef, 2 each pork and fish recipes and even 1 dessert. Smoked Chicken Lollipops, Shredded Hamburgers with Onions, BBQ and Smoked Potatoes, Crispy Crusted Bacon, Smoked Mackerel and Rhubarb and Strawberry Cobbler. These are just a few of the recipes you'll find in the new book.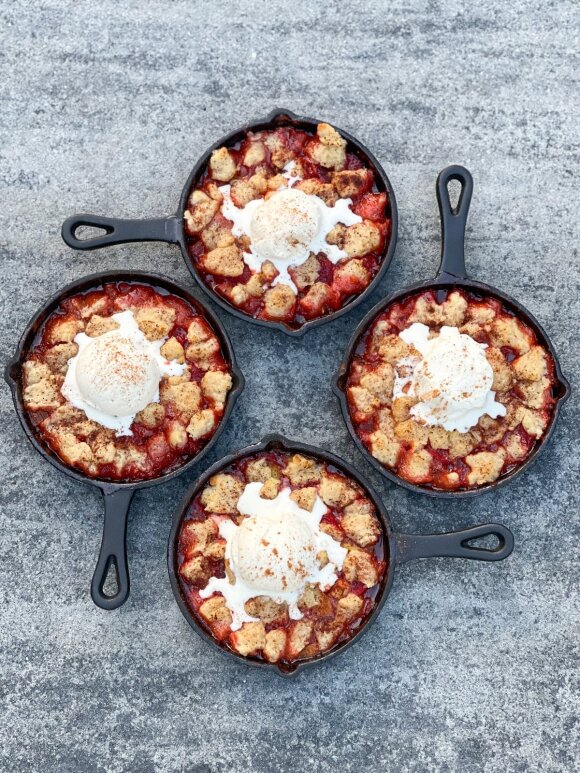 Rhubarb and Strawberry Cobbler
What advice would you give to first year grillers? What should be paid attention to, what mistakes should be avoided?
The first thing you need to do is choose a grill that suits your needs, if you rarely cook and prefer to grill over an open fire, choose an outdoor grill. If outdoor cooking is your hobby, kamado barbecue is a great choice. In it, you can easily and neatly fry, smoke and stew your favorite foods.
To make grilled meat juicy and flavorful, take it out of the refrigerator and let it sit at room temperature for at least a few hours before grilling. Also, don't marinate the meat for too long – an hour or two will do. Use Santa Maria's Liquid Marinade for quick, perfect flavoring results.
To make the vegetables tastier, I recommend marinating them briefly in a marinade of olive oil, lemon juice, and vegetable roasting spices. This combination is perfect for spinach, cauliflower, zucchini and other summer vegetables.
Glazing is the coating of meat or vegetables with barbecue sauce, which adds more flavor and shine to steaks. The easiest way to do this is with a pastry brush and since barbecue sauces are high in sugar, only brush these sauces onto the steaks at the very end of cooking to avoid burning.
What are your favorite grilled foods? What foods would you recommend for first-time grillers? What's better in the evening when you need to "feed" more people?
Larger pieces of meat roasted over slow and indirect heat are always best to feed more people. One such dish is Greek-style roast lamb. You can find her recipe on my blog.
Kids love hamburgers the most. In a new email to the book, I included a recipe for our family's favorite "shredded" hamburgers with fried onions. Their cooking method is a little different from the traditional one, and the fried onions along with the meat add flavor to the burgers. These are our family's hamburgers, best served with homemade buns, the recipe for which is described on the Seasonal Kitchen blog.
If you're new to grilling, try roasted and smoked potatoes, which can be topped with a variety of toppings. In a new e-mail book, I recommend dressing up smoked roasted stuffed potatoes with Greek flavors: feta cheese, Greek yogurt sauce, seasonal radishes and cucumbers.
Whatever food you prepare, choose quality spices to season your food. Even the most expensive products can be ruined by using poor quality spices or using too much of them.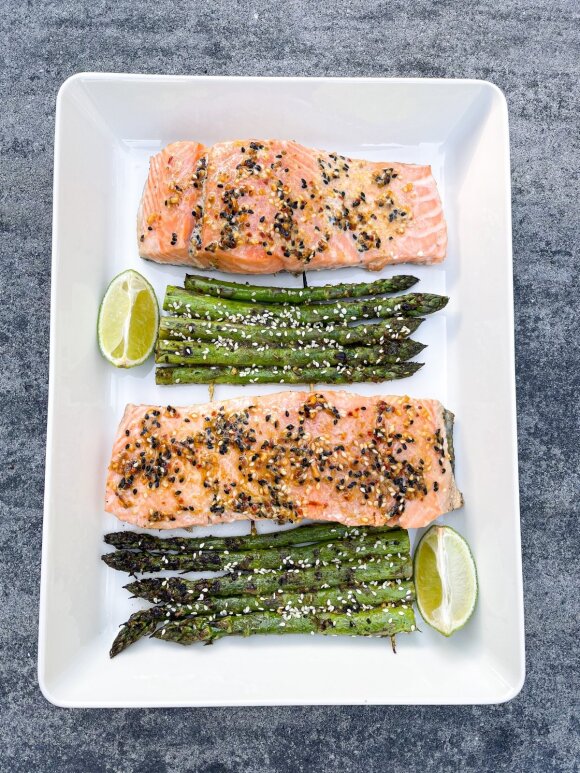 Quick-roasted salmon with wasabi sauce and fried squid
Quality meat, fresh vegetables, reliable spices are the most important things for grilled food?
Totally important. Quality ingredients and the process of preparing them are important when preparing quality barbecue food. In order not to burn the food, the food being cooked needs high-quality charcoal that absorbs the smoke. Quality spices are also important, they add more flavor and aroma to the food prepared as a food perfume.
For example, the Santa Maria line of barbecue products is specially designed so that you don't waste time on preparing complex marinades, and you can always find quality sauces from the refrigerator that give a special taste to dishes, and even serve as a glaze. .
What spices should you have in your pantry for grilling? What sauces and spices are best?
We always have quality Tellicherry pepper and rock salt grinders, liquid and dry marinades in the open air cabinet. The latter comes in handy when you want a quick, easy and delicious grilled meal. We also always have a variety of BBQ sauces that we use to glaze meats and even vegetables at the end of cooking. Thus, they are prepared insatiably delicious. I grow a nursery of fresh herbs in a raised bed next to the outdoor kitchen. I can't imagine a summer meal without them.
What herbs and vegetables would you recommend for grilling enthusiasts to grow?
Growing herbs in beds or pots next to the barbecue is a very convenient option, because fresh herbs are always at hand. I would recommend, first of all, to divide the spices according to the regions – the spices of the Mediterranean region: rosemary, thyme, oregano, sage. They require little water and thrive in dry soil. In another area, I recommend growing Lithuanian spices. I can't imagine this nursery without dill, parsley, tarragon, beets. In summer, I try to use fresh herbs as much as possible, I supplement them with dried herbs of the same type, the taste is impressive.
Seasonal Kitchen author Renata Nichajienye and Santa Maria share a free download of Let's Meet at the Grill! (Download HERE) and shares a delicious recipe for mashed hamburgers with fried onions.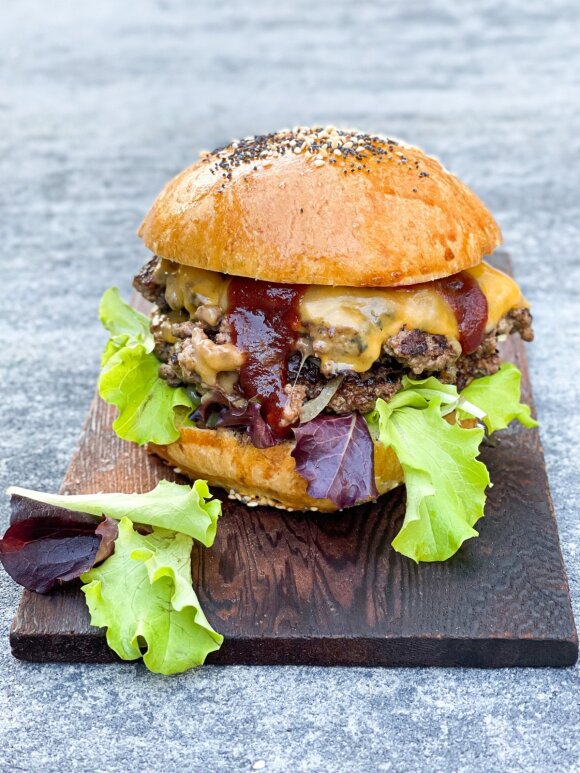 Shredded hamburgers with fried onions
Shredded hamburgers with fried onions
Originally, this burger was called the Smash burger, which originated in Oklahoma, USA. In our family, this type of hamburger is usually made and is our favorite. It is very convenient to fry a meat pie in a heated cast iron pan, which is placed directly on the fire or in the simplest cast iron pan. It is not for nothing that this hamburger is called "shredded", during its preparation a ball of minced meat is formed, it is placed on a heated base, the meat is pressed tightly with a spatula to turn into a pancake, and then thinly sliced. onions are placed on top, which gives the burger sweetness, spiciness and crunch. The specialty of this burger is the delicious pairing of fried onions and well-seasoned meat with the perfect accompaniment to the salsa. chipotle chili sauce and homemade brioche hamburger buns (recipe on my blog).
For 4 double burgers you will need:
• 800 g of minced beef
• 4 large onions
• 8 slices of cheddar cheese
• Santa Maria salt from the grinder
• Santa Maria Tellicherry Black Pepper Mill
Service:
• 4 hamburger buns
• salad leaves
• Santa Maria barbecue sauce Sweet Chipotle
Make 8 meatballs of 100 grams each from minced meat, sprinkle each ball with stuffing. Tellicher Corner and refrigerate it for at least an hour.
Cut the buns in half and fry them cut side down briefly. Cover the baked buns with a towel to prevent them from getting cold.
Heat a cast iron skillet or larger cast iron pan on the barbecue. Spray the cooking base with oil, put a few meatballs on it. Press the meatballs firmly with a shovel, they turn into meat pancakes, sprinkle with salt and fry on one side for 2-3 minutes. Then place a handful of thinly sliced ​​onions with feathers on top of the meat, turn to cook the other side so that the onions are nicely browned, and place a piece of cheddar cheese on the roasted side of the meat. . While the onion is frying, the cheese will melt.
Roll into burgers. Brush one cut side of the bun with barbecue sauce, add lettuce, then top with one meat patty topped with melted cheese and place the other patty, fried onion side down. Cover the meat with salad leaves and put the other side of the bun covered with sauce. Enjoy while it's warm!
Order number: PT_87429165