Leafy greens contain calcium and iron and other minerals, as well as various phytochemicals with antioxidant properties. Although we think of carrots as the best eye protectors, dark leafy greens far exceed these capabilities of carrots. Dark leafy vegetables are rich in natural biologically active pigments, lutein and zeaxanthin, which reduce the risk of macular degeneration (eye disease). Green leafy salad is very low in calories. It is very important to eat them with the right fats. The best oil is olive oil. Fats are important for the body's absorption of fat-soluble vitamins (A, E, K). Therefore, the salad should always be served with oil or another sauce, one of the components of which is oil.
The Doctor of Science mentioned the benefits of a powerful natural medicine for our body
Community (Spinacia oleracea)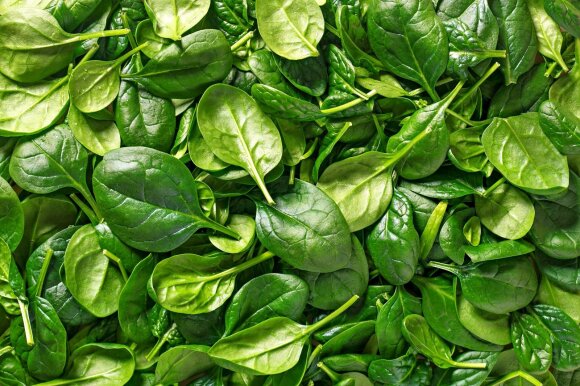 Community
Spinach is believed to have originated in Central Asia, primarily in Persia (now Iran), where it was cultivated more than 2,000 years ago. These leafy vegetables have a sweet taste and are very nutritious. Spinach is rich in flavonoids, carotenoids, beta-carotene and lutein, quercetin, kaempferol, apigenin. Let me remind you that polyphenols (including flavonoids) are powerful antioxidants, protect against inflammation, cancer, and inhibit cell damage. Spinach is an important source of vitamins A, C and K, minerals iron, phosphorus, zinc, selenium, magnesium, manganese, copper and calcium. They contain oxalates, which can trigger gout symptoms, as well as chlorophyll, which improves digestion.
Spinach can be used in salads, soups, smoothies, omelets, it can be used fresh, frozen or cooked.
Novels (L. sativa L. var longifolia) and iceberg lettuce (L. sativa L. var capitata)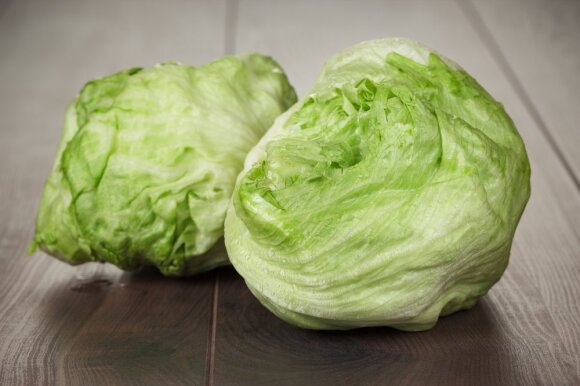 Iceberg salad
Iceberg salad is the most popular. They come from the Mediterranean region. This salad is a good source of vitamin A (although it is the lowest compared to, for example, spinach or romaine lettuce), it is also rich in minerals such as calcium, iron, magnesium (although spinach is the leader in this field). Although this lettuce is considered to have the lowest nutritional value of all leafy lettuces, scientists say that the amount of nutrients depends on the type of lettuce and the quality of the soil. Iceberg lettuce has fewer nutrients than romaine lettuce.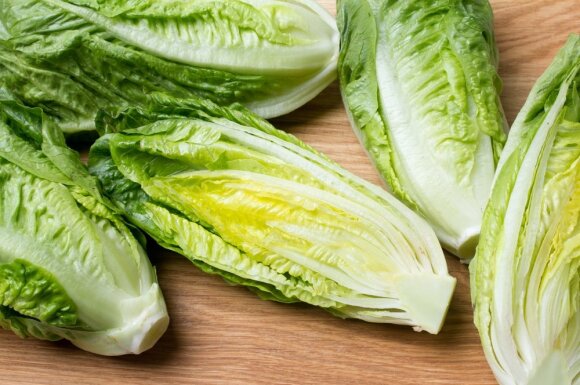 Roman salad
Leafy (kale) cabbage (Brassica oleracea)
In recent years, this cabbage has attracted the attention of the scientific community due to the very high content of bioactive compounds such as vitamins A and C, dietary fiber, micronutrients (iron, zinc and manganese) and macronutrients (calcium, magnesium). ), as well as phenolic compounds, glucosinolates, which increase the antioxidant capacity of vegetables. Scientific studies show that cabbage has a positive effect on the prevention of chronic diseases such as cardiovascular diseases. Thus, cabbage can be considered as a functional food because it can be useful in the prevention of various chronic degenerative diseases.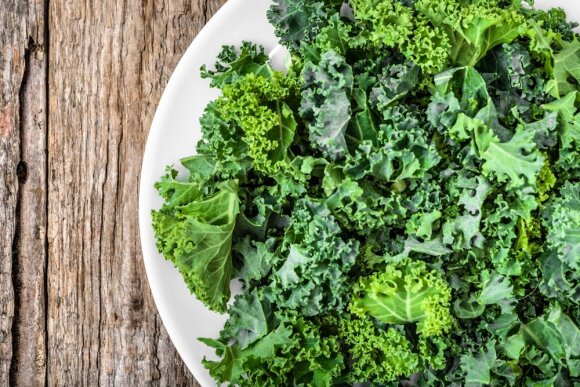 Cabbage Cabbage
This cabbage is perfect for making salads, smoothies, healthy chips made from them are very tasty.
Sunflower seedlings (Helianthus annuus L.)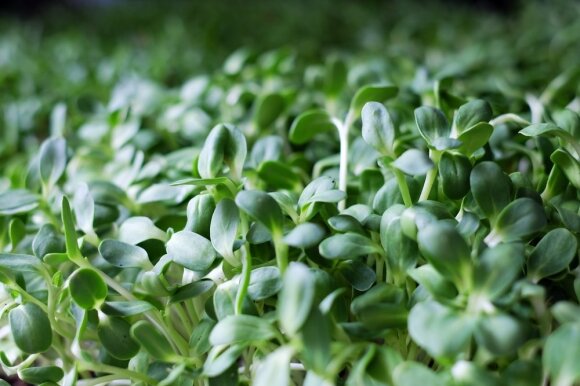 Sunflower seedlings
It is an excellent source of antioxidants, flavonoids (quercetin, kaempharol, luteolin, apigenin), phenolic acids (coffee, chlorogenic acid, glucosides, glucopyranosides, cynarin), vitamins. Sunflower sprouts contain high concentrations of niacin and vitamins A, B and C. They are also rich in minerals – calcium, iron, magnesium, phosphorus, potassium, selenium and zinc, as well as cholesterol-lowering phytosterols. The amount of magnesium and zinc in sprouts is higher than in seeds. Metabolism of macroelements during production – breakdown of carbohydrates, proteins and lipids – leads to an increase in free amino acids (or simply, proteins) and organic acids. And components that inhibit digestion and protein-degrading enzymes are reduced during germination. Finally, roasted seeds contain high amounts of vitamin E and polyphenols. As sunflowers germinate, not only do they change in appearance and taste, but the nutritional value of the sprouts also increases.
Sunflower sprouts are a great ingredient in salads, smoothies and sandwiches.
in Grajgars (Eruca vesicaria)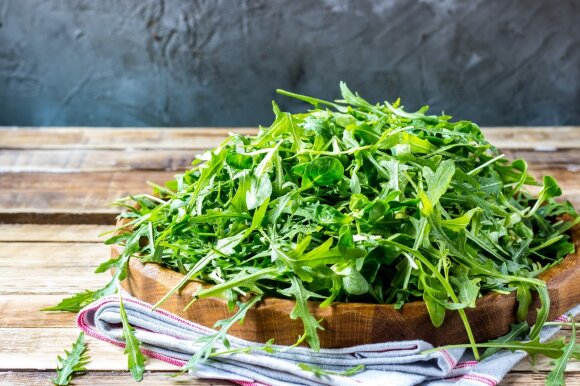 in Grajgars
These green leafy vegetables grow in the Mediterranean region and southern Europe. Even the ancient Romans are known to have eaten cranberries. The plant is even mentioned in the Old Testament of the Bible. These are cruciferous vegetables in the same family as broccoli, Brussels sprouts, cauliflower, turnips and cabbage. Horseradish is rich in fiber and phytochemicals. These leafy greens are low in sugar, calories, carbohydrates and fat. They are rich in vital nutrients: calcium, potassium, vitamins B9, A, C and K. High in chlorophyll and water (90%).
Horseradish can be used as an alternative to basil in making a hot or cold pesto sauce, perfect for salads, pizzas, sandwiches.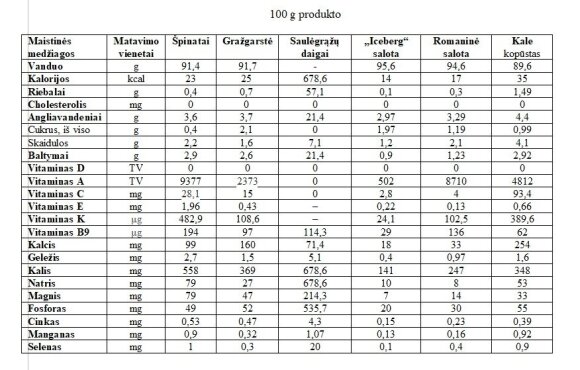 Lettuce nutrition chart
© DELFI Montage / Shutterstock
Let me remind you that it is recommended to eat 300-400 g of vegetables per day, and about 100 g of green salad should be consumed. Now is the time for fresh, nutritious salads, so take the opportunity to mix and match several types to get as many nutrients as possible, especially vitamins and minerals, instead of leaving them dry. The calories in plant foods, especially green leafy vegetables, won't add extra pounds to you, and most importantly, they're packed with nutrients.
Sandria Chapkauskie is a PhD in biomedical sciences, associate professor at LSU, and nutritionist.
Use of information published by DELFI on other websites, media or elsewhere, or distribution of our material in any form without consent is strictly prohibited and DELFI must be credited as the source if consent is obtained.