Source of protein and vitamins
In the summer, nuts give way to fresh berries and fruits, but they should not be forgotten in the warm season – they are an important part of a complete diet. Nuts are rich in healthy fats that help absorb bad cholesterol, plant-based protein, and fiber. Peanuts and pistachios are rich in B vitamins, almonds and hazelnuts are rich in vitamin E, and cashew nuts are rich in vitamin K. Most nuts are also rich in magnesium and manganese, which the body needs to function properly.
You can use both store-bought and homemade nut creams to make ice cream.
A great way to add nuts to your diet is to make ice cream with them! It is a very popular dessert ingredient in plant-based diets with unique properties. When making ice cream at home, ice crystals that form during freezing are often the main problem. They not only have an unpleasant crunch in the mouth, but also make it difficult to remove the ice cream from the mold. A good way to avoid them is to use natural fat ingredients for the ice cream base. Nuts crushed into a smooth mass are ideal for this. Whipped with coconut cream or plant milk, they give the dessert a creamy texture and rich flavor.
For the production of ice cream, you can use purchased and homemade nut creams: peanuts, almonds, cashews, hazelnuts, walnuts – choose your favorite!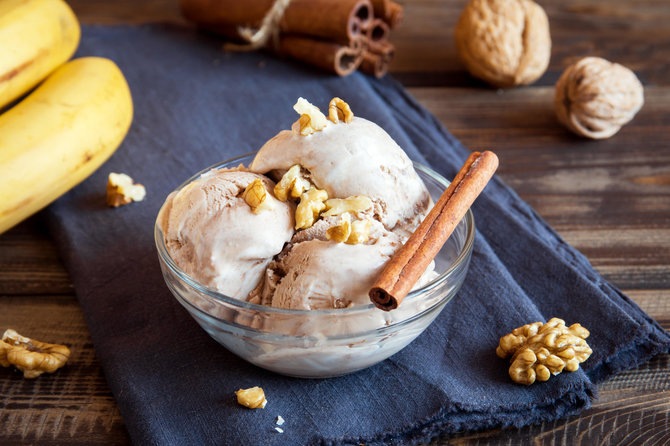 Vida Press Photo/Vegan Ice Cream
Different nuts go well with different toppings that add delicacy to cold desserts. Nuts complements well dark chocolate, almonds goes well cherryand here it is nut spray helps to open up the flavor maple syrup. Roasted cashew butter is especially popular among plant-based ice cream lovers because it doesn't have a strong flavor compared to others and allows the other ingredients to shine. It goes well with fruit, caramel and other spices.
Mint ice cream with chocolate chunks
(the author of the recipe is Jurate from the movie "Let's Eat Right")
Composition:
200 g of cashews, soaked overnight;

1 can (400 ml) full fat coconut milk;

65 ml of maple or agave syrup;

6 tablespoons chopped fresh mint or mint leaves (or use about 1/2 peppermint extract or oil for a stronger mint flavor);

a pinch of salt;

1/2 tea. a spoonful of vanilla paste;

100 g of dark chocolate, cut into pieces.
Create:
1. Place everything (except the chocolate) in a high-powered electric blender and blend until smooth.
2. Mix in the chocolate chips, pour the mixture into a freezer container, cover and place in the freezer until frozen.
3. Wait for the ice cream to warm up a little before eating.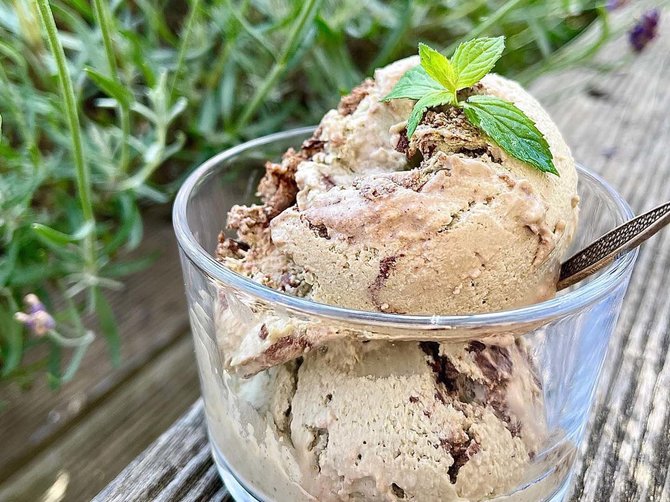 Blog photo. /Mint ice cream with chocolate chips
A simple way to eat more fruits and berries
The World Health Organization recommends consuming at least 400 g of fruits and vegetables per day. It will not be difficult to fill the freezer with homemade fruit ice cream. In addition, studies have proven that useful substances and vitamins obtained from fruits and berries do not disappear in the cold.
The undoubted advantage of bananas in ice cream is that they go well with almost everything!
Seasonal products are ideal for making ice cream: blueberries, lingonberries, strawberries, currants, raspberries. Kiwi, mango, avocado, and pineapple help to get the exotic taste of summer.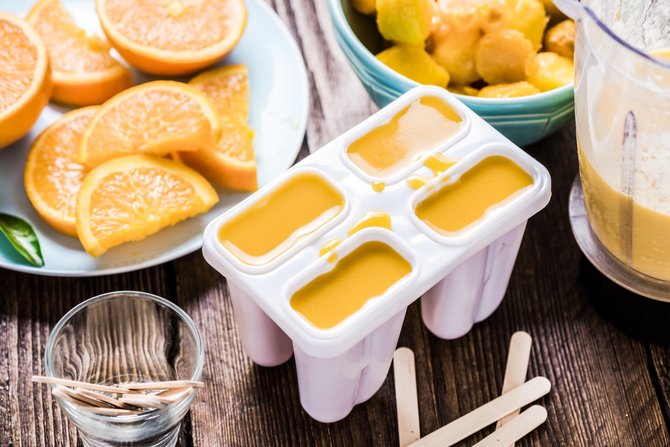 Photo by Vida Press/Fruit Puree Vegan Ice Cream
Bananas are often found in plant-based ice cream recipes. Thanks to the pectin they contain (a substance found in cell walls) when crushed, they solidify into a uniform and homogeneous mass, making this fruit ideal for the basis of ice cream. The undoubted advantage of bananas is that they go well with almost everything! Mix them with other fruits, berries, chocolate, nuts or other favorite spices.
Light cherry ice cream
(the author of the recipe is Jurate from the movie "Let's Eat Right")
Ingredients (for about 4 servings):
Create:
Place the cherries and bananas in an electric food processor (heat the blender slightly before it heats up), puree, and enjoy immediately.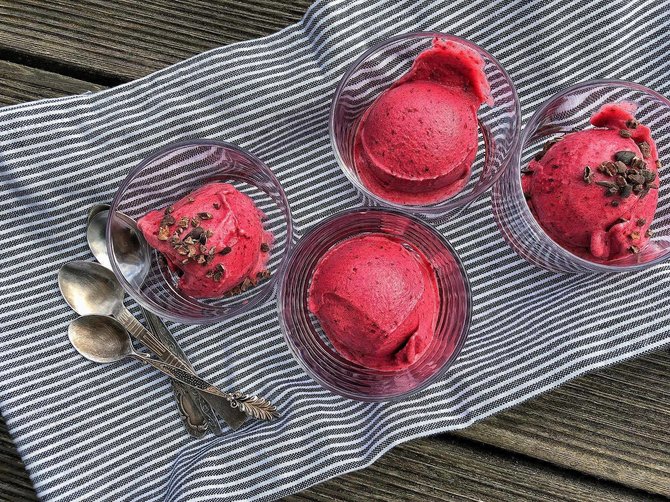 Blog photo. / Light cherry ice cream
Pineapple and banana ice cream
(recipe by Iveta from @plantastica)
Ingredients (for 3-4 servings):
Create:
1. Cut pineapple into cubes, banana into slices and pre-freeze in the freezer. Refrigerate for at least a few hours or even better – overnight.
2. Place frozen bananas and pineapple and coconut milk in an ice cream maker. This requires a hand blender or food processor.
3. Grind all the ingredients until smooth.
4. The ice cream can be eaten immediately or kept in the freezer for 20-30 minutes to harden more. If storing longer in the freezer (for example, overnight), remove and leave at room temperature for 20-30 minutes to soften slightly.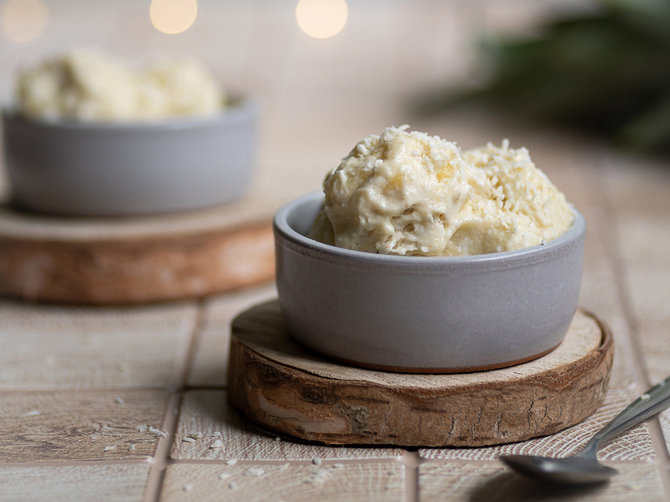 Blog photo. / Pineapple-banana ice cream
You don't need any special equipment, just a few tricks will come in handy
An ice cream maker, often referred to in recipes, really simplifies the production process. Its essence is to freeze the ice cream mass evenly by constantly stirring it. In this way, the ice crystals are formed smaller and the texture of the ice cream is softer and creamier. However, excellent results can be achieved without this device. Just pour the prepared ice cream mass into a frost-resistant container, put it in the freezer, and stir it well every hour until it freezes completely. By the way, those who plan to make ice cream in molds do not need this process at all – it is much more convenient to pour the liquid mass.
In production ice cream based on nuts and vegetable milk it is enough to grind all the necessary ingredients in a food processor and freeze in the chosen method: in a large container with constant stirring or in smaller molds.
o fruit ice cream can be issued in two copies. The general method is to puree the ingredients as if you were making a smoothie and pour them into the containers of your choice.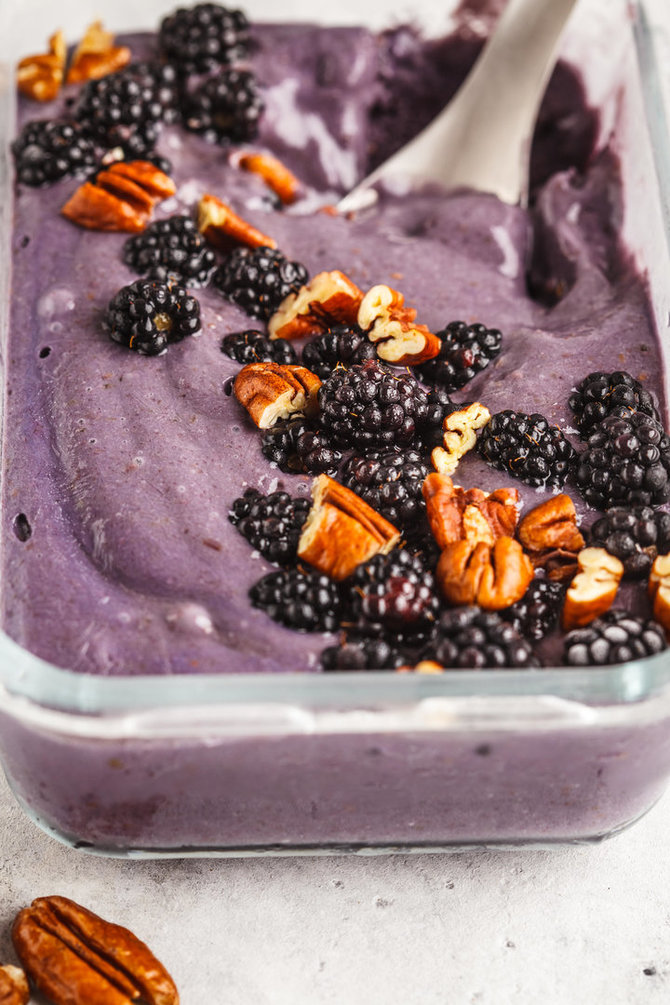 Vida Press Photo/Vegan Blackberry Ice Cream
Another method that will appeal to fans of soft ice cream is this fruit ice cream preparations. Cut fruits and berries should be frozen and rubbed into a smooth mass just before eating. The dessert prepared in this way has a very soft, creamy texture. In addition, preparation is also a great way to "save" sweets that you don't have time to eat from the toss (ice cream made from very ripe bananas is even more delicious!).
The cold suppresses the sweetness. For this reason, it is necessary to make the ice cream mass a little sweeter.
Making ice cream at home is a special process. Cold changes the properties and taste of ingredients, so a little knowledge can help you achieve better results. here it is Here are some helpful tips to help you make the most delicious ice cream at home:
Before making ice cream, it is recommended to keep all products in the refrigerator for several hours. This allows you to create a uniform consistency of ice cream.

In the industrial production of ice cream, various stabilizers and thickeners are used to obtain a creamy texture. Cornstarch, agave, or maple syrup work well in home cooking.

The cold suppresses the sweetness. For this reason, it is necessary to make the ice cream mass a little sweeter. One secret ingredient – a pinch of salt – helps bring out the rich flavor.

When ice cream is frozen in a container rather than in molds, it should be heated for at least 10 minutes before eating. The temperature in the freezers at home is very low, so the ice cream comes out hard and it is difficult to serve it.
The publication of this article is part of the Nori Gali project of the non-profit organization Givi Gali. The project encourages the discovery of the colors and flavors of plant-based foods. Check out the most interesting articles on plant-based eating throughout the summer