For now, beef is not the dominant meat on the table in our country – it far exceeds pork and chicken. Nutritionists value beef because it is rich in iron, B vitamins and trace elements. Those who cook beef at home have probably heard many times that the most important thing in this case is not to spoil the meat. It doesn't mention pork, and it doesn't even mention chicken, so where's the beef secret?
It all starts with choosing the right, high-quality beef – this is the most important rule. If you choose correctly, you can say that half of the work is already done, because the beef can be eaten raw, fried for a few minutes or slowly stewed.
What do you need for a perfect steak?
One of the foods most associated with beef or veal is a juicy steak. Seasoned food experts say it's best to pick or cut beef. Although these parts of the animal are more expensive, when they are properly prepared, the best flavor of the meat is revealed.
When preparing a steak, it is recommended to choose aged beef. It is soft, juicy and aromatic and easy to digest. For steaks, it is better to choose veal or beef, sirloin or entrecote, the slices should be about the thickness of the thumb, and the cooking time should be between 4 and 12 minutes. Fresh, high-quality veal and beef can be eaten completely cooked – it's better to undercook than to overcook tartare or carpaccio.
Beef, unlike Lithuanian favorite pork, is low in fat. When cooking beef dishes, the fat will melt faster and the meat will be juicier.
Beef goulash
You will need: 900 g of beef (suitable for stew, cut into bite-sized pieces), 3-4 tablespoons of wheat flour, olive oil for frying, 2 chopped onions, 4 chopped garlic, 2 chopped peppers (green or red), sweet and smoked paprika spices , 400 g of canned chopped tomatoes in their own juice, half a glass of white wine, 400 ml of broth (beef, chicken or vegetable), salt, pepper, a spoon of honey.
For serving: 150-200 ml sour cream, chopped parsley, cooked pasta (pappardelle, tagliatelle or penne).
Goulash / Photo by Freepik.com.
Preparation: preheat the oven to 170 degrees Celsius. Heat a pan, sprinkle with oil, add floured beef, season with salt and pepper and fry until well browned. Once cooked, remove the beef and place in a bowl.
Fry the onion in a saucepan over low heat for 2-3 minutes, then add the garlic and fry for 1 minute, add the tomato paste and beef again. Pour canned tomatoes, season with spices, add wine and fry a little. Pour the broth and add a spoonful of honey.
Mix all the contents until boiling, cover the pot with a lid and put it in a preheated oven, cook for about 1.2-2 hours. Stir while cooking and make sure nothing sticks to the bottom. After 30 minutes, add red pepper and cook for the remaining time. After taking it out of the oven, we can pour sour cream on it. Serve with cooked pasta and sprinkle with parsley.
When stewing meat in the oven, it is necessary to stir it carefully and thoroughly so that it does not stick to the bottom of the pan. To serve goulash, you can use not only pasta, but also other favorite side dishes – classic mashed potatoes or rice.
Beef steak
You will need: 2 tablespoons of butter, a teaspoon of chopped fresh parsley, half a teaspoon of minced garlic, soy sauce, 200 g of beef, a pinch of salt and pepper.
Preparation: first prepare the sauce. Mix a tablespoon of melted butter with parsley, garlic and soy sauce. Heat the remaining butter in a frying pan over medium heat. Add steak and cook until meat reaches desired doneness. Pour the prepared garlic butter sauce over the meat. Season the steak with salt and pepper.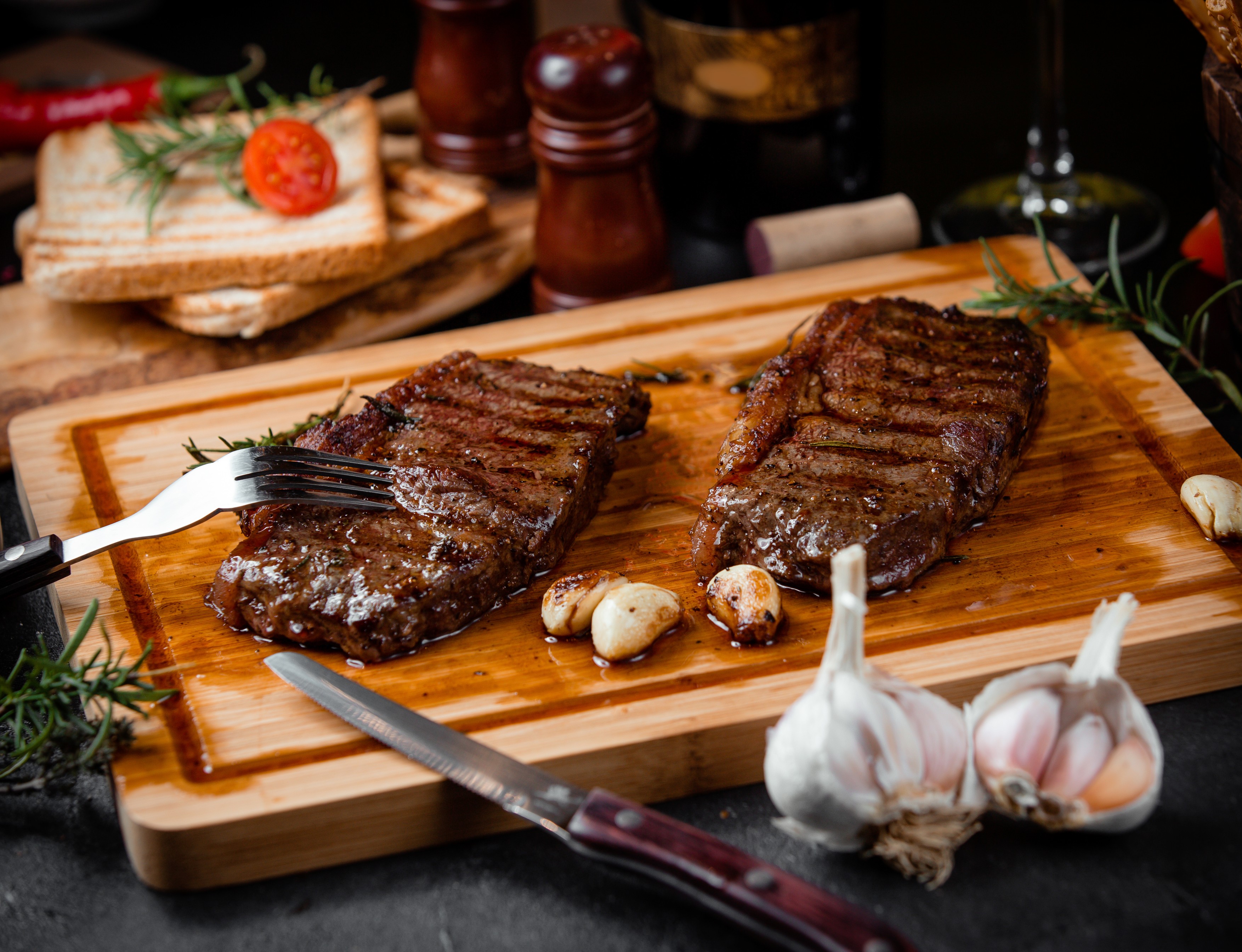 Beef steak / Freepik.com image.
The cooking time of the meat depends on the thickness of the steak and the desired effect. To prepare a 200g steak with blood, you need to cook it in a very hot pan for 1-3 minutes on each side, and if you cook it for 3-5 minutes, the steak will be cooked medium. It takes 6-8 minutes to cook the meat well. on each side – if you keep it on the fire longer, there is a risk of overcooking, the meat will be dry and hard.
Veal
You will need: 300 g of fresh veal, 10 g of capers, 25 g of cornice, a few cloves of garlic, a pinch of parsley, a spoon of mustard, a spoon of Dijon mustard, two spoons of olive oil, a spoon of Tabasco sauce, a spoon of Worcestershire sauce, two a pinch of salt, ground pepper, a squeeze of lemon, one egg yolk.
Preparation: cut the veal loin into the smallest pieces and cut all the other ingredients into small cubes. Add olive oil to the bowl with the minced meat and mix. Add mustard and Tabasco and Worcestershire sauces to a container, mix everything. Add the other chopped ingredients, season with salt, pepper and a squeezed lemon wedge.
Make a circle or square using a pastry cutter. Make a hole in the middle with your fingers and beat the egg yolk into it.
Serve with roasted potatoes or white bread toast.
When preparing veal tartar, it is very important to maintain a balance of all ingredients. True, the main thing is that veal is the freshest, it is green, so you should choose the lightest loin in the store. The taste of the tartar also depends on the quality of the mustard and Worcestershire sauce.