Since childhood, Saulius dreamed of owning his own restaurant. He at least imagined when the kebab shop would be. His mother is a cook, the author of a cookbook, teaches at Kaunas College, teaches culinary art at a vocational school, so it is not surprising that his son also turned to the food business.
"The tastiest in our family is pork with pickled onions, mayonnaise and cheese. Although we have quality Iberico pork, we eat regularly. Do not eat exotic food every day. No matter how good it is. "We recently had a delicious dinner at a restaurant, and people even gave up basketball when they tasted the Iberico pork," laughed Saulius.
He chose Kaunas because it employs his family
The idea to produce Exotic Burgers came about a few months ago when a guy was browsing the internet late at night and spotted a food van for rent. When asked why he decided to open the first "point" of exotic burgers in Kaunas instead of Vilnius, Saulius assured that he is from Kaunas. The solution was also determined by more convenient logistics. Currently, a young entrepreneur is looking for a suitable place for a second car in the capital.
"I will hire my family in Kaunas. "One of my four younger sisters, her boyfriend and a classmate work in the car," admitted S. Gabert that "Exotic FoodTruck" is a family business.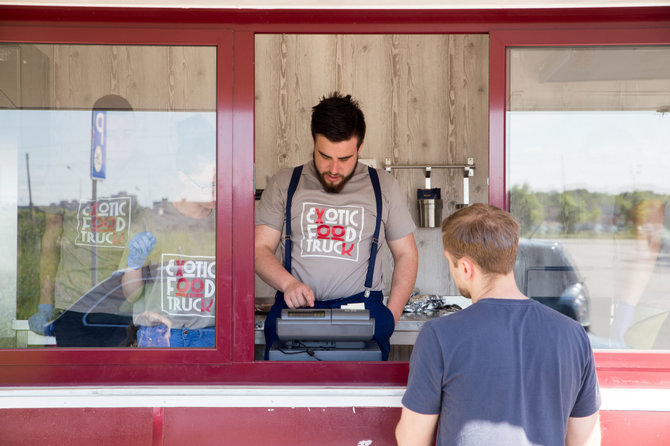 Marius Vizbaros / 15 min photo / Saulius Gabertas
He also explained why he chose to develop his business not in the center of Kaunas or in the old town, but in a high-rise residential area, in a shopping center area. According to Saulius, if the weather is bad, the old town is empty, and there is much more traffic here, and when they come to enjoy a hamburger, they always find a place in their car. The city center also suffers from infrastructure problems. There were also those who wanted to establish themselves on North Avenue. – the communications were not delivered to the required point in the parking lot and several thousand euros had to be spent to bring them.
"We opened the cart not for profit, but for advertising purposes. Many people can eat exotic exotic meat, then buy kangaroo fillets and cook them outdoors. I have noticed that consumers are more interested in the zebra that we have popularized at various exhibitions. Not true Tatar comes out of it. Nobody offers zebra in Lithuania anymore, so it might seem like the most exotic meat to Lithuanians," said Saulius.
Sweet puree is used instead of sauce
At the moment, it is not yet possible to buy hamburgers with zebra from South Africa at the van "Exotic FoodTruck" located on Kaunas North Avenue, next to the shopping center "Norfa" – they will be sold out in a few weeks. . A month later, Fish and Chips will also appear on the menu. Fish is fried in beer and vodka batter.
Australian Wagyu beef burger served with bacon jam made from dry cured bacon, black coffee and caramelized onions.
May 19 Wagyu beef, kangaroo and crocodile-chicken hamburgers were already available in the open car. The latest burger was especially celebrated by customers on opening day.
Crocodile-chicken burger (60% crocodile meat) served with apple and pear puree, sauce and cheddar cheese. Everything is paved brioche bun
"Many people are surprised that crocodile meat is very light meat. It reminds me of cod. We mix it in with the chicken so the patty doesn't get too dry," explained Saulius.
Australian Wagyu beef burger served with bacon jam made from dry cured bacon, black coffee and caramelized onions. About 2.5-3 kg of onions are needed for 100 servings. Another green to use is arugula. Marble Wagyu beef itself differs from regular beef in its juiciness and texture. Also, it is not perfect.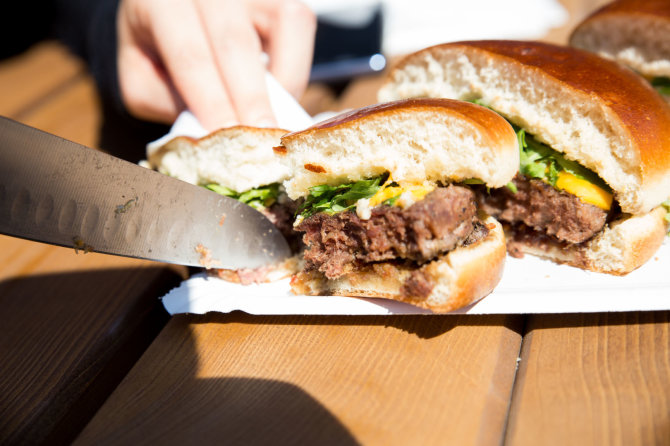 Mariaus Vizbaro / 15 min photo/Exotic hamburgers in Kaunas
Here, kangaroo meat pies (made from kangaroo meat) are topped with caramelized onions and cooked for 4 hours. Red wine vinegar and brown sugar are used during production.
Meat in a burger – a lot: the weight of scones made in England is 170 grams. One hamburger weighs about 300 grams. Therefore, even a very hungry person should be able to eat a light meal. The bun is slightly frosted, so it may not appeal to all burger fanatics. According to Saulius, its choice was determined by its pulverized quality: it was almost uncrushed. Euribija makes its own sauces. They were made by a restaurant chef who wanted to remain a secret.
On the attack of vegetarians
Saulius announced the idea of ​​preparing to sell hamburgers with exotic meats in April. And it began…
"Although we have not yet started our business, we have received 25 units in a row. Such reviews on Facebook came from vegetarians and competitors – fast food restaurants. I also received sarcastic messages about starting to sell burgers with genitalia. Others were afraid that karma would end badly for us," Saulius said of the wave of resistance.
Finally, high fives began to appear in the reviews section – and thus foodies began to fight back against the wrath of vegans. Aren't Lithuanians so conservative when it comes to food?
"People imagine that those zebras, kangaroos, crocodiles will be captured, shot, secretly slaughtered and ground into mass. Just like we raise chickens, certified farmers in South Africa raise crocodiles in the swamps. They eat. They are fed naturally, because if there was something wrong with the meat, it would not enter the European Union.
Kangaroos grow in Australia. Their population significantly exceeds the norm: twice as many people as Australia – about 50 million. Even the government of this country encourages to eat kangaroo meat. Kangaroos are sold to farmers under strict control.
Zebras live in parks covering thousands of hectares – in a natural environment. There is one species of zebra whose population exceeds the norm. Only in the reservoir there are too many breeds of these animals – some are sold to farmers who prepare meat," Saulius debunked the myths.
Received an order for 850 euros
When the cart opened its doors, the first customers who came to it were young families – customers who ordered meat for their homes from Euribija, which has been operating for five years. The company sells special meat for half a year, so its price and customers are special. The average cost of a shopping basket is 70 euros. According to Saulius, there were also such customers who paid more than 800 euros for the order.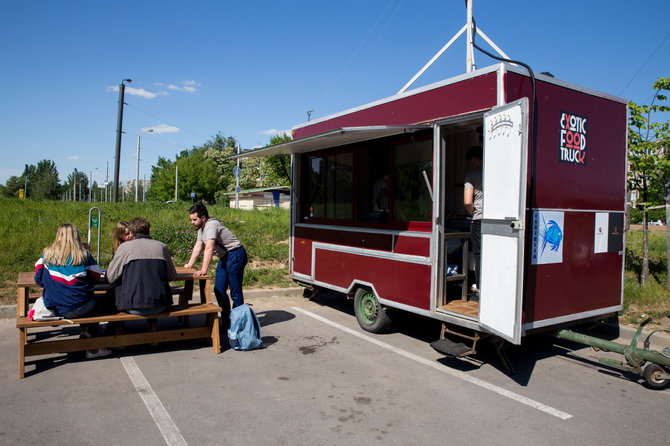 Mariaus Vizbaro / 15 min photo/Exotic hamburgers in Kaunas
"Our customer is a person with a high income who can buy special meat and eat it almost every day. So are the foodies. There are customers who eat beef for breakfast for 110 euros per kilogram – they put it in sandwiches. We have about 3 kg of Wagyu beef per month, which costs about 117 euros per customer. That means two or three large steaks a week.
Yes, animals have rights. And one of those rights is to be delicious.
The largest order for an individual is 850 euros. The Japanese beef he ordered costs 313 euros. This is the most expensive meat in Lithuania. We cut each into pieces of 100 grams. But we only buy, we sell in a few days," Saulius described the clients.
Next to the "Exotic FoodTruck" there is a table with chairs, where even foodies who do not know each other willingly sit. Some of them admitted that they came all the way from Vilnius for these hamburgers.
"I am a stomach tourist. I was one of those who gave the Exotic Foodtruck a high five because it should have been protected from the vegan setup. Businesses are valued as a unit even if people don't even start work – it's brutal. Yes, animals have rights. And one of those rights is to be delicious," said the person who ordered the kangaroo burger.