Avoid caffeine and sugary drinks
Vilma Juodkazyene, who works at "Iki", says that the food you choose in the evening affects the quality of your sleep. In order to sleep as deeply as possible each night, we need to control how much caffeine we consume during the day. In particular, it should not be used for a long time after lunch or in the evening. Sweet drinks and sweets are also associated with poor sleep, and fatty or spicy foods that are difficult to digest in the evening should be avoided.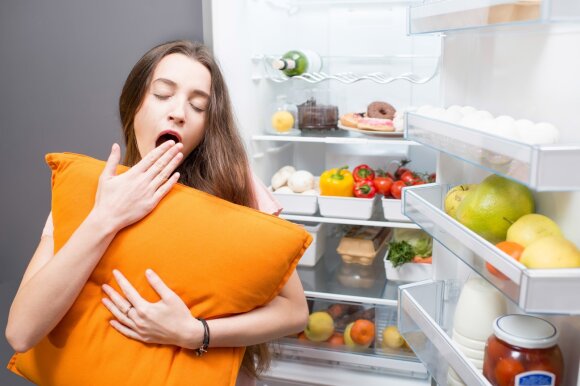 Food and sleep
© Adobe Stock
"Adults should sleep 8-9 hours a day. When you don't get enough sleep, you can experience fatigue, drowsiness, indigestion and headaches. Lack of sleep can even weaken your memory and make it difficult to absorb new knowledge. "Foods that help you sleep well include some fruits, whole grains, herbal teas, honey, berries, some types of nuts, and meat," says V. Juodkazyene.
Food that helps you sleep better
When choosing products or dishes for dinner, you should think about their effect on sleep. For example, bananas have a high concentration of potassium, so they improve the quality of sleep. In addition, they also contain vitamin B6, which is necessary for the production of melatonin, which helps us sleep. Vitamin B6 is also found in dried fruits and cereals, so these products are recommended for people suffering from sleep disorders. A sufficient amount of walnuts, almonds, hazelnuts or cashews improves sleep, because the unsaturated fats in them strengthen the heart and at the same time increase the amount of serotonin in the body. Perhaps the highest amount of melatonin is found in cherries, so a handful of these berries or a glass of juice before bed will improve your night's rest. Red grapes are also high in melatonin.
"Another fruit you can eat in the evening is kiwi to help you sleep better. They are rich in vitamins and minerals, especially vitamins C and E, as well as potassium and folic acid. However, kiwi not only replenishes the body with vitamins. Eating a few kiwis in the evening improves the quality of sleep. This may be due to their antioxidant properties and high concentration of serotonin," says V. Juodkazyene.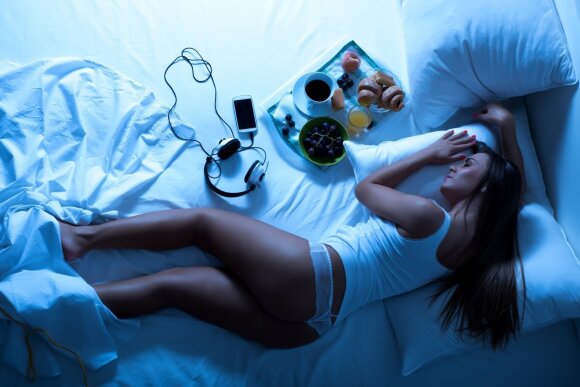 Food and sleep
© Adobe Stock
For those who cannot imagine dinner without meat, it is recommended to choose turkey – it is rich in amino acid tryptophin, which is a guarantee of good sleep. Warm drinks, such as a cup of warm milk or herbal tea, are soothing and can help with sleep.
V. Juodkazienė also shares several recipes that creatively use ingredients that improve the quality of sleep.
A bowl of cereal, turkey and nuts
You will need: 120 g of bulgur grain, 2 small corns, 220 g of turkey fillet, 1 tbsp. sh. salt, 2 tbsp. sh. olive oil, 200 g of porcini mushrooms, 1 apple, a handful of walnuts, 2 handfuls of grated red cabbage, 1 lemon, ¼ a. sh. ground black pepper, 10 lemon balm or mint leaves.
Preparation: Cook bulgur according to package directions. Grill corn on the grill until tender. Cut the turkey into small pieces, salt and fry in hot oil in a grill pan for about 10 minutes. Put the cooked meat on a plate, put the sliced ​​mushrooms in the pan and cook until the water evaporates, but not too long so that the mushrooms do not lose their shape. When the mushrooms are cooked, season them with salt and pepper. Cut the apple, remove the seeds, cut into thin slices and sprinkle with lemon juice. Finely chop the walnuts. Salt the grated cabbage and sprinkle with the remaining lemon juice. Place the cooked crumbs in bowls, top with turkey, shredded corn, mushrooms, apples and cabbage. Sprinkle all over with walnuts and garnish with mint or lemon balm leaves.
Granola with kiwi and apple
You will need: 300 ml of drinking yogurt, 1 kiwi, 2 tangerines, 1 apple
Granola: 150 g of oatmeal, 50 g of coconut flour, 50 g of chopped almonds, 2 tbsp. sh. sunflower seeds, 1 tbsp. sh. poppy seeds, 1 tablespoon. sh. sesame seeds, 1 tbsp. sh. ground cinnamon, 2 tbsp. sh. melted coconut oil, 2 tbsp. sh. maple syrup, 1 tbsp. sh. water.
Preparation: put all ingredients for granola in a bowl and mix well. Put the mixture on a baking sheet covered with baking paper, put it in the oven, heat it to 180 ° C and bake it for about 20 minutes. During cooking, stir the flakes several times, and when cooking, wait until the mass cools down completely. Wash kiwi, apple and tangerine, peel and cut into small pieces. Spoon a few scoops of chilled granola into bowls, add fruit, cover with yogurt, then top with another layer of granola and fruit and serve.
Fruit salad
You will need: 2 pears, 4 apples, 30 g of cranberries, a handful of cherries, a handful of grapes, 200 g of natural yogurt, a pinch of cinnamon, a pinch of coconut.
Preparation: wash the pears and apples, peel them, remove the seeds and cut them into cubes. Remove pits from cherries, cut grapes in half. Put all the cut fruits in a bowl, pour yogurt, add a pinch of cinnamon and coconut and mix everything. Garnish the salad with fresh cranberries and serve. Tasty!
Use of information published by DELFI on other websites, media or elsewhere, or distribution of our material in any form without consent is strictly prohibited and DELFI must be credited as the source if consent is obtained.