"Sauerkraut is valued by Lithuanians for one reason – it is very nutritious and contains various substances that are good for the body. In addition, they enrich various dishes with their expressive taste. That's why you should add sauerkraut to your daily diet, especially in winter, to enrich the body with vitamins," Jolanta Sabaitiene, fruit and vegetable expert of the "Iki" trade chain, said in a press release. .
He says we may think of pickled vegetables as a side dish for meat dishes, but sauerkraut, its Asian version, and kimchi can be used extensively in cooking.
"Sauerkraut can be stewed with mushrooms, fried sausages and baked potatoes. A variety of pickled vegetables, including sauerkraut, can be an ingredient that enriches the taste of hamburgers or hot sandwiches, not to mention wonderful stews of pickled vegetables. Try them to season rice, fill Asian rice rolls, even combine them with fresh vegetable salads, and most importantly, don't be afraid to look for new and unexpected combinations," says J. Sabaitiene and shares interesting facts about sauerkraut.
Fermentation. On the one hand, preparing sauerkraut does not take much time – it is enough to season the cabbage with salt and your favorite spices. But then you have to depress them and wait for a long time, at least a month, until fermentation takes place. In the process, the fungi and bacteria naturally found in cabbage begin to release acids while consuming sugar, so in the long run, the cabbage will have an expressive taste and will be protected from spoilage.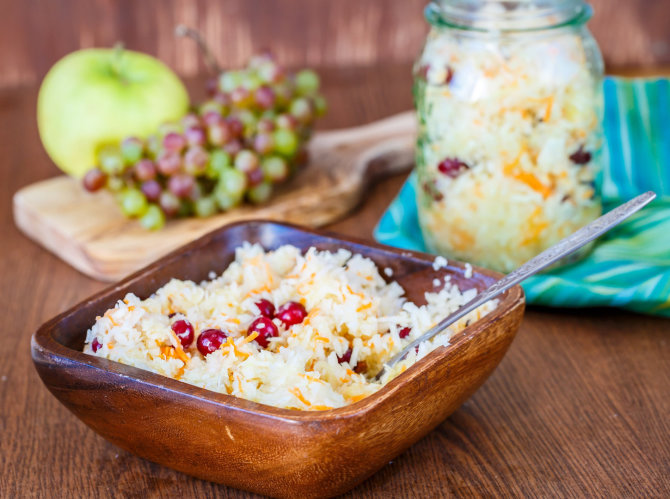 Fotolia photo/Sauerkraut
Nutritional value. Cabbage contains many valuable nutrients necessary for the proper functioning of the body. There are only 19 calories in 100 grams of sauerkraut, but there is a complete set of vitamins: vitamin C is very important for strengthening immunity, vitamins B6, K1 and K2, which play an important role in the bone growth process. In addition, sauerkraut is an excellent source of probiotics that are produced during fermentation.
Salt. The main ingredient for preparing cabbage is salt, its function is to absorb water from the cabbage and stimulate the fermentation process. So, sauerkraut is high in sodium. Despite the fact that this mineral is important for the human body, it is not recommended to consume a lot of salt, so sauerkraut should be eaten in moderation.
Sauerkraut also goes well with stews, especially if they contain beans or marinated meat.
Different foods. Sauerkraut can be eaten on its own, but it is ideal as a side dish for various dishes. They are also a staple of Turkish cuisine popular in Europe. frost – an ingredient in cabbage rolls. In Germany, sauerkraut is usually eaten with meat dishes, especially sausages and potatoes. Sauerkraut also goes well with stews, especially if they contain beans or marinated meats, because the cabbage gives a nice slightly sour taste.
Cabbage soup
Composition:
350 g of sauerkraut;
100 g of onion;
3 tablespoons. spoon of sunflower oil;
500 g of potatoes;
1 bay leaf;
1 tea. a spoonful of ground sweet pepper;
0.5 tea. a spoonful of ground white pepper;
0.5 tea. a spoonful of ground cumin;
800 ml of meat broth or water;
1 tablespoon. spoon of fresh chopped dill.
Create:
1. Peel the onion and cut it into cubes. Cut the sauerkraut into thin strips. Peel, wash and cut the potatoes into large cubes.
2. Heat the oil in a pot and fry the onion for 5 minutes. Add cumin, bay leaf and sauerkraut. Boil for 10 minutes, stirring constantly.
3. Add ground pepper, pepper and potatoes to the pot, add stock or water and cook for 20 minutes. Finally, add chopped fennel and serve.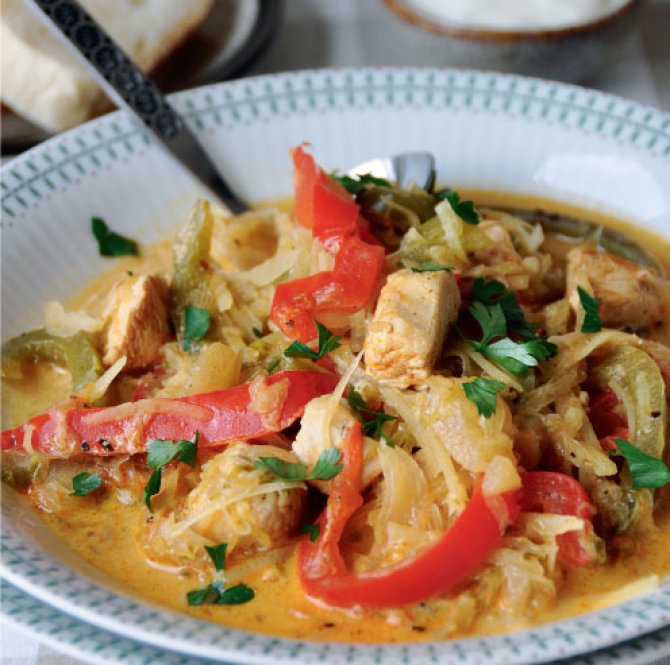 Photo Neringa Kalasauskaite/Turkish soup goulash sauerkraut
Sauerkraut salad with carrots and apples
Composition:
300 g of sauerkraut;
100 g of carrots;
150 g of apples;
2 tea. a spoonful of olive oil;
0.25 tea. spoon freshly ground colored pepper.
Create:
1. Peel and grate carrots, thinly slice apples and mix with sauerkraut.
2. Drizzle the salad with olive oil, sprinkle with pepper, mix and serve.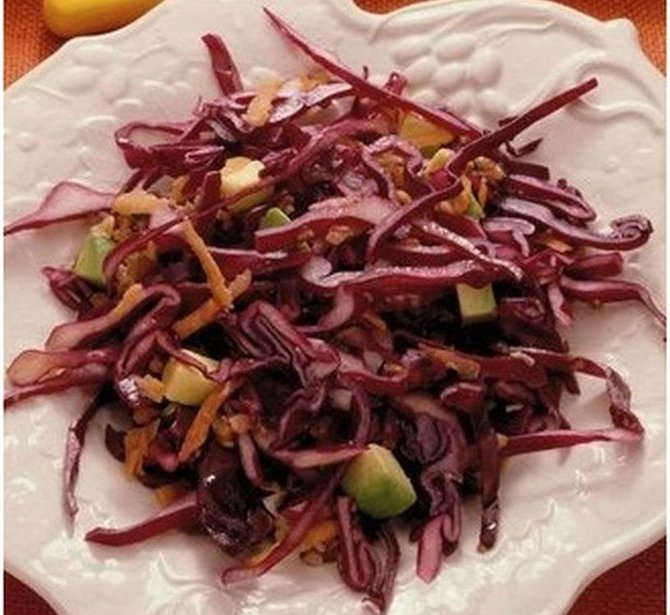 15min.l/salted cabbage salad
Pork with cabbage
Composition:
1 kg of fermented cabbage;
1.5 kg of pork;
1 tablespoon. spoon of salt;
100 g of onion;
3 cloves;
1 tea. a spoonful of peppercorns;
2 cloves of garlic;
2 bay leaves;
1 tea. a spoonful of ground sweet pepper;
0.5 tea. a spoonful of ground cumin;
4-5 tablespoons. a spoonful of oil;
1 glass of water;
a few sprigs of thyme.
Create:
1. Boil salted water in a pot, add bay leaf, cloves, pepper, peeled, uncut onion, garlic and cook for 60-80 minutes.
2. Cut the cabbage into strips, chop the remaining onions and fry them in hot oil in a large pot.
3. Add cumin and cabbage to the pot and boil for 10 minutes, stirring constantly. Season everything with ground pepper.
4. Preheat the oven to 180°C.
5. Put the cabbage and cabbage in a deep, greased baking dish, pour water, cover with foil and put in the oven. Cook for an hour until the meat is completely tender. Remove the foil and bake for another 5-10 minutes.
6. Season the karka with fresh thyme and serve.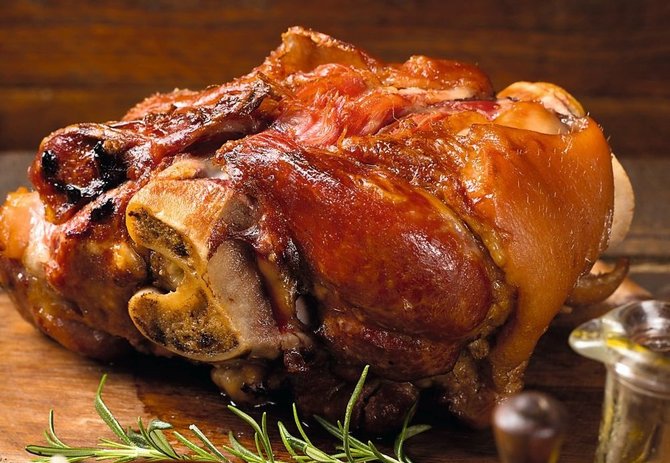 Image Shutterstock/Cabbage with Tarka