And it all started at school. Rokas and Paulius, who have been studying together since the 9th grade, have tried many fields together. He also took part in physics Olympiads and tried his hand at both athletics and weightlifting. However, what united the Blacks most was a respect for food.
"We both love food, we love to cook and eat it. We really had a lot of fun, both families enjoyed our dishes and always complimented them very much.
We both studied and matured, so we wanted to do what we could, not what the family wanted. Such support was very important for us," says Rokas.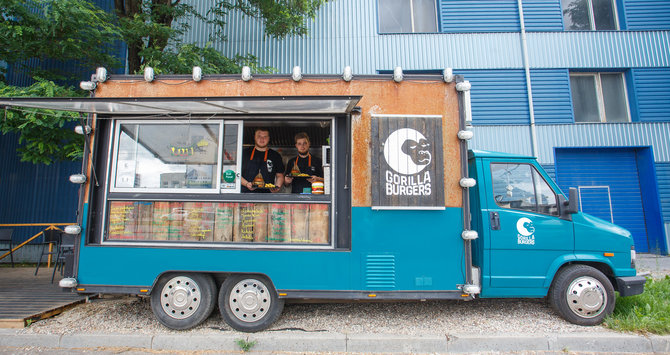 Gorilla Burgers is owned by Rocas and Paulius
From cricketers to chefs
Although the idea seemed like a teenage dream, everything started moving in the right direction when I found this cute, blue bus in the ads, which was immediately adapted to cooking and creating a traveling restaurant. After several days of careful consideration, weighing all the pros and cons, and getting the support they needed, the two finally decided to move toward their goal.
Now the 22-year-olds laugh at how the incident happened out of nowhere. However, as they say, they already are – if they achieve the goal, they will strive for it without stopping.
"We used to try to breed crickets (to laugh). What have we not done together! And this time – even though we didn't really believe we would succeed, we took it and did it. This step was an act of self-awareness, we did not think that it would be our business one hundred percent. At first, we considered it as a hobby, a hobby," admits Rock.
Just when fate thought that young professionals should have more trials, life sent them into…quarantine just after their activities. Both of them tried themselves at the Kedainia fair, and at the Kaziuk fair held in the capital in March, they had a lot of fun and gave a lot of news to the hungry crowd. we had to think about how to continue their activities.
Although Gorilla Burgers was able to operate under all permits, they had to immediately slow down the high-pressure gas, not wanting to endanger the well-being of their family and those around them. Unfortunately, the quarantine also changed the original plan – this summer, the children imagined that they would feed hungry festival-goers, and they thought that they would do some work in the capital. Only here you don't need to hang your nose – everything should be like that.
"Maybe fate has put everything in its way," the guys laugh. Now they have temporarily landed in the capital (Raudondvaris p. 162), where they cook juicy burgers every day, they can hardly keep up with the number of visitors, and they plan to expand their service.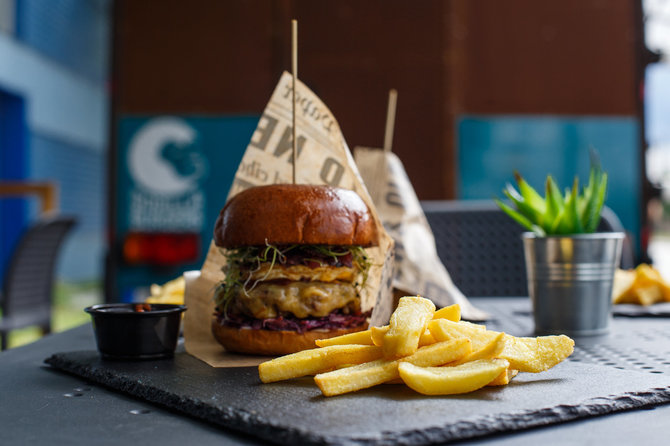 Gorilla Burgers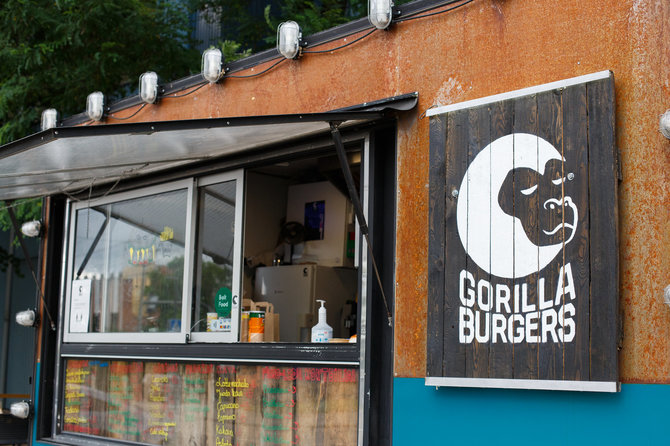 Gorilla Burgers
Seven juicy burgers will lick your lips
The Rock can talk about hamburgers all day and night, but he says not everyone understands the charm.
What appeals to me most about this dish is the freedom. Burgers can vary from the bun to the type of ingredients. It is true that they did everything from A to Z when they were teenagers. Each time, new combinations led to victories and defeats, because when guys laugh, there are limits to freedom, but they will come later.
But precisely the combination of experience, love, and sleepless nights has been refined to keep visitors coming back again and again.
A good burger requires a lot of love, dedication, and it's not just fried meat.
"We make hamburgers at home, that is, we make everything ourselves, we prepare all the ingredients at night. We go to the stores and suppliers ourselves, and finally we choose the tomatoes ourselves, and when we bring them home, we evaluate whether they are suitable for serving the customer. And then it's a matter of imagination.
Of course, anything can be added, but the taste has to match, and this is where I see the problem with other restaurants, because they often try to put a little too much into their burgers and the result is nonsense. Such a whole spectrum of flavors is certainly not a good solution. We tried hard. A good burger requires a lot of love and dedication, it's not just fried meat. And if you don't put so much love, it will show," said the guys.
The uniqueness of hamburgers, more precisely, their size, determined the name of the business. Rock laughs that they are big guys, so he made hamburgers so that the gorilla would be full and happy after eating. and in a restaurant this huge animal can find seven types of hamburgers. In the future, the choice will be even bigger, but guys don't want to rush.
By far the most popular is "Shock on the Edge". This burger gets the most likes not only because of its playful name, but also because of its contents. As Rock says, caramelized onions, garlic sprouts, and burger tenderness won't smack you in the face.
A new van and a flag that rocked Kaunas
Although the van burned every day for more than a month, Roxas and Paulius decided to make their dreams come true with a bang. In a month they plan to open another outlet in Kaunas – they are currently installing another van as they think. So, in the future, chefs and kings will each have their own restaurant, where they will share their experience and knowledge with other future burger gurus.
"That way it's easier to maintain quality, which is very important to us," emphasizes Rokas. "Everyone is responsible for their own bus."
The fact that they are two friends makes it easier to make decisions, but friendship in business has its challenges. As they say, there are difficulties, but the main thing is that they understand each other very well emotionally. One of them is angry and does not speak, the other tries not to poke his nose. Ultimately, the most important thing for them is to achieve their goal.
"Sometimes it happens, sometimes it doesn't happen, but we are very stubborn people, so we face difficulties. We have faced challenges in every field. Our friendship also went through various tests, because, it's not a secret, money is everywhere, and one person thinks differently, the other another, and you have to compromise. But most importantly, we strive for a common goal," says Rokas.
Sometimes our hands shake, sometimes they don't, but we are very stubborn people, so we fight with difficulties, – says Rokas.
During the conversation, the guys repeatedly expressed their gratitude to their parents who supported them, because only thanks to them they started their activities. Although they have their own savings, it would be very difficult to make it happen without their financial support. Although the two have invested all their earnings in equipment and a new future restaurant, the support and enthusiasm of the public does not encourage them, but only motivates them to work harder. For example, both of them gladly joined the campaign during the quarantine and delivered food to the doctors of Kaunas clinics.
This is not their only initiative, the last one shook Kaunas harder. June is known as "Pride Month" in the LGBT community. To end discrimination, harassment and bullying based on sexual orientation, support is encouraged around the world by raising the 'rainbow flag'. The Gorilla Burgers van was also decorated with this flag earlier this summer.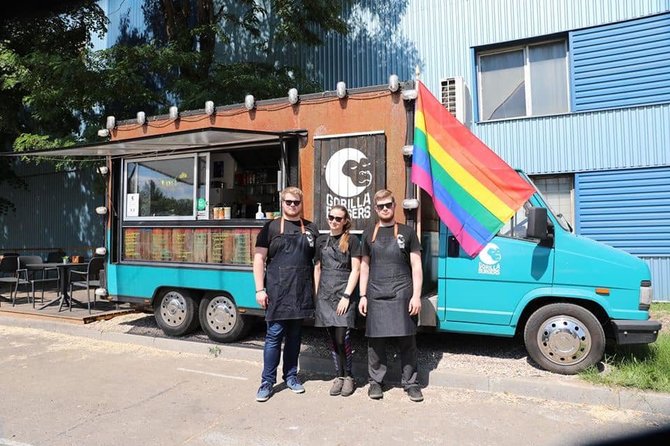 Photo of social networks. /Food in Kaunas "Gorilla Burgers"
"Why did we do that?" Because my friend and I don't care who loves whom, we are for equality in the world, we are all human beings. Only others have forgotten how many and what kind of people they are," the guys explain.
However, after uploading a photo of the van flag to Facebook, the two received more than 200 comments in one day. Some residents of Kaunas did not spare the censorious words and ordered the flag to be taken down immediately, while others threatened to never visit the place again. However, the guys did not regret it for a moment.
"We're really not afraid to show our support, even though countless people said we should take it down, we held the flag for three days. We gave them a very simple answer – what's the difference for you? Of course, no one came and told the face, because only units can tell the face. But we support our friends and will continue to support them in the future," said the owners of Gorilla Burgers.