Let's not waste food
While we traditionally try to eat healthy after the holidays, we need to use up leftovers from the holiday meal first. To achieve sustainable consumption, they can be used to prepare a variety of dishes: from soups to spreads. For example, all types of leftover meat are perfect for sandwiches, salads, flatbreads or stews. You can also use leftover meat to flavor pasta, roasted vegetables or potatoes, or even kugel.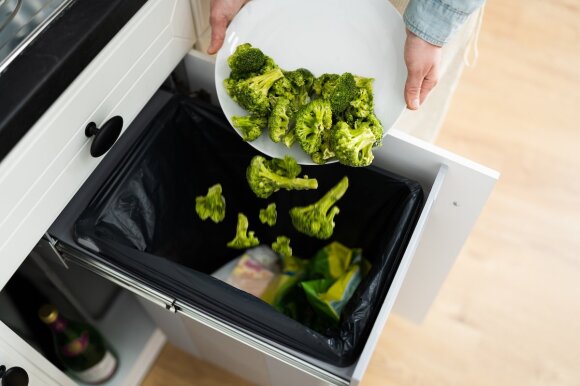 Food waste
© Organizers' photo.
Leftover vegetables can also be easily used – it is better to cut the remaining vegetables into desired size pieces and fry them in a pan. Roasted vegetables are ideal for preparing soups, stews, various sauces, pasta dishes, they can also be combined with ground flours, and even used as a filling for pancakes, tortillas, sandwiches or buns.
What can be made from boiled eggs?
Of course, there are usually a few hard-boiled eggs left over after Easter. That's right, before you roll up your sleeves and start cooking, you should know about hard-boiled eggs. Hard-boiled and hard-boiled eggs also have an expiration date. It is not recommended to store boiled eggs at room temperature for more than 2 days, and in the refrigerator for up to 3 days. It is for this reason that it is best to print the eggs on Easter Eve or Easter morning.
The boiled eggs left over after the holiday can be used in different ways: making mixes, salads or even mixing them into meatballs and various spreads. Saturated hot dishes and cold dishes can be flavored with boiled eggs. In addition, they are perfect for flavoring soups, for example, cut them into sorrel soup, cold borscht or other cold soups – cucumber soup with kefir or natural yogurt, and cold soup with egg radishes are also good.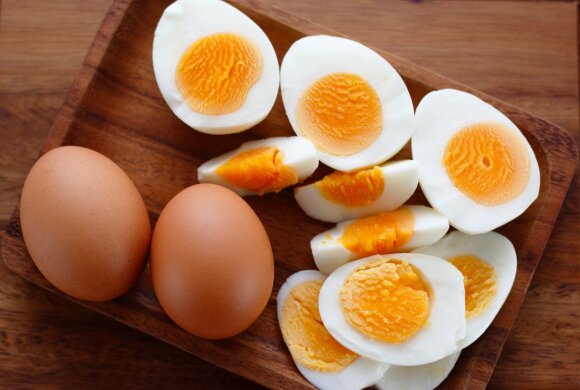 Boiled eggs
Of course, one of the most popular dishes made from boiled eggs is stuffed eggs. This dish is not only quick to prepare, but also very tasty. In addition, you can freely improvise while preparing it. Combine eggs with dried tomatoes, capers, various herbs, season everything with mayonnaise, if you want to make this dish fat-free – use natural yogurt. Stuffed eggs can be served with various toppings: smoked salmon, other favorite smoked or salted fish, caviar, shrimp.
Boiled eggs are perfect for making sandwiches or breakfast rolls. They can be made with eggs, greens, vegetables, all kinds of meat – even Easter ham and fried chicken are perfect for pancakes. Finally, after adding your favorite toppings, roll up the tortillas and enjoy.
If you want, you can also add grated cheese inside. Then fry everything in the pan until it melts and the tortilla is nicely browned. Iki also shares 5 more recipes with poached eggs, from salads to cookies.
Breakfast pancakes with eggs and avocado
You will need: 2 ripe avocados, 2 hard-boiled eggs, 4 tbsp. sh. salsa sauce, 10 g of fresh spinach, 4 whole wheat tortillas, 80 g of grated hard cheese, a drop of olive oil.
Preparation: cut the avocados into cubes and the eggs into slices. Cover the tortillas with the promise of salsa. Put all the products aside: avocado cubes, egg slices, spinach leaves, grated cheese. Fold the tortilla sheets in half. Heat a drop of olive oil in a pan and fry the tortillas for a minute on each side.
Fried egg dumplings
You will need: 700 g of ground beef, 8 hard-boiled eggs, 3 raw eggs, 5 tbsp. sh. flour, 5 tbsp. sh. ground breadcrumbs, a pinch of dried oregano, a pinch of ground black pepper, a pinch of salt, a pinch of olive oil.
Preparation: preheat the oven to 200 °C. Put the minced meat in a bowl and add the spices. If you want, you can use other spices of your choice. Mix everything together and make 8 crumbled patties. Put a hard-boiled egg in each of them and wrap it with meat – just like making zeppelins! Beat 3 eggs in a separate bowl. Take the minced meatball, roll it in the beaten egg, then in the flour, again in the egg and finally in the breadcrumbs. Put the prepared dumplings on a baking sheet lined with baking paper and greased with oil, and bake in the oven for about 30 minutes.
Eggs stuffed with sun-dried tomatoes and black caviar
You will need: 4 boiled eggs, 4 dried tomatoes, 2 tbsp. sh. mayonnaise, 1⁄2 tbsp. sh. Horseradish, 4th century BC. rainbow trout red caviar, a pinch of ground black pepper, a pinch of salt.
Preparation: peel hard-boiled eggs, cut them in half and remove the yolk. Put them in a separate bowl and mix them with finely chopped dried tomatoes. Mix horseradish, mayonnaise, salt and pepper and blend everything with an electric blender until smooth. Take half of the egg, fill it with prepared cream and season it with caviar.
Healthy egg salad
You will need: 6 hard-boiled eggs, 2 stalks of celery, 4 tbsp. sh. Greek yogurt, 1 tbsp. sh. Dijon mustard, a pinch of salt, a pinch of pepper.
Preparation: peel hard-boiled eggs and cut them into cubes (do not try to cut them evenly – the rougher you cut them, the tastier they will be). Finely chop the celery and add to the bowl with the eggs. Mix the yogurt with mustard and spices and mix the salad dressing. Enjoy with toast.
Biscuits with boiled eggs
You will need: 200 g of butter, 200 g of brown sugar, 2 hard-boiled eggs, 200 g of flour, 150 g of dark chocolate with orange peel, 2 tbsp. sh. vanilla extract, 1 tbsp. sh. baking powder, 1 tbsp. sh. salt.
Preparation: preheat the oven to 180 °C. Add the room temperature butter and brown sugar to an electric mixer and beat until the dough is fluffy, about 2 minutes. Add the vanilla extract, finely chopped hard-boiled eggs (yes, hard-boiled!) and continue mixing. Then add salt, flour, baking powder, mix again and add finely chopped or grated chocolate to the resulting dough. Line a baking sheet with baking paper, place a spoonful of dough in the gaps, and bake the cookies in the oven for about 10-15 minutes until the edges are golden brown.
Use of information published by DELFI on other websites, media or elsewhere, or distribution of our material in any form without consent is strictly prohibited and DELFI must be credited as the source if consent is obtained.