"Grilling culture is growing in Lithuania – as the weather warms, we see a significant increase in demand for both grilled products and ready-to-cook kebabs." Probably, many of them have already tasted them and are now ready for various grill experiments. Fruits are even perfect for this – for example, the best-selling fruit of all time, bananas or the recent addition of freshly harvested peaches, nectarines and apricots," says Ernesta Dapkiene, Director of Communications and Image at Maximos. in a press release.
There are many types of fruit that can be grilled, but it is important to know a few rules to enjoy the result. The first thing – important when preparing any food – is to take care of the cleanliness of the grill.
"Otherwise, there is no need to talk about healthy food, its taste will be spoiled. It is important to remember that grills should be thoroughly cleaned after each cooking session. Especially grill grates that come in direct contact with food. Immediately after cooking, they should be thoroughly wiped and rinsed with water, and before a new picnic, it is better to disinfect them by heating them over an open fire or over high heat," says Brigitta Baratinskaite, head of Maximos food production department. in a press release.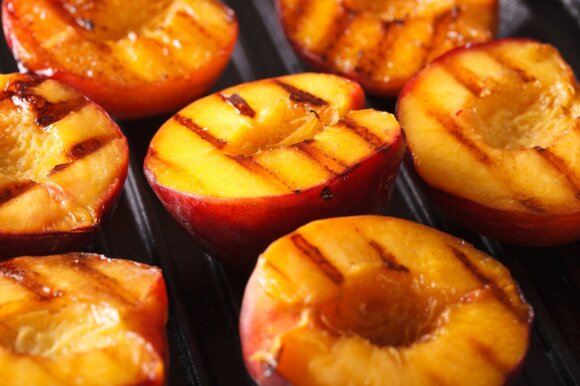 The food expert points out an important detail that grill experts know well – it is recommended to grease the heated grill before each cooking to prevent food from burning.
According to B. Baratinskaite, it is better to grill fruits with a dense consistency, but it is important to know that the denser the structure, the more watery the fruit, the longer it takes to heat up. For example, pears – ideal for "grilling" – take longer to cook than peaches or citrus fruits.
"An important rule is to choose unripe, hard fruits. They should be cut very roughly, they should not be peeled and should not be roasted over an open fire. The heat should be moderate. If you don't want to cook, but rather quickly fry the outside of the fruit, then high heat is useful. Most fruits need 5-7 minutes to caramelize. However, there are different recipes and different heat and cooking times can help create different effects of flavor and texture. I would advise you not to be afraid to experiment, taste and discover your favorite flavors," says B. Baratinskaite and shares recipes that will appeal to both children and gourmets.
Summer salad with "grilled" peaches and maple syrup
You will need: 5 cups lettuce, 4 peach halves, 1 cup raspberries, 1/4 cup red onion, 1 tablespoon mustard, 2 tablespoons maple syrup, pinch black pepper, pinch salt, olive oil, handful pecans (curry), 85 g of goat cheese
Prepare the sauce: pour olive oil, maple syrup, mustard into a bowl, add a little salt and pepper and mix everything. Cut the red onion into small slices, wash the raspberries.
Cut the peaches in half, remove the pits, brush with olive oil and sprinkle with a little salt – the peaches are ready for the grill. Place them cut side down on the grill and cook over medium heat for about 5-7 minutes.
Place chopped lettuce, cooked peaches, raspberries in a large bowl and top with goat cheese pieces. Dress the salad with dressing and sprinkle with a handful of walnuts.
Baked mango with vanilla ice cream
You will need: Mango, vanilla ice cream, and a handful of pistachios
Peel and chop the mangoes and wrap each piece in aluminum foil. Cook for about 6 minutes – the fruit should soften and caramelize.
Serve the baked mango with vanilla ice cream and sprinkle the dessert with pistachios.
Baked bananas with chocolate chips and berries
It will be necessary: 4 bananas, a handful of blueberries or cranberries, a handful of raspberries, 1 cup chopped white chocolate chips.
Place the unpeeled bananas on the grill and over high heat, turning frequently, and cook for about 8-12 minutes. Bananas are cooked when the skin is black.
Once the bananas are ripe, cut the peel lengthwise and add the chopped white chocolate pieces. Once the chocolate has melted, place the berries on top. Taste carefully – the dessert should be slightly cooled.
Grilled nectarines, burrata and prosciutto salad
You will need: 8 pieces Prosciutto ham, ½ cup salad mix, ½ cup pitted cherries, 100 g cherry tomatoes, 2 diced tomatoes. For the sauce, you need one tablespoon of lemon peel, one tablespoon of lemon thyme, one tablespoon of fresh mint leaves, 4 ripe and halved nectarines, 2 tablespoons of lemon juice, a little salt and pepper, and half a cup of olives. oil, 1 tablespoon of white wine vinegar, 200 g of burata cheese, one baguette.
Heat grill to medium heat. Drizzle the sliced ​​nectarines with a little olive oil and grill for about 2-3 minutes. Turn the nectarines over and cook the other side for another 2-3 minutes. Allow to cool.
In a small bowl, mix the ingredients for the sauce. In a large salad bowl, combine the greens, tomatoes, cherries and dressing. Top with burrata cheese and prosciutto ham and apricots. Sprinkle the salad with the remaining fresh herbs, black pepper and salt. Serve with toasted pieces of baguette.
Use of information published by DELFI on other websites, media or elsewhere, or distribution of our material in any form without consent is strictly prohibited and DELFI must be credited as the source if consent is obtained.