Meat pie – 50 percent. good luck
The chef assures that the most important thing in the preparation of hamburgers is quality meat. If you make a classic beef burger, choose beef with a little fat – the cooked patty will be juicy. If the meat at hand is lean, the grill master advises him to mix chopped onions with hot water, cheese or butter – they give humidity. Before starting to form the patties, do not forget to knead the minced meat well so that the patties keep their shape during baking. Also, it should be at least 1 cm thicker than the bottom bun, as it will shrink a bit during cooking.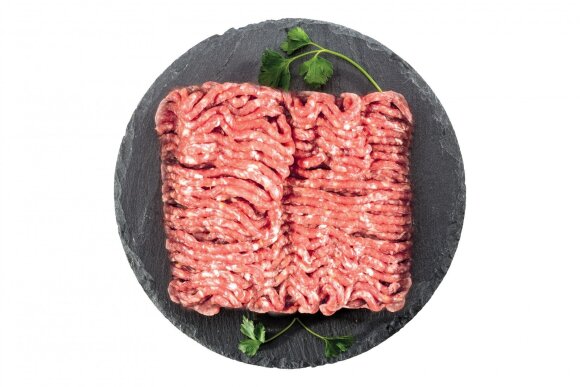 "Skonio sekno" beef for only €1.55 in all LIDL stores (promotion valid from 05.16 to 05.19)
© Organizers' photo.
"If in doubt, you can always choose ready-to-cook patties – their manufacturers cook the meat well and make sure there is enough fat here. However, such buns should be reheated slowly – if you leave them overnight in the fridge after thawing, they will taste better when cooked," advises the chef.
Prepare the ingredients in advance
Properly cooked meat is an equally important attribute of a good hamburger. H. Bovshevich reveals a trick – grill patties without spices to keep the beef juicy: "If the beef is pre-salted, the salt will take away the moisture from the meat during cooking. Instead, season the fried side of the pie with salt and pepper."
Cooking time for a classic beef burger is 2-3 minutes per side. If you like more cooked meat, it will take twice as long – 5-6 minutes. According to the chef, the most important thing is to cook only on a well-heated grill – in this way, the patty is quickly covered with a thin film that does not allow the liquid to escape, so the meat remains juicy.
Burger preparation starts with vegetables
To prevent the cakes from overcooking, the chef advises to prepare all the ingredients needed for the hamburger in advance: "Preparing the hamburger starts with the vegetables. Wash and tear lettuce leaves, cut tomatoes, cucumbers, onions and prepare sauces. Also, toast the buns cut in half on the grill – one minute is enough. This can be done while the meat pies are cooked will rest in a closed container".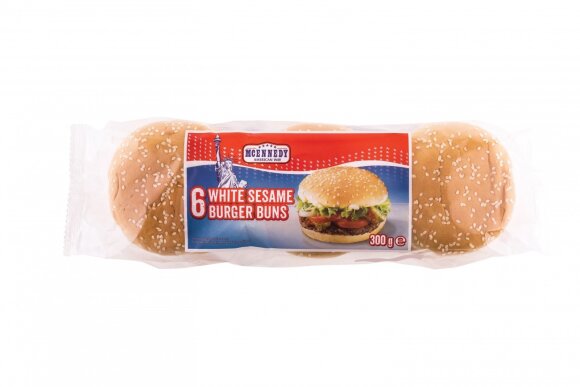 Mcennedy burger buns in all LIDL stores every day
© Organizers' photo.
He notes that the order in which the ingredients are placed is also important. A classic hamburger consists of a bun topped with mayonnaise, a crisp lettuce leaf, a meat patty, diced tomato, diced pickles, green onion rings and barbecue sauce.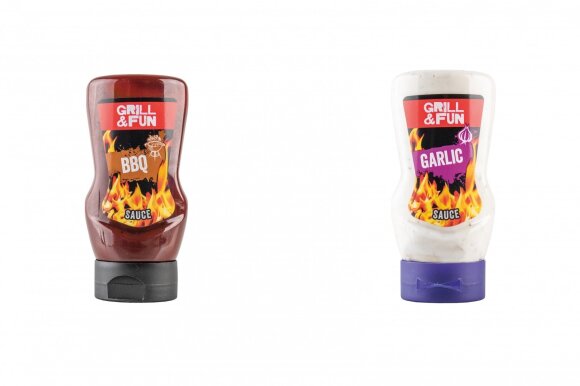 "Grill&Fun" sauce (1.19 EUR) in all LIDL stores every day.
© Organizers' photo.
For vegetarians – vegetable buns
Although hamburgers are traditionally made from beef, H. Bovšević invites you to experiment and discover your favorite hamburger version. Grilled, thinly sliced ​​beef steaks, chicken, or pork are perfect for toasted buns. Only the last two should be done well – unlike beef, chicken and pork should not be half cooked. If you're feeling hungry, try the upside-down burger, which is fast becoming popular abroad: the bun switches places with the meat, so we have two patties on the top and bottom and a fried bun in the middle.
The grill master also recommends trying vegetable patties: "You can replace the meat with zucchini, layers of eggplant and tomato slices, and onion chutney." Or make a beetroot pie: coarsely grate boiled or fried beets, beat an egg, sprinkle with feta cheese. Mix the resulting mass well, if it is a little liquid, add breadcrumbs. Shape into a patty, fry on both sides and put on a bun with the same sauce as beef – you'll find a completely different burger!
Order number: PT_81182723