According to Jolanta Sabaitiene, a fruit and vegetable expert of the "Iki" trade chain, quoted in the press release, it looks like a grape or gooseberry, and tastes like their relatives – small fruits like kiwi. However, actinidia is milder and sweeter than kiwi.
Delicious alone, in desserts and with meat
The birthplace of these fruits is Eastern Siberia, Japan, China, South and North Korea and the Kuril Islands. However, kiwi berries are widely grown in Canada, America, Chile, New Zealand and Europe. More than a million tons of kiwi berries are grown in the world every year. According to J. Sabaitenye, these berries, like all fruits, are not only tasty, but also rich in nutrients.
Kiwi berries are sweet and have hints of passion fruit, pineapple and strawberry in their aroma.
Kiwi berries are a great snack. They are often eaten alone, but are widely used in cooking. Kiwi berries taste similar to kiwi – they are sweet fruits. They taste like passion fruit, pineapple and strawberry. The flesh of the kiwi fruit is light green in color and the inside is filled with many small black seeds. Unlike kiwifruit, which has a thick, woolly skin, these fruits have a green, smooth skin that does not need to be peeled before eating.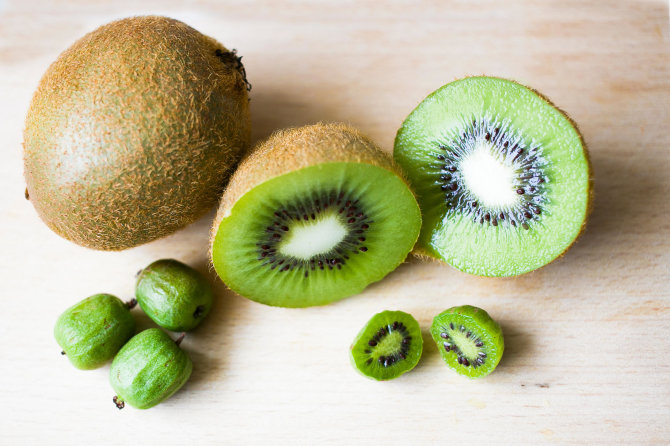 Vida Press photo/Relatives – kiwi and kiwi fruit
Kiwi berries are added to jams, jams, salads, salsas, various fruit cocktails. These products are also used in the production of cakes, buns, ice cream, and sherbet. They go well with orange, honey and chocolate. However, actinidia are suitable not only for various sweets, but also for savory dishes: they like to be eaten with seafood such as shrimps, scallops or white fish. They are also suitable for pork, beef, venison and chicken dishes. They make a variety of delicious sauces that are often grilled and used as a side dish.
J. Sabaitienė suggests trying several recipes with kiwi berries.
Salsa with Kiwi Berries
Composition:
10 kiwi berries cut in half;
10 grape tomatoes, cut in half;
a handful of chopped fresh coriander;
1 tea. a spoonful of hot pepper pastes;
1 tea. a spoonful of sugar;
2 tablespoons. a spoonful of lemon juice;
a pinch of freshly ground black pepper.
Create:
Mix all ingredients in a bowl and serve with grilled fish or chicken.
Fruit salad with kiwi berries
Composition:
16 kiwi berries cut in half;
1 peeled and chopped banana;
1/2 small papaya peeled and chopped;
2 tablespoons. spoon of liquid honey;
2 tablespoons. spoon of lemon juice.
Create:
Mix kiwi, banana and papaya in a bowl. Mix honey and lemon juice in a small bowl. Sprinkle the resulting sauce on the fruit. This salad can be eaten alone or mixed with natural yogurt.