Mesainis, which appeared in the West more than a hundred years ago, seems to be experiencing a real golden age in Lithuania. Various versions of the hamburger appeared, and professional chefs were interested in its preparation, often spending several days preparing the meat and other ingredients.
"Hamburger is no longer just beef and a bun," says V. Blauzdavicius, chef of the "Viking Chef" restaurant.
"Burgers came to Lithuania a long time ago, but if we talk about their fashion and popularity, then it was 7-8 years ago. Then specialized restaurants began to open, different versions of hamburger appeared," he added.
The chef calls the popularity of this dish the "burger movement": "I really like this movement, because different recipes, new flavors, improvisation appear. I think we have reached the peak of the popularity of hamburgers in Lithuania and it's hard to say what will happen next."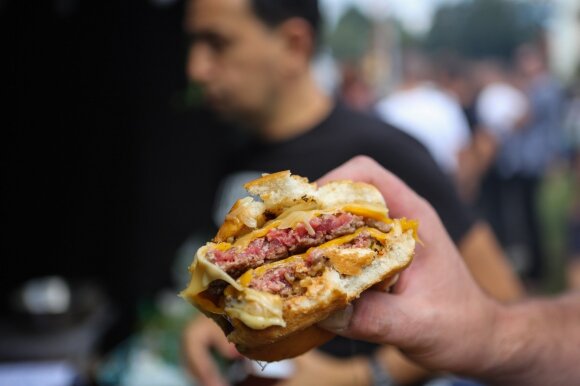 Burger Festival
© DELFI / Modesta Meškė
In his restaurant, the chef pays great attention to meat preparation – he cooks according to the barbecue principle, when the meat is cooked long and slowly, smoked for up to 17 hours.
"Typically, when making a hamburger, you play around with different types of meat, sauces, cheeses, and a vegetarian version of the hamburger. "Burger is no longer just a meat steak – it's an appearance and a way of combining products," assured V. Blauzdavicius.
Although it is impossible to prepare meat at home using the methods used by professional chefs without special equipment, according to the chef, it is still possible to make a delicious burger. True, skills are needed not only in the kitchen, but also when shopping – only the best ingredients should be used for hamburgers.
"It really is possible to make a delicious hamburger at home – its taste depends on the products you choose and its preparation. If you have good ingredients and luck in your work, it will still taste good.
Be careful when choosing products: make sure that the tomato is well cooked, the onion is not soft, the cheese is fresh – all the small details in the hamburger make it taste good," advises the chef.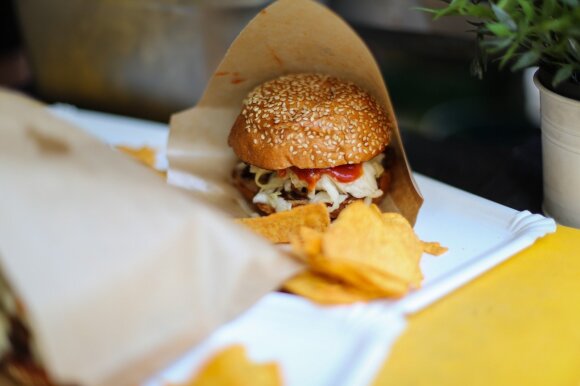 Burger Festival
© DELFI / Modesta Meškė
Although it is difficult for V. Blauzdavichis to offer one hamburger recipe that everyone likes, he advises not to be afraid to experiment with spices, even if it seems strange at first glance. Recently, the chef tried kastina, a traditional Lithuanian food product, to flavor his hamburger at home.
"You can't usually make the hamburgers you eat at restaurants at home. "But what I've noticed in recent years is that if you're making a hamburger at home, try putting cheese on a bun," he says.
Castine, usually made of butter and cream, seasoned with spices, according to the chef, has a wonderful taste. "Don't spare the box, use freely. Chestnut is salty, it contains garlic, onion and pepper. It melts in a warm bun and absorbs even more. After that, you can add roast beef patty, barbecue sauce, and your favorite vegetables. "You can also use castin in sandwiches," V. Blauzdavicius shares tips on how to make a delicious hamburger at home.