"You can make homemade chips with any fruit or vegetable you like. Not only potatoes or sweet potatoes, but also beets, zucchini, pumpkins, carrots, turnips, pumpkins, and even leafy greens like kale or spinach are perfect for this. In addition, you can make delicious chips from fruits – apples, pears, bananas, even coconuts," Jolanta Sabaitienye, a fruit and vegetable expert of the Iki retail chain, said in a press release.
The secret to delicious chips, he says, is the right seasoning. Chips can be seasoned not only with salt and pepper, but also with chopped fresh herbs. If you like it more spicy, season them with fresh hot pepper or its powder, for example, when making fruit chips, cinnamon gives a special taste.
You can serve the chips alone, but they are also delicious with sauces or spreads.
You can serve chips alone, but you can also enjoy them with different sauces or spreads: make them from cottage cheese, chickpeas, natural yogurt flavored with different herbs.
J. Sabaitienė shares some more tips to help you make the tastiest chips at home.
Sweet Potato Chips. This is a great alternative to regular chips. Moreover, they are very easy to prepare at home. All you have to do is cut the sweet potatoes into thin slices and bake them in the oven or in a well-heated pan until they are nicely browned.
Sweet potato chips go well with freshly made vegetable salsa or hummus.
Kale and Spinach Crisps. Another popular type of vegetable chips is kale chips. When preparing these chips, cut the stems of the cabbage, tear the leaves, sprinkle with olive oil, your favorite spices and fry in a preheated oven for about 7 minutes. The same rule applies to spinach.
The crunchy crunch of these leafy greens is especially good with cottage cheese and a variety of herb sauces.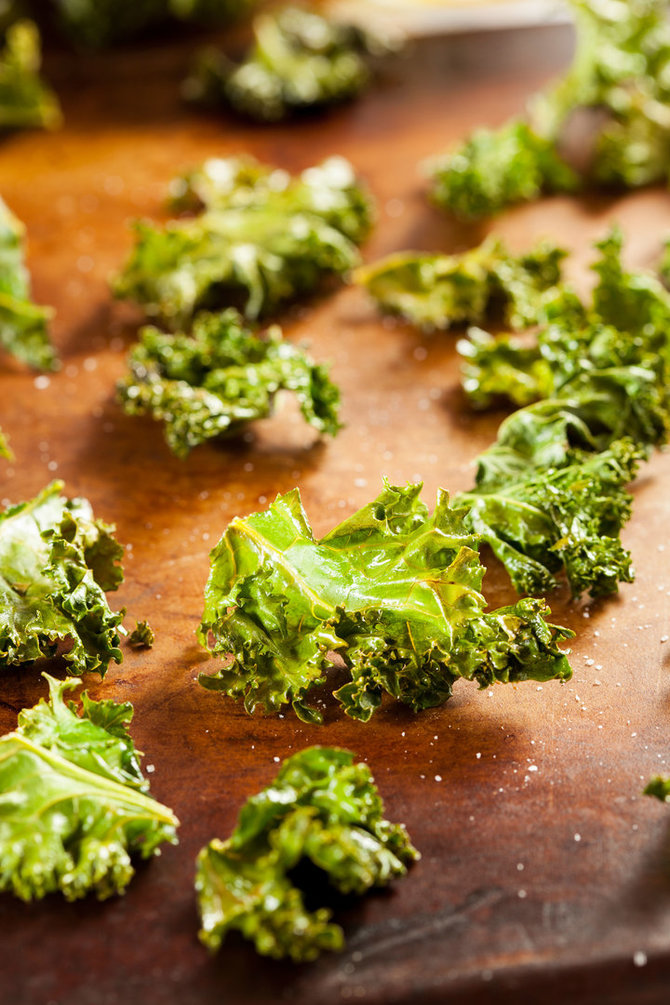 Vida Press Photo/Kale Chips
Carrot chips. All you need is a simple vegetable peeler to make delicious carrot chips. Thinly slice the carrots with a razor blade, then fry briefly in hot oil.
Carrot chips can be used to flavor various vegetable salads or as a crunchy side dish.
Radish chips. Another vegetable that can be used to make chips with a special taste is turnip. They can be easily made in a few minutes: thinly slice the turnips and bake them in a preheated oven for about 5-10 minutes. Sprinkle the finished chips with salt and pepper, grated parmesan cheese will give these chips an even richer taste.
Apple and pear crisps. First, cut the apples and pears into thin slices. Then put them on a baking sheet lined with baking paper and bake in an oven heated to 120-125 degrees for about 1.5-2 hours until they become crispy. When you take the chips out of the oven, sprinkle them lightly with cinnamon.
Pear and apple chips prepared in this way are also ideal for flavoring various desserts.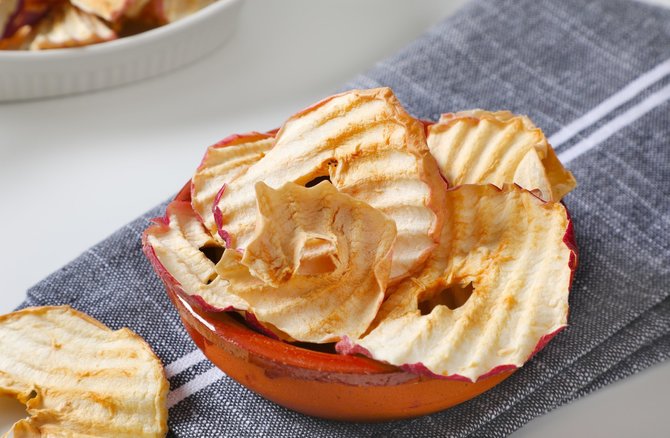 Vida Press Photo/Apple Crisp
Pineapple chips. If you want chips with a more exotic taste, you can also make them with pineapple. True, it takes a lot of time. First, peel the pineapple and cut the fruit into thin slices. Then put the slices on a baking sheet lined with baking paper and bake in an oven heated to 120-125 degrees for about 2-4 hours. Don't forget to turn the slices every half hour to check how they are cooking.