According to Jolanta Sabaitien, a fruit and vegetable expert at the Iki retail chain, quoted in a press release, mangoes were first used for food in India and this was several thousand years ago. Interestingly, even now in this country, mango is a sacred fruit, mango is a symbol of love, and giving a basket full of these fruits to a person is considered a gesture of friendship.
Gradually, these fruits spread to Asia, and later to the whole world. And although 75 percent of all mangoes in the world are grown in their native Asia, these fruits can now be found in Florida (USA), Mexico, or other South American countries. Currently, there are about 500 types of mango in the world, and the fruits differ in size and intensity of sweetness.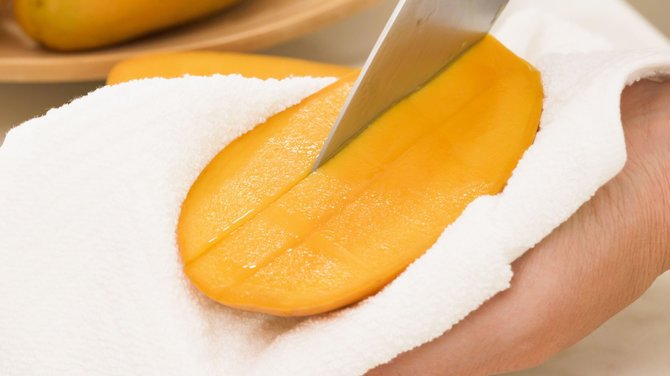 Vida Press Photo/Paid Mango
"A delicious mango has green and pink color on the outside, and yellow or orange flesh is hidden inside. Although this fruit has been known to us for a long time, not everyone knows how to properly remove the bone inside it. The easiest way is to separate the mango flesh from the bone with a sharp knife. Cut as close to the bone as possible on both sides. Cellulose can be cut in several ways. You can try peeling the skin with a knife, but it would be more convenient to cut the inside with a net instead of cutting the meat. Then turn the mango upside down and cut the pulp into cubes," advises the expert.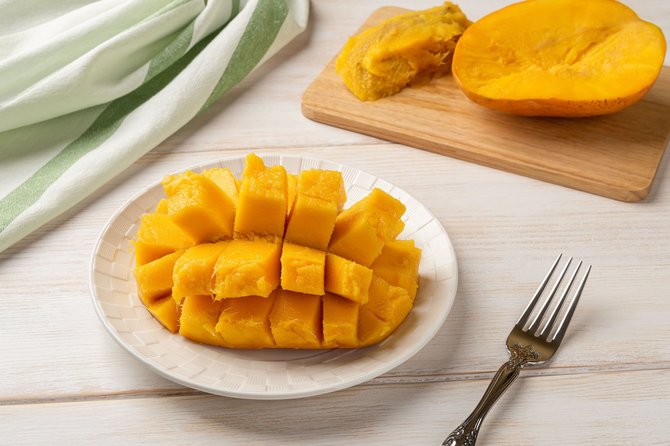 Click on Vida Photo/Manga
How to ripen mangoes and what to combine them with?
To accelerate ripening, put the fruit in a paper bag and keep it at room temperature for several days.
If you buy damaged mangoes in the store – no problem. You can simply ripen them at home, and to speed up the process, put the fruit in a paper bag and keep it at room temperature for a few days. The level of ripeness of the mango also affects the amount of vitamins it contains. For example, green mangoes are rich in vitamin C, and vitamin A increases as they ripen.
According to J. Sabaitene, mangoes can be used for cooking in different ways. They go well not only in desserts: pies, cakes, pavlovas are flavored with them, ice creams or sherbets, mousses, fruit salads or various cocktails are prepared with them. However, mango is an excellent spice for meat, fish or seafood dishes or side dishes that go well with them.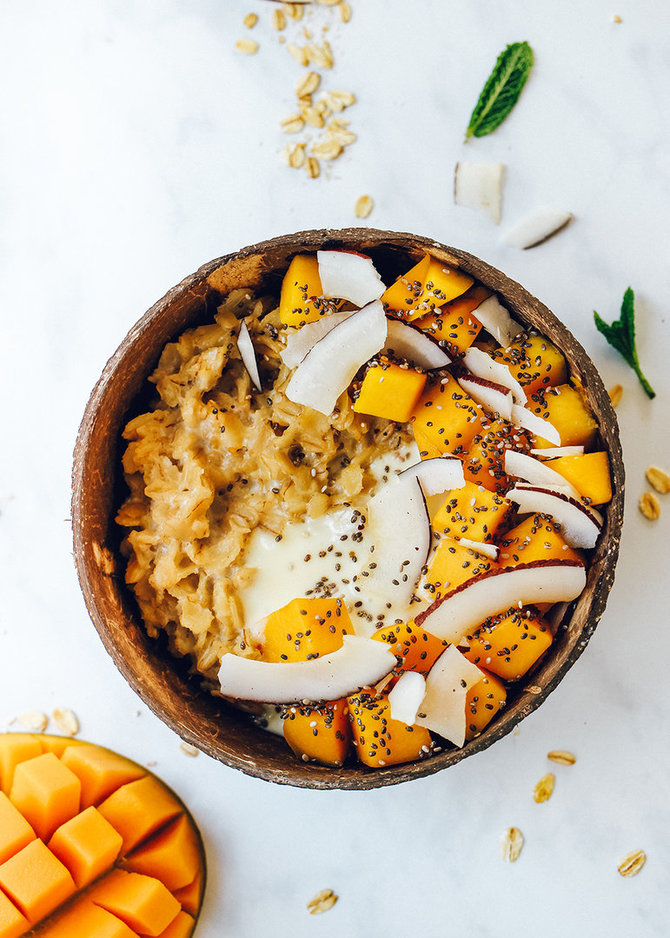 Blogger's photo. /Oat porridge with coconut and mango
"Mango goes well with Chalapa pepper, coconut, pineapple, orange, ginger, lemon, red onion, beans, different types of fish, shrimp and yes, meat: duck, pork or chicken. To enrich spicy dishes, mango can be used to prepare various salads, sauces or marinades, for example, dishes with fish or seafood are often enriched with mango salsa, says the expert.
J. Sabaitienė also shares three delicious recipes that call for mangoes.
Chicken and mango salad
Composition:
500 g of fresh chicken broiler fillet;
100 g of baby spinach;
2 mangoes;
125 g of blueberries;
1 red onion;
100 g of goat's milk cheese;
1 tablespoon. a spoonful of honey;
2 tea. a spoonful of mustard;
20 ml of olive oil;
a pinch of salt;
a pinch of pepper.
Create:
1. Season the chicken with salt and pepper and grill – it's important not to overcook so the meat doesn't dry out, so cook for about 5 minutes per side.
2. Place the spinach, thinly sliced ​​onion and blackberries in a large bowl.
3. In a separate bowl, mix honey, mustard and olive oil.
4. When the meat is almost cooked, grill the mango slices next to it.
5. Finally, cut the chicken into small pieces and put it in a green bowl along with the fried mango.
6. Cover everything with honey and mustard sauce, season with goat cheese and enjoy!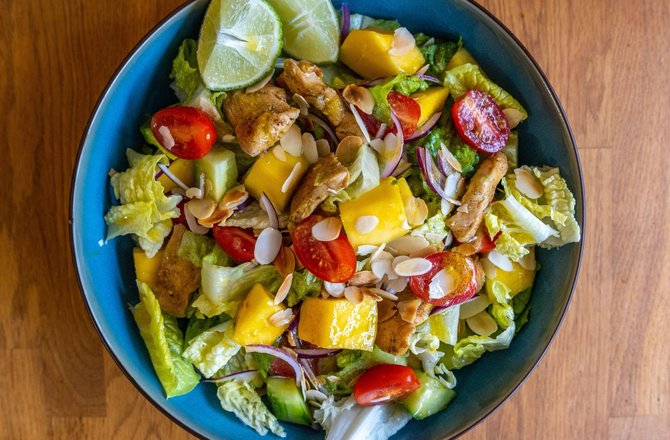 Vida Press Photo/Chicken and Mango Salad
Tacos with shrimp and mango salsa
Composition:
400 g peeled shrimps;
3 cloves of garlic;
50 ml of olive oil;
½ tea. spoon of salt;
1 tea. spoon of ground black pepper;
3 tablespoons. a spoonful of lime juice;
4 whole wheat tortillas;
300 g of chopped red cabbage.
For the salsa:
300 g of mango;
100 g of red pepper;
50 g of green pepper;
50 g of red onion;
1 Chalapa hot pepper;
5 tablespoons of fresh coriander;
3 tablespoons. spoon of lime juice.
For the yogurt sauce:
200 ml of yogurt;
1 clove of garlic;
a pinch of salt.
Create:
1. Put the shrimps in a bowl, sprinkle with 2 tablespoons of olive oil and lime juice, mix everything well and leave to marinate for 30 minutes.
2. Heat the remaining oil in a grill pan, add the marinated shrimp and cook for a few minutes. Then add chopped or squeezed garlic to the pan, add a little salt and pepper, stir and cook for another 5-7 minutes.
3. While the shrimp are cooking, prepare the sauces. In a bowl, add the salsa sauce ingredients: diced mango and pepper, diced onion, chili pepper, and coriander. Sprinkle lime juice over everything and mix well.
4. Pour yogurt into another bowl, press garlic, add a pinch of salt and mix.
5. Cut the red cabbage into thin strips and generously cover the tortillas with them. Spread the salsa and shrimp evenly over the cabbage. Fold tortillas in half and serve with yogurt sauce.
Dish with salmon, Bolivian pigeons and mango
Composition:
200 g of mango;
100 g of cauliflower;
50 g of red onion;
100 g of Bolivian pigeon;
50 g of beetroot leaves;
200 g of salmon fillet;
1 tea. spoon of salt;
a pinch of ground black pepper;
2 tablespoons. a spoonful of pomegranate seeds;
1 tablespoon. a spoonful of olive oil;
2 tablespoons. a spoonful of lime juice;
1 tea. spoon chopped dill.
Create:
1. Peel the mango and cut it into cubes, cut the cauliflower into small florets and cut the onion.
2. Wash the Bolivian pigeons under running water, pour them into boiling salted water and cook for about 15 minutes.
3. Salt the salmon fillet and cook it in a pan for 3-4 minutes on each side. Season the cooked salmon with pepper.
4. Heat water in a clean pot, add salt, add cauliflower and boil for 5-7 minutes. Finally, add the beetroot leaves to the pot and cook for another minute. Remove the pot from the oven, drain the water and leave to cool.
5. Add the Bolivian pigeons to the bowls, arrange the salmon fillets, mangoes, cauliflower and beetroot. Sprinkle everything with chives, pomegranate seeds, drizzle with olive oil and lime juice, garnish with dill and serve.