Crispy chickpea snacks
Chickpeas can be found in almost every (but not only) vegetarian pantry. Maybe because you can make almost everything from them – hummus, steaks, desserts… And if you just want to have a snack and don't want to be in the kitchen for a long time, you can cook simple snacks from them – crispy chickpeas. oven with spices. We recommend only one combination of spices in this recipe, but you can change it depending on what you have at home or what you prefer.
Composition:
1 canned chickpea (240 g);

1 tablespoon olive oil (7 ml)

0.5 teaspoons of salt;

1 teaspoon of dried dill;

0.5 teaspoons of dried parsley;

1 teaspoon of garlic cloves.
Create:
1. Wash the chickpeas, dry them well, remove the skin (the skin "comes out" easily after squeezing the beans).
2. Spread the drained chickpeas on a baking sheet and bake in an oven heated to 200 degrees for about 20 minutes. (Stir in the chickpeas after cooking for 10 minutes).
3. After removing the roasted chickpeas from the oven, mix them well with all the spices and oil, and after spreading them back into the baking dish, bake them for another 10 minutes.–12 minutes
4. These chickpeas are best eaten the same day or the next day, as they may harden further if stored for a long time.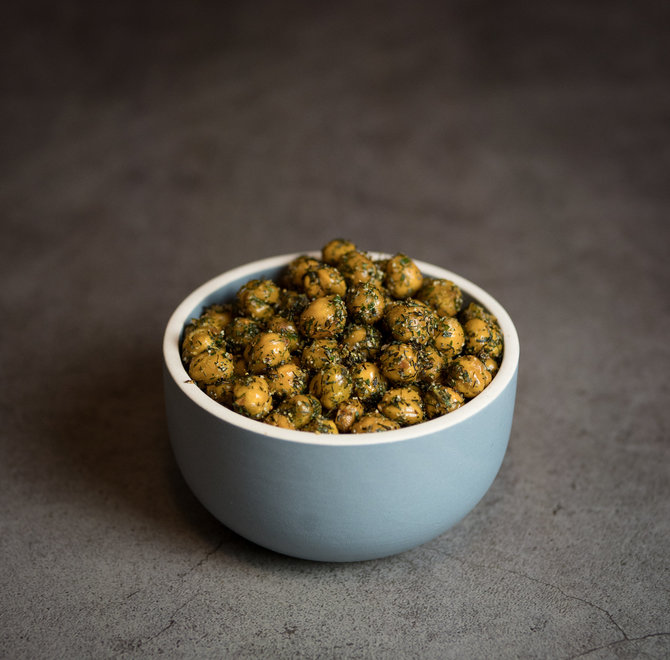 Blog photo. / Crispy chickpea dishes
(Non) tuna salad
Choosing a plant-based diet may make you miss out on the usual nutritious foods, but with the abundance of products available in stores, almost anything vegan can be recreated. Thanks to the seaweed, this tuna mix can be a great substitute for real tuna and can be eaten with salad leaves, in sandwiches, rolled into flatbreads or eaten alone.
Ingredients (for 2 servings):
1 can of canned chickpeas (240 g), which you can cook yourself;

1 stalk of celery;

1 small red onion;

2 tablespoons of chopped cucumber;

2 tablespoons of pickling liquid;

0.5 well-ripened avocado (or 2 tablespoons of vegetable mayonnaise);

1–2 tablespoons of lemon juice;

2 teaspoons of mustard;

1 tablespoon chopped nori leaves (about half of a seaweed sheet used for sushi);

a handful of fresh coriander;

a pinch of salt;

a pinch of ground pepper;

your choice of salad or bread if making sandwiches.
Create:
1. Wash and dry chickpeas. After putting them in a container, mash them well with a fork – so that all the chickpeas are chopped.
2. Chop all the other ingredients very finely – with a knife or chopper. Mix everything with chopped chickpeas.
3. Rub the prepared mixture with a fork a little more so that everything is well mixed and enjoy with the desired accessories – salad, sandwiches or alone.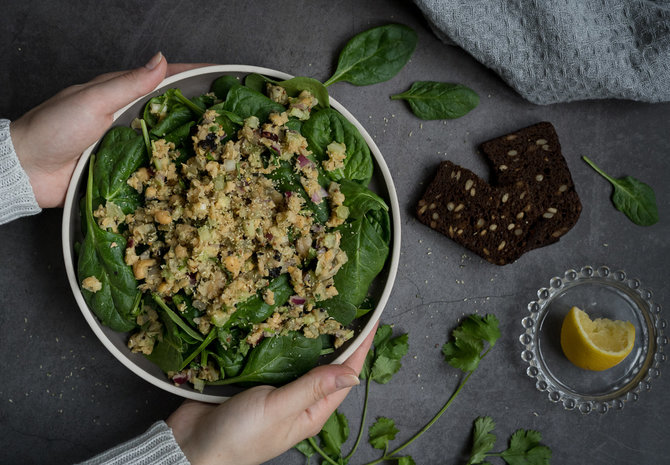 Blog photo. / Chickpea salad
The publication of these recipes is part of the Nori Gali project of the non-profit organization Givi Gali. The project inspires the discovery of plant-based food, which is rich and delicious. Look for new interesting recipes in the "15min" program every Monday! Thanks to Givi Gali for this week's recipes and @plantasticka