Asian vegetable salad
Composition:
2 short fruit cucumbers;
2 carrots;
1 paprika;
2 tea. a spoonful of sesame seeds;
1 tablespoon. spoon of rice vinegar;
2 tablespoons. a spoonful of lemon juice;
1 tea. spoon of agave syrup;
1 tablespoon. a spoonful of oil;
1 tea. spoon of sesame oil;
salt, to taste;
black pepper, to taste.
chili powder or cayenne pepper, to taste (optional).
Create:
1. Cut carrots, cucumbers and peppers with straws, chop onion leaves.
2. Salt the cucumber, add 1/2 lemon juice and leave for 15 minutes. Squeeze the cucumber juice and put all the vegetables in a bowl.
3. Mix the ingredients for the sauce. If you like it spicier, add a pinch of cayenne or chili powder. Pour over the salad and mix.
4. Sprinkle with sesame seeds and serve.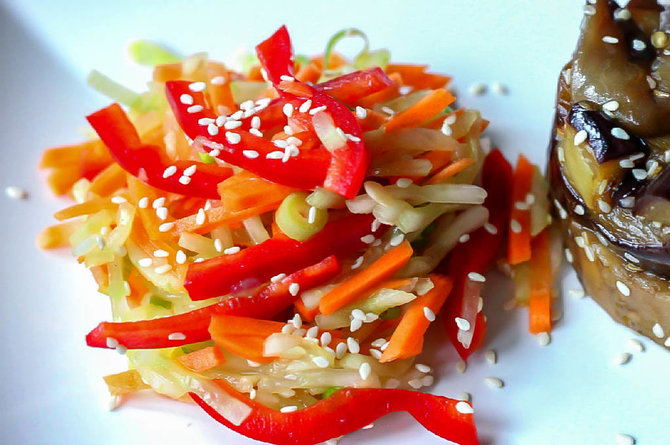 Blog photo. / Asian cucumber salad
Tempeh in Asian Marinade
Composition:
1 block (250g) tempeh (if you don't like tempeh, tofu or seitan will work too);
1 lime juice;
2 tablespoons. a spoonful of soy sauce;
2 tablespoons. spoon of sesame oil;
3 tablespoons. spoon of maple syrup or molasses;
2 cloves of garlic, chopped;
1 tablespoon. a spoonful of peeled and chopped ginger root;
1 lemongrass stalk (white part only), finely chopped.
Create:
1. Slice the tempeh and place in an oven-safe container with a lid.
2. Combine all remaining marinade ingredients in a small bowl and whisk.
3. Pour the marinade over the tempeh, cover with a lid and put it in the refrigerator to marinate for 2-8 hours.
4. After the marinating time, put the container covered with tempeh in an oven heated to 180 degrees and cook for 20 minutes. After that, remove the lid, turn your tempeh a little, and then cook for another 15-20 minutes.
5. It can be served with fresh salad, Bolivian pigeon or other favorite cereal ingredients.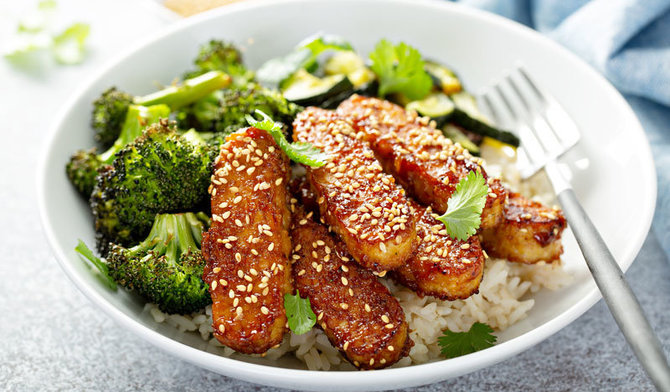 Blog photo. /Tempeh in Asian marinade
The publication of these recipes is part of the Nori Gali project of the non-profit organization Givi Gali. The project inspires the discovery of plant-based food, which is rich and delicious. Look for new interesting recipes in the "15min" program every Monday! Thanks to Gyvi gali, Sveikas Receptas and Challenge 22 for this week's recipes.