Salad with soybeans
Composition:
300 g of cooked soybeans (you can also use canned ones);
100 g of cooked Bolivian pigeon;
1 red pepper;
1 medium broccoli;
a few handfuls of onion leaves.
for the sauce:
2 tablespoons. spoon of sesame paste tahini;
2-3 tablespoons. a spoonful of lemon juice;
4 tablespoons. spoon of unrefined olive oil;
1/3 tea. a spoonful of garlic powder;
1/3 tea. a spoonful of turmeric;
salt;
angle.
Create:
1. Chop the broccoli and boil it in salted water for 5 minutes.
2. Cut the pepper into cubes and mix with chopped onion.
3. Drain the remaining water from the broccoli and let it cool.
4. Mix all the ingredients for the salad.
5. In a separate bowl, mix the ingredients for the sauce.
6. Mix the sauce with vegetables, season it with hemp, sesame, sunflower or other favorite seeds.
Blog photo. /Salad with soy
Warm black lentil salad
Composition:
150 g of black lentils;
1 stalk of celery;
1 carrot;
250 g of champignons;
1 onion;
1 paprika;
2 cloves of garlic;
salt;
ground black pepper;
oil (for frying).
Create:
1. After boiling the lentils according to the instructions, salt them 10 minutes before cooking. until the end of cooking.
2. Finely chop the onion and garlic. Dice the carrot, celery and pepper, and dice the champignons.
3. Heat 2 tablespoons of oil in a pan. Add onion, garlic, celery, carrot and fry for 4-5 minutes.
4. Add the mushrooms and peppers to the pan. Season with salt and pepper and cook until the vegetables are tender.
5. Finally, pour the cooked lentils into the pan, stir and fry everything together for another 2 minutes.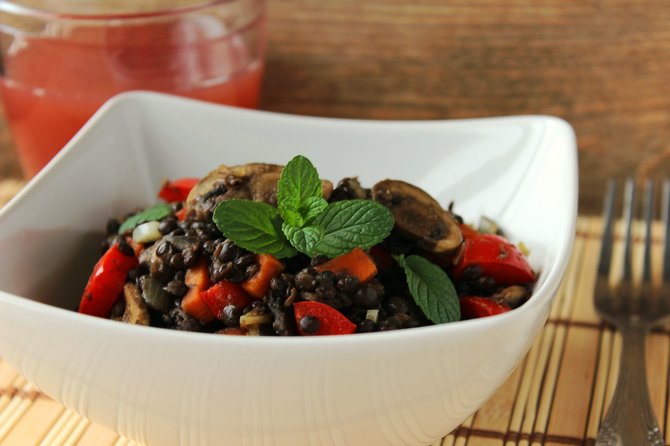 Blog photo. /Warm black lentil salad
The publication of these recipes is part of the Nori Gali project of the non-profit organization Givi Gali. The project inspires the discovery of plant-based food, which is rich and delicious. Look for new interesting recipes in the "15min" program every Monday! Thanks to Givi Gali and Rima and Andriis Misiuk from Sveikas Recipes for this week's recipes.