In order to provide "Iki" customers with the largest range of culinary products, we are constantly updating our range, starting from March 10th we will be offering new recipe culinary products inspired by Lithuanian and other favorite dishes from around the world. In addition, if you want a lighter meal in the spring, we have prepared a large selection of different salads. We notice that buyers pay a lot of attention to their quality when choosing culinary products, are interested in the composition of the product, so we constantly try to match the optimal recipes and the best taste," says V. Boudriene.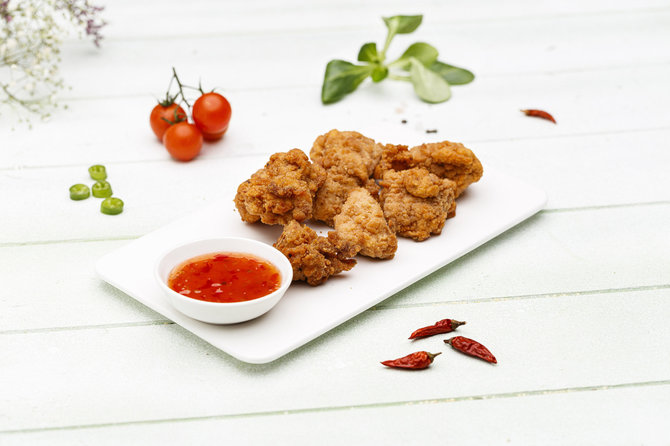 Palink photo/A piece of chicken with sauce
From Jamaican pancakes with lentils to Moroccan stew
Vilma Juodkazyene, a representative of the "Iki" trade chain, says that in the spring, new versions of Asian, American, Swedish, Moroccan, Mexican kitchens will be presented to customers with eye-catching novelties, different tastes, smells and colors. dishes that have become classics are also offered.
"We have adapted traditional and long-loved dishes from Lithuania for those trying to eat healthy. For example, Kyiv meatballs, which have been at the top of the list of the most popular culinary products for many years, are now offered not only with traditional butter filling, but also with Bolivian pigeon filling. We have prepared jemait pancakes with lentil filling, and from now on vegetarians can also enjoy this dish. From the updated assortment of traditional dishes, we offer our customers chicken with couscous," says V. Juodkazyene.
Photo by Palink/Caesar Bagel
According to the representative of Iki, a large selection of Asian dishes has been added to the range. If you like a light, healthy meal, you'll love the Asian rice noodles with steamed rice noodles, pickled carrots, fried chicken fillet, soybeans, sweet soy sauce, bell pepper, radish, sesame oil chicken. Sriracha sauce and other seasonings. Also, according to an Iki representative, the assortment includes an Asian pasta salad with mushrooms. A Mexican salad made with canned red beans, corn, peppers, cheese, onions and Chalapa peppers is a must-try for those who love flavor.
For those looking for something a little more substantial, Ikey's offers what has become an American diner classic – macaroni and cheese. Shoppers can find several varieties of this dish: made with cheddar cheese and bacon or pulled barbecue pork. Those who prefer a classic taste will find traditional Swedish meatballs with mashed potatoes and cranberry sauce, while those who like the exotic will find a Moroccan stew with rice, chickpeas, carrots and other vegetables.
According to a food connoisseur who works at the "Iki" retail chain, snacks have not been forgotten, so from now on, customers can find their favorite chicken bites with sweet and sour sauce on the shelves. Sandwich lovers are also in for a treat – an original flavored walnut sandwich with Caesar salad ingredients.