"Street food culture is growing not only around the world, but also in Lithuania: there are more and more street vendors with food vans, we see more and more events on this topic in cities. Street food is also included in the restaurant menu. People are looking for trusted producers and ingredients, restaurant-quality food at affordable prices. And at the epicenter of all this are hamburgers, which still remain one of the most important, only their composition and ingredients have changed significantly recently," says T. Petryla.
Burger with harissa sauce and halloumi cheese
According to grill enthusiasts quoted in the press release of the Gardėsis brand, today Lithuanians cook hamburgers not only in the city, but also at home, because there is a perfect environment for this – high-quality buns, meat patties and sauces appear. in supermarkets and specialized stores.
Secrets of the perfect burger
According to T. Petrila, everything starts with buns, so he recommends choosing French buns brioche buns, they have already become hamburger classics. Brooch buns have a rich flavor and a special golden shine when toasted. With this bun, burgers won't fall apart, and ingredients won't fall apart.
The second most important ingredient in a hamburger is a meat, fish or vegetarian patty. According to T. Petrila, the variety of the latter today is very large. "We eat hamburgers not only with the traditional beef patty, but also with lamb, salmon, crabmeat or even shrimp. In general, a hamburger is more than just a sandwich, it is a delicious delight with ingredients such as truffle oil, foie gras pâté, onion chutney or bacon candies. Therefore, a hamburger is no longer just meat between two slices of bread," says the expert.
Burger with harissa sauce and halloumi cheese
One of the biggest burger trends this season is ethnic. Burgers are no longer just associated with American tradition. From Mexican and Asian to Korean, Greek or Peruvian, all cuisines dominate this season. In addition to the ethnic identity, exotic and unexpected cheeses are becoming popular, replacing the usual cheddar.
"Sauce is increasingly exotic, ketchup and mayonnaise will be the background this summer." So this season I'm making a Moroccan burger with lamb, harissa sauce and halloumi cheese," says T. Petrila.
Composition:
2 tea. a spoonful of olive oil;
about 300 g of minced lamb;
2 hamburger buns;
1 onion;
100 gr halloumi cheese;
1 tablespoon. spoon of brown sugar;
half corner;
1 tablespoon. spoon of harissa sauce;
4 tablespoons. a spoonful of hummus;
a handful of coriander;
a handful of mint leaves;
sea ​​salt;
black pepper;
a handful of bay leaves;
chili flakes.
Create:
1. Make two finger-thick patties of ground lamb, salt, pepper, coriander and mint leaves. Fry the meat in a pan or grill until browned on both sides. Then fry the hamburger buns (5-6 minutes) and halloumi until the cheese is browned.
2. Pour a little olive oil into a well-heated pan and add finely chopped onions. Fry until golden brown. Add a spoonful of brown sugar, chopped bell pepper and harissa sauce to the fried onions. Fry everything on low heat until the sugar dissolves and becomes glossy.
3. Spread the available buns with hummus, put arugula leaves, fried lamb patties on top, and – halloumi cheese Season everything with onion and pepper mixture and top with the second bun.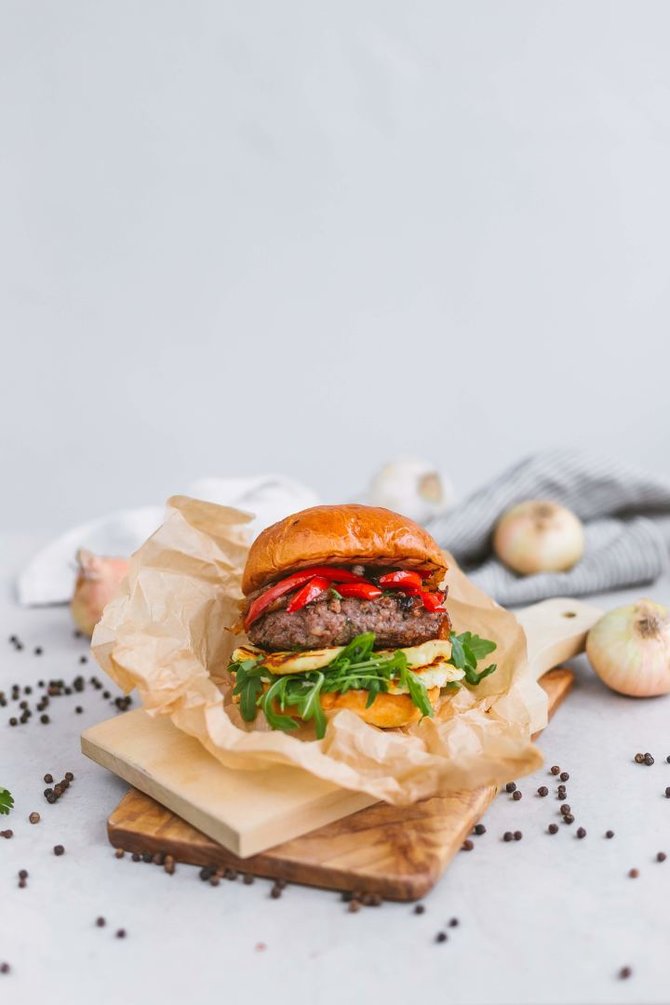 Burger with harissa sauce and halloumi cheese
There is a burger kimchi
Kimchi is a traditional pride of Korean cuisine, a source of vitamins, enzymes and good bacteria, consisting of cabbage and radish. This is one of the most popular food trends of this year, which is also reflected in hamburger fashion.
"Close kimchi you can flavor the hamburger with an additional amount of protein, for example, an extra strip of bacon or a fried egg, which is very fashionable now," says T. Petryl.
Composition:
about 300 g of beef;
2 tea. spoon Salt and pepper
part of olive oil;
2 hamburger buns;
3 tablespoons. a spoonful of homemade mayonnaise;
1 tablespoon. spoon grain mustard;
half a cup kimchi;
2 eggs;
a handful of bay leaves;
pickled hot pepper;
small pickled cornices.
Create:
1. Cut the beef slices into thin strips, sprinkle them with salt and pepper. Heat a good amount of olive oil in a pan, add the beef strips and fry for a few minutes or until lightly browned.
2. Fry the eggs in a well-heated pan, sprinkle them with sea salt and chili flakes. Fry the burger buns in a pan or grill until golden brown.
3. Mix mayonnaise with mustard and spread this sauce on hamburger buns. Add the arugula leaves, then add the strips of roast beef while still warm, and top with the kimchi cabbage. Finally, top with a fried egg and a bun covered with sauce.
4. Serve burgers with pickled chili peppers and cornini.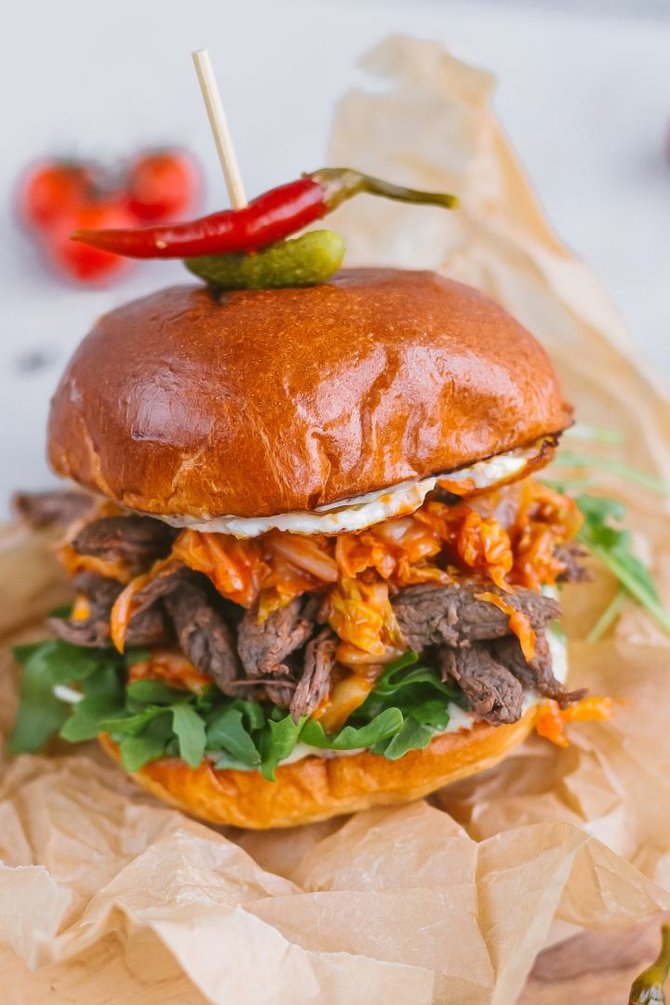 Kimchi burger
Vegetarian roll
Vegetarian and vegan burgers are one of the fastest growing trends in street food.
"It is not suitable for those who do not eat animal products brioche Bun In this case, I would recommend not looking for vegetarian brioche alternative, because the taste will not be the same. "I prefer to eat vegetarian vegetable pies and prepare rolls," says T. Petrilla.
Composition:
4 vegetable buns;
0.5 green pepper;
1 carrot;
a handful of spinach;
1 small cucumber;
a handful of onion leaves;
coriander;
1/4 green cabbage;
1 sweet potato;
salad leaves;
pumpkin seeds;
sunflower;
green lemons.
for the sauce:
2 tablespoons. a spoonful of walnut oil;
4 tablespoons. a spoonful of coconut milk;
fresh ginger;
1 tea. spoon of brown sugar;
2 tea. a spoonful of soy sauce;
1 tablespoon of honey
Create:
Cut the sweet potato into thin strips, sprinkle with pure olive oil, sea salt and crushed pepper – bake the strips in the oven for about 30 minutes at 180 degrees.
Cut pepper, carrot, cucumber, spinach, onion leaves into thin strips. Grate the green cabbage. Place all the cut vegetables into the veggie patties (you'll need two per roll). Also add the already cooked and well fried sweet potato strips.
Place the peanut butter, coconut milk, grated ginger, soy sauce and brown sugar in a food processor and process until smooth. Add 2 teaspoons of soy sauce to the mixture and season everything with honey.
Lightly coat the vegetables with the sauce. Drizzle with fresh lime juice and sprinkle with pumpkin and sunflower seeds. Then gently roll the roll.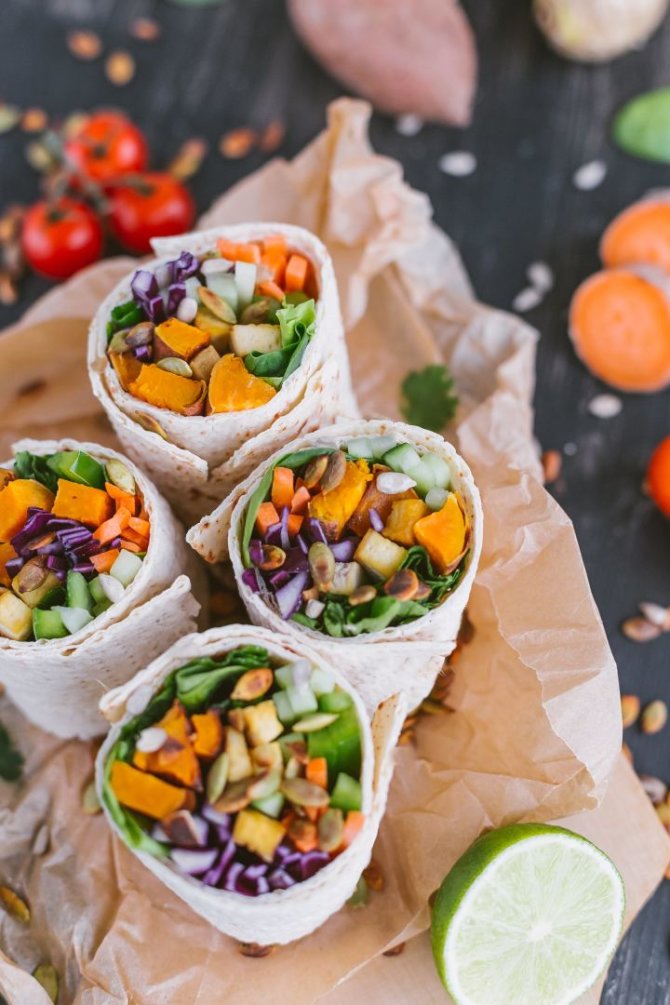 Vegetarian roll