This appetizer combines the different textures of my favorite vegetable, cauliflower, because one side is roasted and the other side is raw! Mix cauliflower with walnuts and greens, drizzle with oil and lemon juice, and you're ready to go.
Such a summer salad and just pa-sa-ka!!! As with everything Ottolenghi stirs up in his experimental kitchen, I'll be sharing his recipe with you, sometimes adapting it a bit!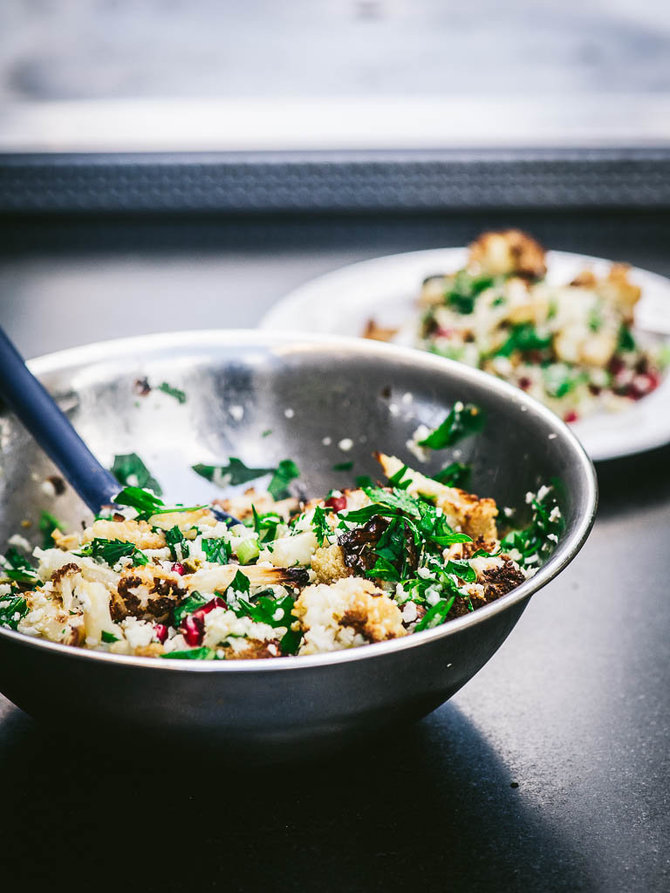 Photo by Nida Degutienė. / Cauliflower salad with walnuts
Ingredients (for 4 people):
1 cauliflower (cauliflower) (about 800 g);
1 onion, cut into larger feathers;
80 ml of olive oil;
a handful of fresh parsley, chopped;
half a handful of fresh mint leaves, chopped;
half a handful of fresh tarragon, chopped;
½ pomegranate seeds;
3 tablespoons of pistachios, toasted and chopped;
1 teaspoon cumin;
1.5 tablespoons of lemon juice;
salt.
Create:
1. Heat the oven to 200 degrees. Line a large baking tray with baking paper.
2. Grate a third of cauliflower with a large (red) grater, put it in a bowl.
3. Cut the remaining cauliflower into small pieces (about 3 cm in size) and place in the prepared form. Add onion there. Toss everything with 2 tablespoons oil, ¼ teaspoon salt, spread on a baking sheet, and bake until tender and browned, about 20 minutes. Set aside to cool.
4. Put fried vegetables in a bowl with grated cauliflower, add chopped greens, pomegranate seeds and nuts, add cumin, salt, add remaining oil (50 ml) and mix everything well.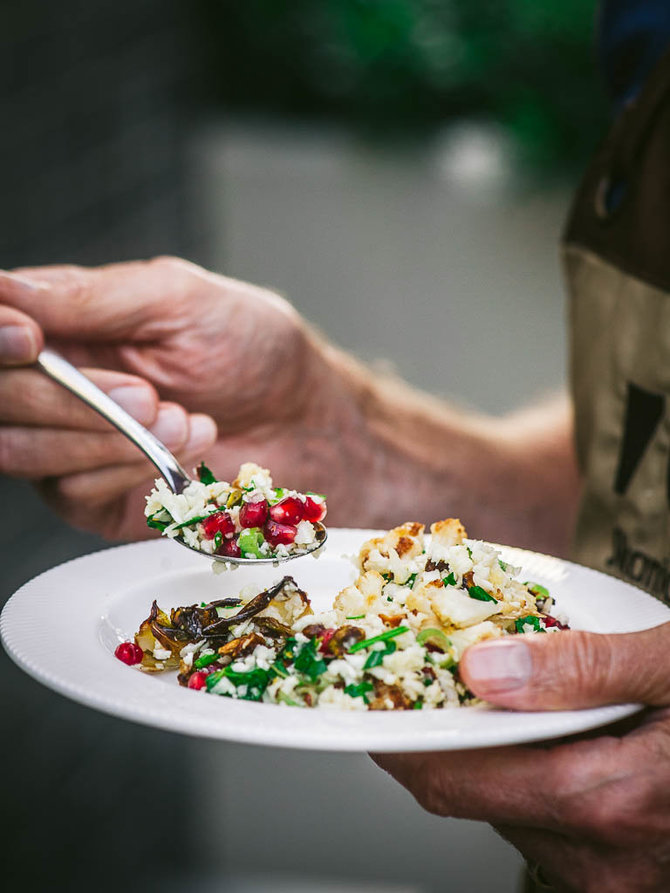 Photo by Nida Degutienė. / Cauliflower salad with walnuts
with 15 minutes Nida Degutjene, who shares her recipes with readers, is well known to many Lithuanians who are interested in creative cooking at home. Nida writes a popular food blog Nida's recipes, has published two cookbooks, The Kitchen of Israel and Fish in the Kitchen of the World, and currently lives in Australia. Every week 15 minutes read new Nida recipes and interesting dishes.