The recipe has changed beyond recognition
Maxima's culinary expert Brigitta Baratinskaite says that the variety of bread today makes it possible to season sandwiches very tasty and healthy. This can be achieved by carefully reading the composition of bread and choosing products that are high in nutrients and low in food additives marked with the letter E, fat, salt and sugar, according to the press release.
"The modern sandwich was invented in 1762 by John Montagu, 4th Earl of Sandwich (Eng. 4th Earl of Sandwich – the title of a nobleman in England), because of his passion for gambling, he was so involved in the 24-hour game that he did not have time to eat. So he asked to put a piece of meat between several slices of bread. Seeing this, the other players asked what was given to Sandwich. Later, the press of that time widely spread the story and gave the name of the person who ordered the sandwich," says B. Baratinskaite.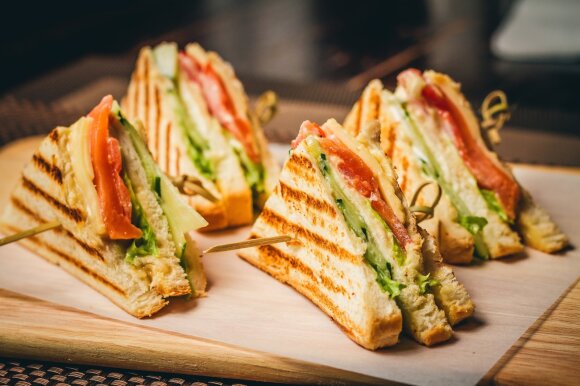 Sandwiches
However, he says the dish has evolved remarkably since its inception and today it has far surpassed its predecessor. Because, B. Baratinskaite noted, now sandwiches are made from various types of bread, buns, meat, fish, cheese, vegetables, greens. Therefore, inviting you to check it out, the culinary expert shares original ideas for their preparation.
Vegan friendly: green and spring inspired
You will need: 25 g of green cabbage, half a tablespoon of sesame oil, the same amount of soy sauce, 1 small avocado, the juice of 1 small lime, 40 g of beans, 2 slices of rye bread, half a teaspoon. paprika, a pinch of salt and pepper.
First, soak the cabbage in sesame oil and soy sauce for a few minutes until soft. Then put everything aside. Then mash the avocado in a bowl with a fork and mix with the lime juice, chickpeas, salt and pepper. Spread the mixture on 1 slice of bread, top with the cabbage and sprinkle with paprika. Place another slice on top, cut in half. Tasty!
For fish lovers: salmon and salmon
You will need: 200 g of chopped squid, 1 teaspoon of sesame oil, 170 g of salted salmon fillet, 2 tablespoons of Greek yogurt, 2 slices of rye bread, 1 tablespoon of toasted sesame seeds.
First, heat the oven to 200 degrees. Place the smidge pieces on a baking sheet, drizzle with sesame oil and bake for 5 minutes until soft. Then mix the salmon with yogurt in a bowl, toast the rye bread. Place salmon mixture on toast, top with roasted asparagus and sprinkle with sesame seeds. Enjoy!
For gourmets: with ham, Camembert cheese and fig jam
You will need: a little butter, 2 slices of sandwich bread, 1 tablespoon of fig jam, 2 teaspoons of your favorite mustard, 100 g of Camembert cheese, a few slices of quality ham.
First, preheat the toaster. Then spread butter and fig jam on one slice of bread and mustard on the other. Place the cheese and ham on top of the fig jam, place the mustard-coated slice on top of this slice, squeeze, and place the sandwich in the toaster. You can season it with salad leaves. Taste it!
"These recipes only prove how tasty and original sandwiches can be made. Such a dish is not only suitable for breakfast, but also perfectly fills you up in any hunger. Therefore, I would suggest making bold experiments, discovering new ideas and changing the traditional approach to sandwiches," advises B. Baratinskaite.
Use of information published by DELFI on other websites, media or elsewhere, or distribution of our material in any form without consent is strictly prohibited and DELFI must be credited as the source if consent is obtained.