Peas are not only tasty, but also a very nutritious vegetable suitable for snacks and making various dishes. While dried pea porridge has long been one of the most popular foods, according to Olga Suchocheva, director of fruit and vegetable purchasing, more and more customers are choosing pea pods, pea sprouts or their sprouts, which are great ingredients for salads and sandwiches. spring is coming. Dietician Dr. Edita Gaveliene says that both dry-dried peas and fresh or frozen peas are rich in minerals and vitamins, and the most important of these is plant-based protein.
Dried, fresh or frozen?
In stores, you can find beans processed in different ways. Dried beans can be split or whole, and we also find frozen green beans or chickpeas. According to the nutrition consultant, nutritionist Dr. E. Gavelienės, beans belong to the group of leguminous products, so they are valued as a source of vegetable proteins – this is the main benefit of beans: "Beans still have less protein than beans, but more fibers, vitamins and minerals. When it comes to dry beans and foods made from them, they contain a whole set of carbohydrates and minerals and vitamins in addition to protein. Beans contain other biologically active substances, especially fresh or frozen.
It is important to pay attention to the storage conditions
According to O. Suchocheva, fresh beans should be shiny, hard and bright green. Although small scratches do not affect the quality and taste of the product, cracked or worn buds should be avoided.
"It's best to eat beans as soon as possible because they lose their crispness quickly." To keep them crisp longer, refrigerate them unwrapped to prevent moisture loss. Cooked beans will keep for about 3-5 days in the refrigerator if stored properly. In larger quantities, it is best to peel the beans and blanch them briefly in boiling water to preserve their bright green color and prevent them from turning into mud. After blanching, cool the beans in cold ice water. When they cool, drain them again through a sieve and remove excess water (it is better to keep them covered with a towel for two hours to prevent ice from forming during freezing). Place beans in a single layer in small plastic bags and freeze. The initial freezing of one layer prevents the beans from sticking to each other – so they stay fresh for a long time, advises the expert.
Are beans good for everyone?
Legumes dr. E. Gavelene recommends adding it to your diet even if every day, and he advises people who are gluten intolerant to eat beans, because these vegetables do not contain gluten: "Beans can be an ingredient in salads or soups, and can also be used. as separate meals. Eating a variety of beans or other vegetables 2-3 times a week would be great."
Try a healthy and delicious dish with beans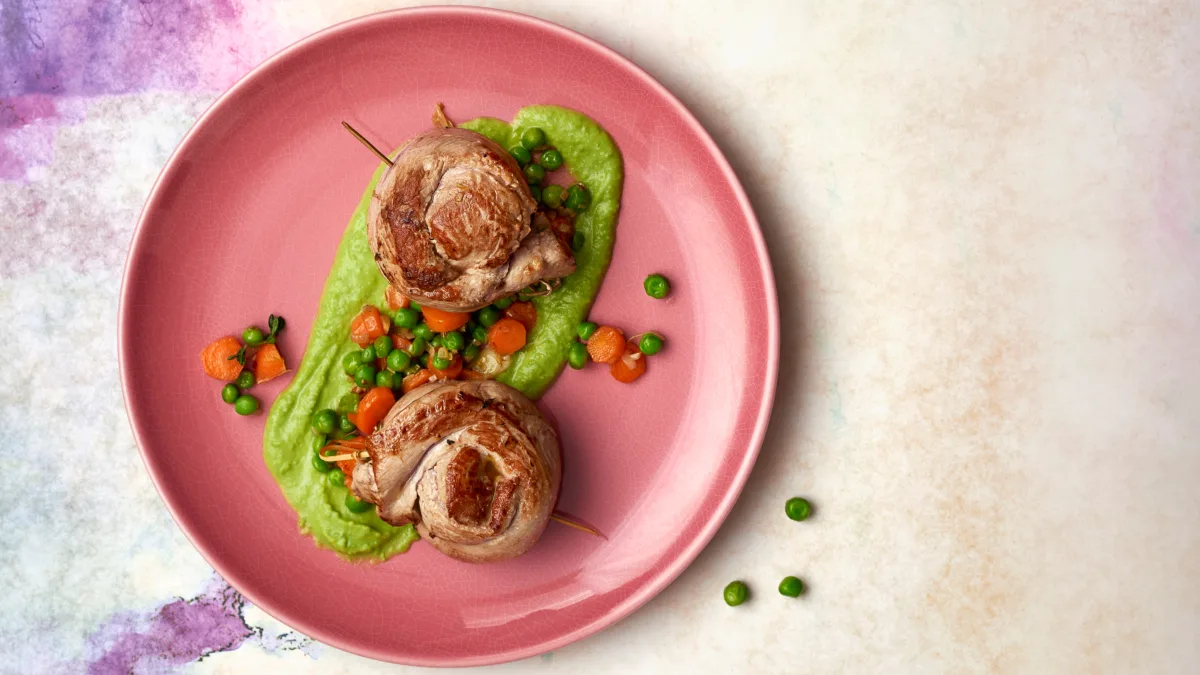 Manufacturer's photo.
Veal cutlet with mash of green beans and vegetables.
For the dish you will need:
400 g of veal cutlet
ground pepper – to taste
1 tablespoon of olive oil
100 g of frozen peas
200 g of small carrots
half a salad
a sprig of fresh thyme
1 tablespoon of butter
salt – to taste
For the bean porridge you will need:
200 g of frozen green beans
60 g cream
30 g butter
a few fresh mint leaves
Production process:
After adding the frozen peas to the pot, add hot water or broth to cover them completely and cook for about 5 minutes. Finally, pour the cream and boil. Mash the beans with mint. Then add cold butter, add salt and knead again. Leave for a while, but keep warm.
Roll the veal into a spiral to form a snail shape. Sprinkle with freshly ground pepper and drizzle with oil. Heat the pan well and cook on both sides for 2 minutes each. Finish cooking in an oven preheated to 175˚C for about 10 minutes.
Peel the carrots and boil them in salted water. Then cool and cut into slices. Pour the beans into boiling water. Cut the onion into small cubes and fry in butter. Add carrots and peas to pan with onions, season with salt and pepper and thyme leaves. Fry for another 1 minute.
Add green bean puree and vegetables to the veal cutlet.
ATIDARYTI GALERIJĄ
-->
Manufacturer's photo.