Jolanta Sabaitienes, a fruit and vegetable expert of the Iki trading chain, quoted in the press release, reminds us that to choose the best fruits, we must first check them. Stone fruits should also be pressed gently – they should be a little soft. However, if a peach or nectarine looks firm, it will finish ripening on the windowsill in a few days. However, blemished, green or blue fruits should be avoided.
When choosing a melon or watermelon, you should also evaluate the color. Choose a watermelon that is dark green in color and has a consistent pattern of stripes. The color of the melon depends on the species, but it is also better to give preference to fruits with a uniform color. Another popular way to pick a watermelon is to gently prick it. The sound should be muted.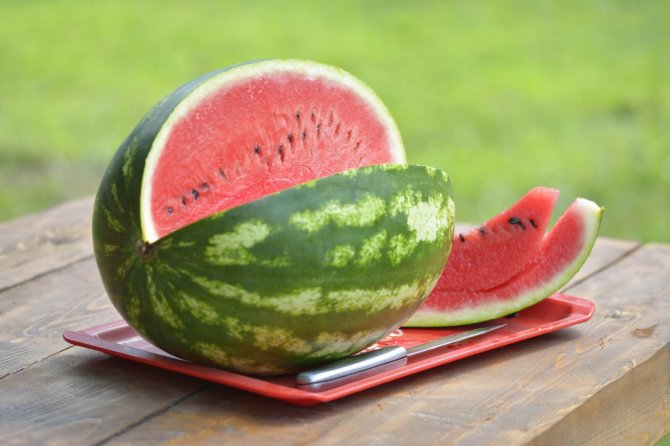 123RF.com photo/Watermelon
J. Sabaitienė also offers a simple but fresh fruit and berry salad recipe that won't leave you indifferent. It's perfect for a hot summer day.
Fresh fruit and berry salad
Composition:
2 cups sliced ​​strawberries;
3 sliced ​​nectarines;
2 cups sliced ​​watermelon;
2 sliced ​​oranges;
1 cup of grapes;
2 cups blueberries;
⅔ cup fresh orange juice;
⅓ cup fresh lemon juice;
a pinch of brown sugar;
½ teaspoon grated orange peel;
½ teaspoon grated lemon peel;
1 teaspoon of vanilla extract.
Create:
1. First, heat a saucepan over low heat, pour orange juice, lemon juice, brown sugar into it, add orange and lemon peel and boil for a few minutes. When the juices in the pot are boiling, reduce the heat and simmer until the sauce thickens, about 5 minutes. Remove the pan from the heat, add the vanilla extract and leave to cool.
2. Mix all the fruits and berries in a large bowl and pour the sauce over it. Cover everything with cling film and chill in the fridge for about 3-4 hours.