Dry beef is considered a delicious, unique meat. This is a long-known method of preserving and preparing meat, which gives the product softness, juiciness, rich taste and aroma. Aged meat loses moisture, loses a little weight, digests easily, and the concentration of valuable substances increases. Gourmets especially appreciate this meat because it is very easy and quick to prepare.
News for customers – from now on, dry beef is also available in the store "Norfos" XXL 34. In the meat department, behind the showcases, you can see the special cabinets where the loins of beef cattle are matured.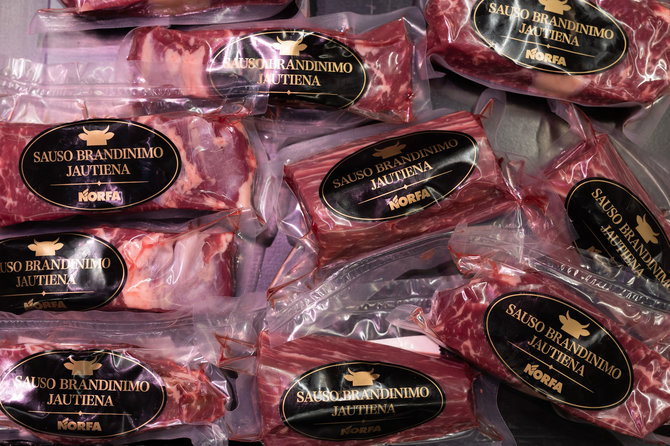 Greta Skaraitienes / 15 min photo/Preparation of aged beef at NORFA
Aging is a natural process
Butcher Dainius Bartoshius, CEO of Norfa, says that dried beef is prepared in Norfa's own stores: "Delivered beef is stored in aging cabinets for at least 3 weeks. After that, the meat is cut into steaks and vacuum packed. The product must be consumed within 10 days."
Before dry aging, the meat is not further processed – the carcass is cut and goes directly into the aging cabinet. In the aging cabinet, the meat is stored at a temperature of plus 1 degree, keeping a constant 80 percent. humidity. During dry aging, enzymes break down muscle tissue and at the same time tenderize the meat.
Another method of aging is wet, where the cut meat is placed in vacuum bags and aged in its own juices. "Dry aging is highly prized because the meat cooks slowly, loses some of its moisture, and has a richer flavor. The taste of soaked meat will be milder, it will be slightly sour from the juice of the meat," he explained the difference. Butcher.
"Norfa" dry cottage cheese, entrecote and beef are meat pieces suitable for steaks. The most valuable is the cut, fixed part of the back muscles, and therefore the softest.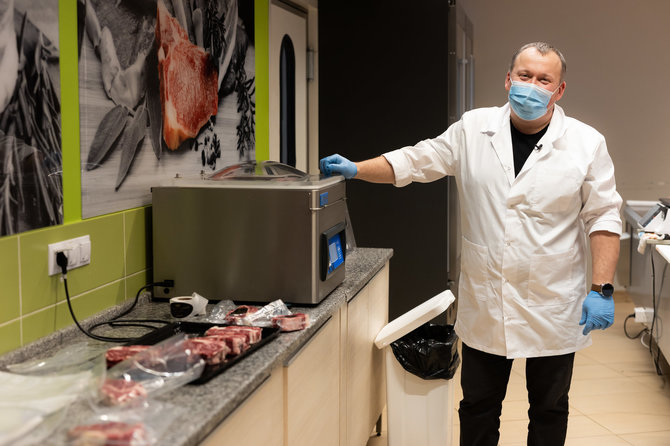 Greta Skaraitienes / 15 min photo/Preparation of aged beef at NORFA
You can cook immediately
After the buyer buys dry beef, the meat does not need to be washed with water, marinated or otherwise prepared before cooking. "Before cooking, it is recommended to dry the meat only with a paper towel," advises the technologist.
It is also necessary to observe a few rules: before cooking, take the meat out of the refrigerator and keep it at room temperature for about half an hour. Do not add salt before cooking.
"Aged meat is cut into steaks, which should be placed in a heated pan with a splash of oil. You can fry garlic or rosemary on the side, which gives additional aroma and taste," advises D. Bartoshius.
The cooking time of the meat depends on the desired result or the taste of the diners: raw ("rare") 2.5 minutes, medium ("medium") 4-5 minutes, well-cooked ("good") 6 minutes. from both sides.
Put the cooked meat on a heated plate, sprinkle with salt and pepper and leave it to "rest" so that the moisture is distributed evenly.
Quality and price ratio
Dry beef is a tasty product, so it is important to maintain the quality-price ratio. "A favorable price depends on the fact that we buy cattle directly from Lithuanian farmers. We chop meat in Cheche and deliver it to stores. The fact that we do everything ourselves without intermediaries affects the price, and the main thing is that we can provide good quality," says D. Bartoshius.
Dry beef is produced only from beef cattle. The technologist assures that it is impossible to use non-meat beef, because even long aging does not soften the meat enough.
Dry meat can be used to prepare not only steak, but also other dishes. Prepared steak can be cut and strips of meat can be placed in vegetable salad. Meat can be cut into small pieces and stewed.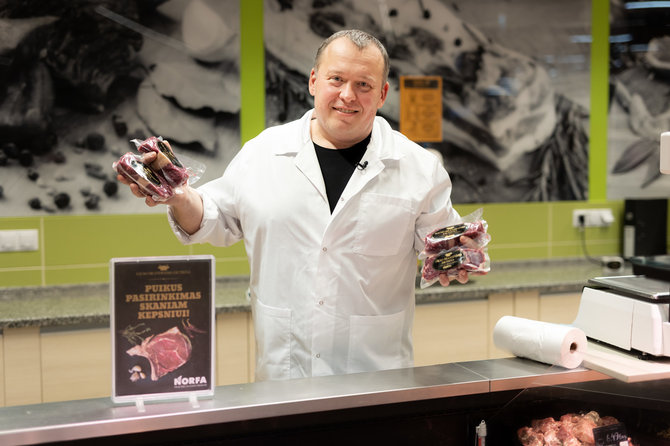 Greta Skaraitienes / 15 min photo/Preparation of aged beef at NORFA
Restaurant quality steak at home
Previously, this product was not available in Norfos stores, which is news for buyers. "We would like to present this innovation and hope that buyers will appreciate a product of excellent quality," says D. Bartoshius. Sirloin and boneless beef costs 24.99 euros, cutlet costs 34.99 euros.
D. Bartoshius admitted that his family likes beef jerky, especially his sons, who like to try it every now and then because the quality is really good. "When we ordered aged beef steaks at a restaurant, we wanted to compare the quality. Unfortunately, I was disappointed, the taste was not close to the steaks we prepare at home. Maybe we're just unlucky, but we've come to the conclusion that buying dry-aged beef is better than making a restaurant-quality steak at home. It takes a little skill to make a really simple and quick tasty dish," says the technologist.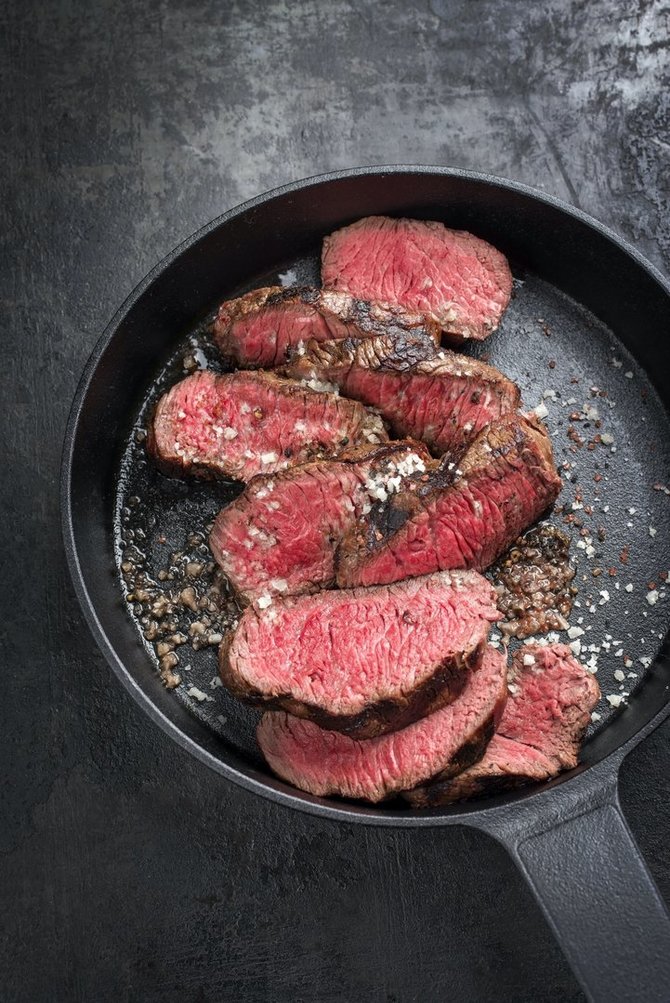 Vida Press Photo/Aged Beef Steaks
D. Dundulis' recommendation: really worth a try
Dainius Dundulis, the manager of the Norfa trade chain and the CEO of UAB Rivona, also appreciates dry beef steak: "Steak can be prepared both in the home kitchen and outside on the grill. If the meat is good, this is one of the easiest dishes to prepare, even a novice cook. Personally, I find our old beef very tasty. Of course, this is not an everyday dish, because there is no need to eat too much meat. I like my steak rare, I cook it for 5-10 minutes depending on the thickness of the meat. I recommend everyone cook it and try it – a great steak at home.'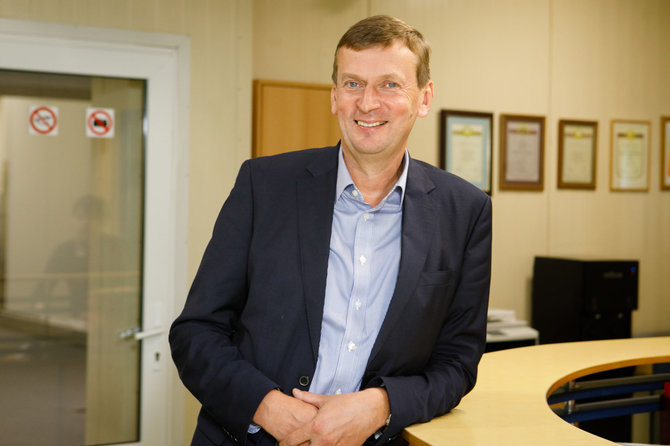 Eriko Ovcharenko / 15 min photo/Dainius Dundulis