There is no need to rush when cooking sausages
V. Blauzdavicius points out that sausages should be fried slowly – they do not like high flame and high grill temperature. Because of this, sausages of any kind should be cooked over indirect heat, otherwise the surface of the sausage will crack, the inside will be undercooked, and the outside will burn.
"Sausages should be cooked on the grill at a fairly low temperature of 130 degrees – thick sausages take about 20 minutes to cook through, thinner ones take less. If you plan to grill the sausages over a fire or traditional barbecue, I recommend that you push the lit coals or fuel to the side and place the sausages in the very center, not on top of the coals," says the grill expert.
If the sausages have started their intended cooking time, but you are not sure if the sausages are cooked, check by cutting them. Vilius laughs that this is a simple, time-tested and foolproof method, but he himself prefers a more modern device – a thermometer that measures the temperature of food.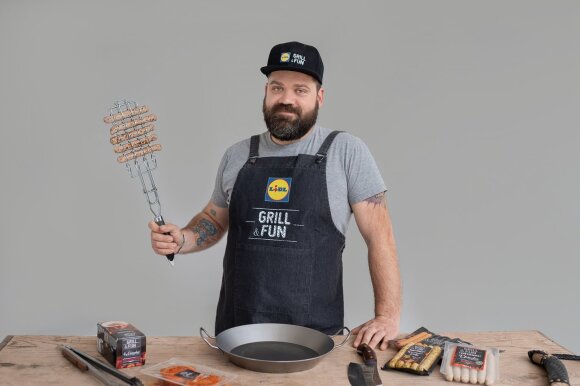 Vilius Blaudavicius
© Personal archive photo.
According to V. Blauzdavicius, this tool is very useful when traveling in nature and organizing a picnic. The instant thermometer takes up little space in the bag, is convenient to carry with you, keep it in your apron pocket and use it during cooking – when you insert the thermometer into the sausage, you can immediately see the internal temperature of the food. its screen or scale. The numbers indicate whether the sausages still need to be fried or if they are already cooked.
High quality comes with untapped flavors
Grilled sausages are a very versatile and summer grill food, says the interviewer. Although many Lithuanians eat grilled sausages with popular side dishes of potatoes, fresh cucumbers, tomatoes or other vegetables and the usual combination of tomato sauce and mayonnaise, with a little effort, any sausage dish can shine and surprise with fresh taste.
For example, instead of hamburger patties, use fire-roasted sausages, put them in tortillas or taka patties, season them with vegetables and sauces – you will have a hot dog type that will add more color to your trip in nature. Take advantage of the tips and try two versions of grilled sausage dishes – Italian sandwich and tacos; You can find their recipes below.
In addition, Vilius assures us that he recently discovered a new side dish that is perfect for sausages and other fatty grilled foods. Pickled garlic cloves are quite sour, but crunchy and provide a nice balance to meat dishes.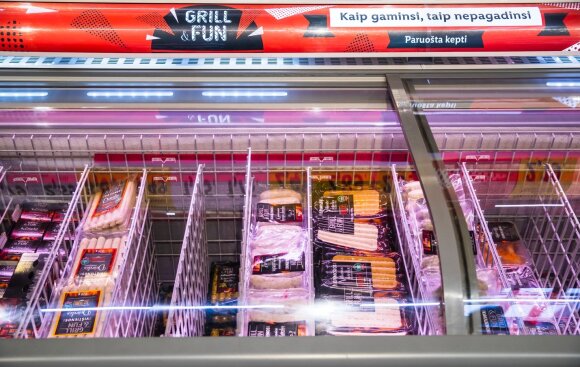 8 sausages
© Photo by "Lidl Lithuania".
The grill specialist recommends grilling vegetarian and vegan sausages on the grill or on the fire, but they should be combined with spices or sauces that are not so bright – such sausages do not have a very bright taste, so try not to overshadow it.
While any sausage is great on the grill or on the fire, choosing Lidl's specialist, high-quality grilling products from the Grill&Fun brand ensures that your grilled food won't explode or upset your stomach. The interviewer notes that before buying sausages, you should always read their ingredients, and if possible, choose a product with fewer unfamiliar ingredients or preservatives.
When you visit your nearest Lidl store, you will find a very wide range of "Grill&Fun" sausages, and this week all users of the "Lidl Plus" loyalty program are waiting for a special offer – you can buy a set of grilled chicken sausages. only 1.99 EUR.
Italian Sausage Sandwich (4 servings)
You will need: 4 pcs. "Grill&Fun" grilled pork sausages (six sausages in one package), 4 pcs. Italian-style "Ciabatta" buns, 4 tablespoons of pesto sauce, 2 red peppers, 200 g of mozzarella cheese, lots of greens (horseradish is best).
Method of preparation: light and heat the barbecue, cut the sausages in half lengthwise and cook on the grill, cut side down, for 5-6 minutes. Fry the halved red peppers at the same time. Cut the buns in half and place them on a flat, baking surface – spread the bottom half of the cut buns with pesto sauce, top with half of the roasted peppers and cover generously with mozzarella cheese slices; toast the buns until the cheese melts and begins to bubble, about 2 minutes. Then put the fried sausages in the buns, season the sandwiches with greens and cover the top of the cut buns.
Tasty!
Sausage sticks (10 pieces)
You will need: 500 g Grill&Fun pork sausages (about one package), 10 pcs. tortilla chips, 300g tomato sauce with diced vegetables, 1 small red onion, 1 lime (juice you use), half an apple (preferably a Granny Smith apple), half an avocado, large lettuce leaves, fresh coriander leaves, 2 tbsp olive oil , salt and pepper, sour cream and lime wedges for serving.
Method of preparation: heat oil in a barbecue grill pan, add finely chopped onion and fry for a few minutes. Then add the pork sausages (remove their skins) and break them up with a wooden spoon or spatula (you can fry the sausages cut into small pieces), fry for about 5 minutes until well browned.
Season the fried sausages and onions with spices and mix in half of the tomato sauce called for in the recipe, plus half a cup of water (about 125 ml), cook for about 5 minutes until the fried mixture thickens. Pour lime juice into the pan as well.
Prepare the scones as directed on the package. In a large bowl, mix together the lettuce cut into small strips, the apple cut into small sticks, the thinly sliced ​​half of the avocado and the chopped fresh coriander leaves – divide the green mixture equally and place inside the tortillas. Spoon the cooked sausage mixture, a small dollop of sour cream (optional, but adds freshness) and the remaining tomato sauce over the vegetable pieces. Serve with lime wedges on the side.
Tasty!
Use of information published by DELFI on other websites, media or elsewhere, or distribution of our material in any form without consent is strictly prohibited and DELFI must be credited as the source if consent is obtained.