In a message sent to Wilma Juodkazyene, a food expert at the Iki retail chain, she tells how different countries have perfected the recipes of this dish over the centuries, and invites people to celebrate this day by making hot dogs. with great taste at home.
The history of hot dogs is obscure but unique
The history of the origin of the hot dog is still unclear – exactly where and how the hot dog was made is not known, but it is believed that the traditional recipe for a sausage served in a bun first appeared in Germany. 21st century. at the beginning
Fast, filling and cheap food was very important for people who traveled a lot and worked, so sausage was a very popular product at the time. At a trade show in Louisiana in 1904, Bavarian businessman Anton Feuchtwanger sold hot dogs to visitors and handed out white gloves to keep customers from getting dirty hands while eating. After eating the hot dogs, people were in no hurry to return the white gloves, so they quickly ran out, and for convenience, long buns appeared, in which the hot dogs were served later.
According to the second version, writing about hot dogs began several years ago in the student newspaper of Yale College. Students discussed "dog wagons" that sell hot dogs. It is still unclear which version is correct, but hot dogs are closely associated with German and American fast food culture.
The three most popular recipes
Over time, each country and even city has developed a unique hot dog recipe. Food expert V. Juodkazyene focuses on the three most popular versions of the hot dog – New York, Frankfurt and France.
"New York style hot dogs are the most popular. To make such hot dogs, an elongated, soft, longitudinally cut bun and a classic – beef or pork sausage are used. These hot dogs are usually seasoned with mustard, tomato sauce and onions," says the food expert.
According to V. Juodkaziene, Frankfurt sausages are distinguished by the types of sausages – traditional German sausages made of beef and pork are used here.
"When making frankfurter sausages, you should not overcook these sausages, otherwise they will become tough and not tasty to eat. By the way, it is still popular in this city to eat hot dogs without a bun and serve them with potato salad or French fries," says V. Juodkazyene.
According to the food expert, the French hot dog recipe is well known to many Lithuanians.
"You may have noticed that sometimes a hot dog recipe uses a different type of bun with a hollowed-out center." The type of bun and the way the sausage is served make this recipe stand out from the rest. True, different sauces are also used for its preparation. Here, unlike New York-style hot dogs, they are served inside a bun. The French also use a mild mustard," says the food expert and offers hot dog recipes.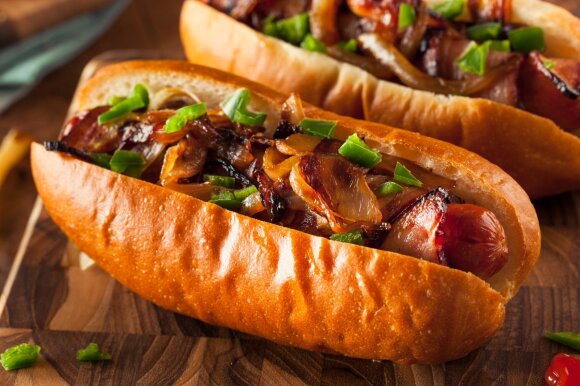 New York style hot dogs
You will need:
6 beef sausages
6 hot dog buns, cut lengthwise
2 c. sh. olive oil
1 year tomato paste
0.5 a. sh. hot pepper sauce
1 medium-sized onion, chopped
1 crushed head of garlic
2 c. sh. red wine vinegar
1st century sugar
sauerkraut
hot mustard
a pinch of salt
Create:
Heat the oil in a pan to medium heat. When the oil is hot, add the onion and salt. Cook, stirring occasionally, until onions are golden brown, about 10 minutes.
Add garlic and fry it for about a minute.
Next, mix together the tomato paste, red wine vinegar, hot sauce, sugar and half a cup of water. Bring to a boil, then reduce heat. Mix everything, because the puree should be thick and viscous.
Then take a pan with a deeper bottom, pour 100 ml of water and add the beef sausages. Heat over low heat for about 10 minutes.
While the hot dogs are cooking, heat the buns.
When everything is ready, put the sausages in buns, put the prepared hot mustard puree and sauerkraut on top.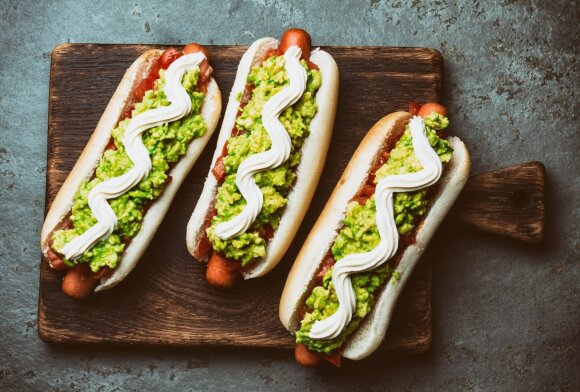 Hot dogs with Mexican seasoning
You will need:
8 sausages (beef is best)
8 hot dog buns, cut lengthwise
150 g of cheddar cheese
170 ml spicy tomato sauce
1 peeled and chopped avocado
a handful of chopped fresh coriander
1 lime
Create:
Heat the pan to medium heat and cook the sausages to your liking.
Then preheat them and put them in buns.
Mix all other ingredients in a bowl and divide into eight hot dogs.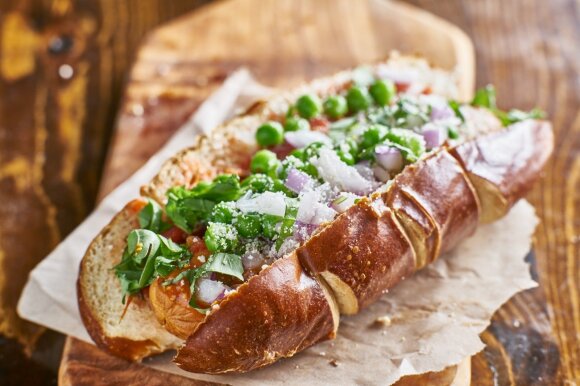 Vegetarian Hot Dogs with Soybean Sausages and Kale
You will need:
6 soy meat sausages
6 hot dog buns, cut lengthwise
jar of Greek yogurt
Favorite type of cabbage
1 carrot
1 medium onion
2 c. sh. poppy
Create:
Heat the frying pan to medium temperature and fry the sausages.
Grate the cabbage and carrots and cut the onion into cubes.
Add Greek yogurt and poppy seeds. Mix everything well.
Heat the buns, put the sausages and top with the freshly made salad.
Traditional barbecue is being replaced by hot dogs and hamburgers
When choosing food, Lithuanians today look for variety, so in addition to the usual grilled food for nature trips – kebabs, chicken wings and drumsticks, various sausages and steaks – they also often prepare hot dogs and hamburgers. Their growing popularity is also due to the ease of preparing such dishes both in nature and at home.
According to Berta Czaikauskaite, communication manager of the Iki chain, sales of hot dogs and hamburger ingredients are significantly affected by the season and the weather. This year, sales of hamburgers and hot dog buns on the sunny days of May-June were almost three times higher than in the corresponding months of last year. Similarly, sales of these products differ between warm and cold seasons.
Use of information published by DELFI on other websites, media or elsewhere, or distribution of our material in any form without consent is strictly prohibited and DELFI must be credited as the source if consent is obtained.