According to Jolanta Sabaitiene, a fruit and vegetable expert at Iki retail chain, quoted in the press release, there are four main types of watermelons – seeded, seedless, small size, yellow/orange. However, fruits with bright red flesh dominate the world.
"Although we usually eat watermelon as a snack, this fruit is perfect for preparing delicious dishes. For example, in Greece, this product is combined with feta cheese. Watermelon also goes well with halloumi cheese and mint and basil, and in Mexico it is eaten sprinkled with salt and hot pepper," says the fruit and vegetable expert.
He says watermelon is also great for grilling. Its preparation is very simple. Watermelon should be cut into thick pieces, smeared with olive oil and sprinkled with salt.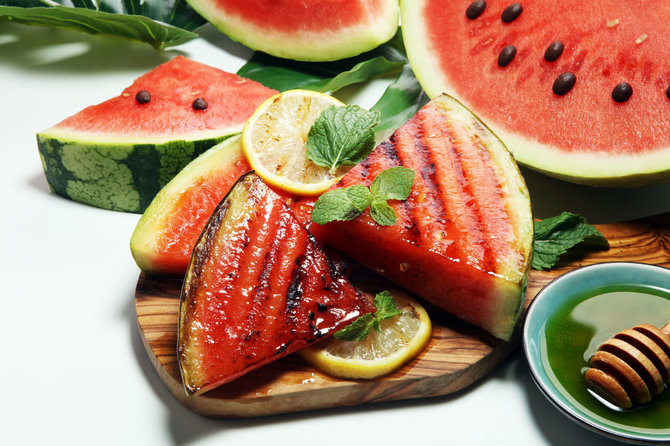 123RF.com photo/Grilled watermelon
Grilled watermelon is less sweet, has a more savory, salty and smoky taste, so it is ideal as a side dish for various meat dishes, especially poultry: turkey, duck or chicken. Of course, watermelon can also be used to make various fruit smoothies, sherbets, ice creams or fruit salads.
J. Sabaitienė also offers several recipes where you can use watermelon creatively.
Watermelon and halloumi cheese salad
Composition:
1/2 cup coarsely chopped fresh basil;
a handful of coarsely chopped fresh mint;
1 clove of garlic;
1/2 cup olive oil;
a handful of cherry tomatoes;
a pinch of salt;
a pinch of pepper;
halloumi cheese;
Watermelon cut into small triangles.
Create:
1. First, heat the grill to medium heat.
2. Then add basil, mint, oil, garlic, salt and pepper to the blender – grind everything well.
3. Drizzle a few tablespoons of basil and mint oil over the tomatoes and halloumi cheese. Then place the tomatoes and cheese on the hot grill. Fry these products for a few minutes, turning them often.
4. Finally, arrange the cut watermelon on the plates. Top with cheese and tomatoes. Season with remaining sauce and garnish with fresh mint.
Two-ingredient watermelon ice cream
Composition:
3 cups of watermelon;
1/2 cup coconut milk or plain yogurt.
Create:
1. Cut the watermelon into small pieces and put it in the freezer for four hours.
2. Put frozen watermelon in an electric blender, add coconut milk/yogurt and blend everything.
3. The prepared ice cream mass can be eaten immediately or put in a container and put in the freezer for half an hour. This gives the ice cream a firm consistency.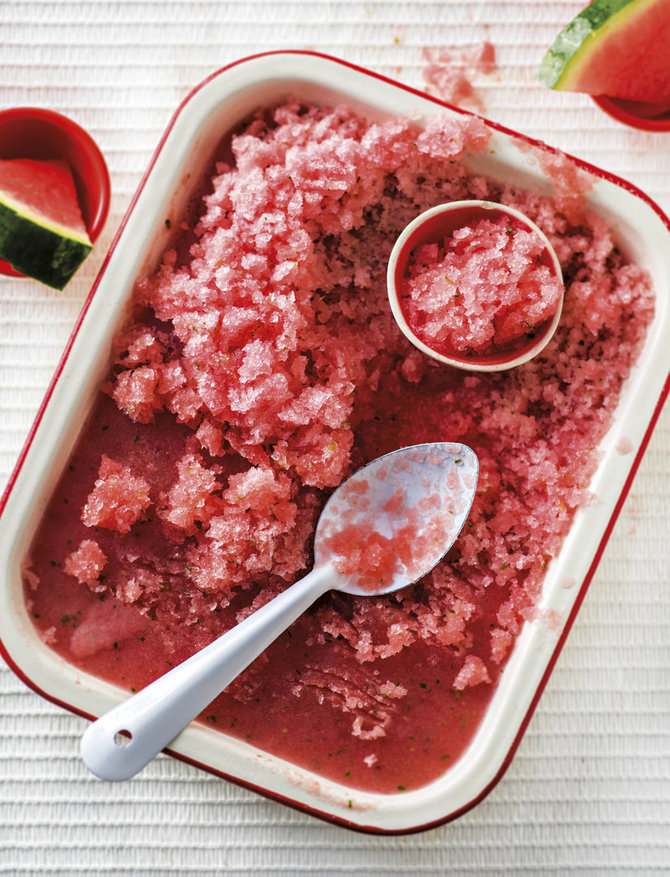 Vida Press Photo/Watermelon Sorbet