Not only does the grill feature juicy steak, but juicy fruit as well! Here are three simple recipes that work especially well on a hot summer day, but are also great when you want something sweet after your steak.
Pineapples, peaches, and even…watermelon can turn into a great summer dessert on the grill in minutes. So grab some fruit, grill and enjoy. Tasty!
Pineapple with honey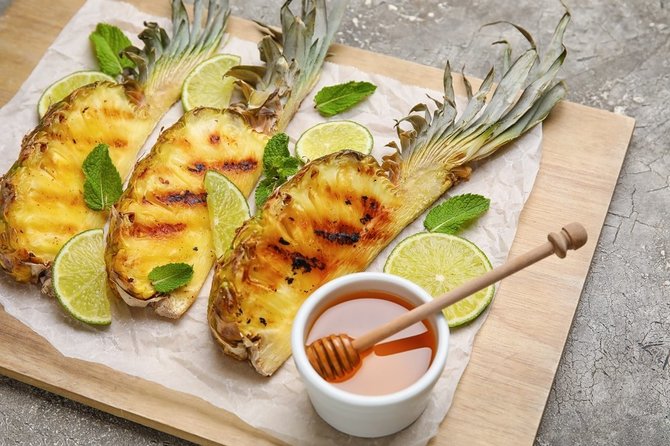 Photo by Shutterstock/Pineapple with honey
You will need:
medium-sized well-ripe pineapple;
2 tablespoons of honey;
juice of half a lime;
2 teaspoons of cinnamon;
2 tablespoons of butter;
a pinch of ground ginger.
Create:
Peel the pineapple and cut it into medium-thick slices.
In a small bowl, whisk together the honey, lime juice, cinnamon, ginger, and room temperature softened butter until smooth.
Cover the pineapple slices with the mixture from both sides.
Place them on a special disposable grill tray and cook for 4-5 minutes. from both sides.
Pineapple cooked in this way is delicious with ice cream and cream.
Peaches with cinnamon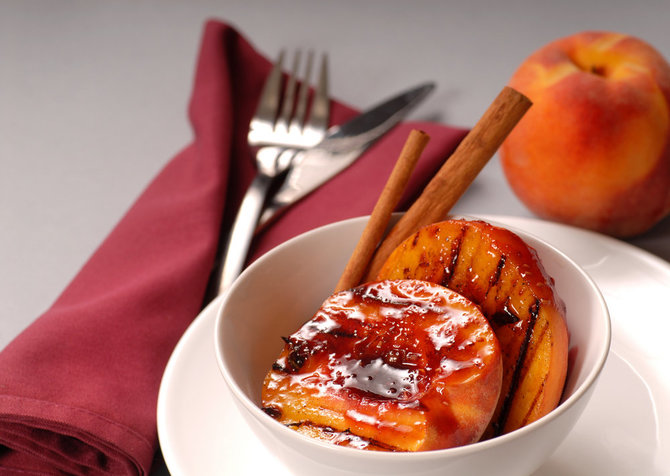 Shutterstock Photo/Peaches with Cinnamon
You will need:
2 tablespoons of brown sugar;
0.5 teaspoons of cinnamon;
fresh peaches;
grape seed oil.
Create:
Cut the peaches in half and remove the pits. Mix sugar and cinnamon in a separate bowl, then pour it over the peaches, which have been greased on all sides, and soak everything for an hour.
First, grill the peaches for about 5 minutes until grill marks are visible on the cut side.
After flipping, cook them for another 10-15 minutes. The heat softens the peaches and the sugar caramelizes deliciously, turning them into little cakes.
Watermelon with salt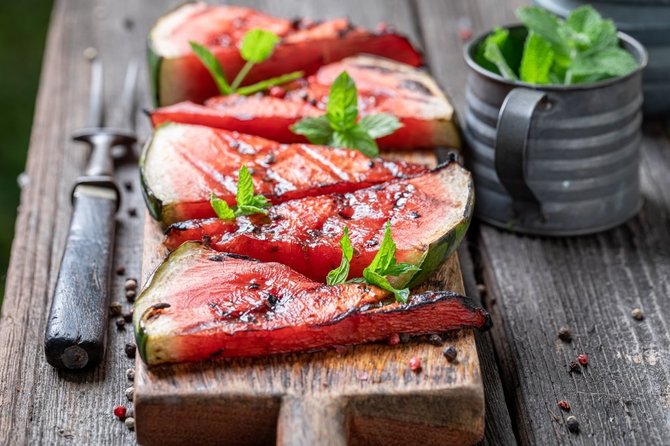 Shutterstock Photo/Watermelon with salt
You will need:
watermelon;
2 tablespoons of oil;
sea ​​salt;
freshly ground pepper.
Create:
Cut the watermelon into triangular slices about 3-4 cm thick. Remove the seeds. Sprinkle a little salt on both sides of the pieces. Then put them on top of the shell and let them dry for about an hour.
Heat the grill. When the watermelon pieces are dry, wash them under cold running water and pat dry.
Brush the watermelon slices with olive oil on both sides and cook on the preheated grill for a few minutes until grill marks appear and the watermelon is tender. Sprinkle with salt and pepper.