According to Jolanta Sabaitiene, a fruit and vegetable expert of the Iki trade chain, quoted in the press release, figs really differ from other fruits in terms of taste. Ripe figs are usually sweet, honeyed and full of fresh berry-like nectar.
According to the expert, there are more than 600 types of figs in the world: these fruits can be white, green, brown, red or purple. Their shapes are also very different: from round to oval, resembling a pear. Fig trees are common in the Mediterranean region and Western Asia.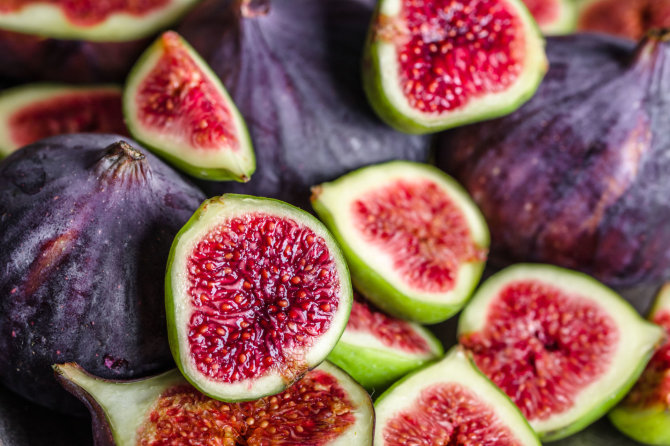 123RF.com photo/Figos
Both for cakes and meat dishes
The uses of figs in cooking are very diverse. Various cakes, muffins or tartlets are flavored with these fruits. Figs are also popular for grilling. Fruits prepared in this way are usually combined with ice cream or mascarpone cream. According to the expert, figs are eaten fresh, dried, and canned. Jams and jams are often made from fresh figs, sauces are made.
Figs go well with various cheeses, especially blue or goat's milk.
Figs are a common salad companion, adding sweetness to vegetables and leafy salads. This fruit goes well with various meat dishes or cheeses. For example, stewed figs are a typical French delicacy, appreciated by gourmets and eaten with foie gras pasta (Foie gras). Figs are also combined with pork, lamb or duck. They are also eaten with various cheeses, especially blue or goat's milk cheeses.
J. Sabaitienė recommends adding figs to your daily menu and shares some simple recipes.
Tomatoes, figs and prosciutto salad
Composition:
1 tablespoon of honey;
red wine vinegar;
part of olive oil;
figs, quartered;
1 handful cherry tomatoes, chopped;
1 handful of chopped mint leaves;
a pinch of salt;
thinly sliced prosciutto ham
Create:
1. Mix oil, vinegar and a teaspoon of honey in a large bowl.
2. Add tomatoes, figs, mint to the resulting sauce, add salt and mix everything.
3. At the end, arrange the salad beautifully on a plate, put slices of ham on top and sprinkle everything again with olive oil.
Vida Press photo/image, tomato and ham salad
Yogurt and honey dessert with figs
Composition:
1 handful of favorite nuts;
several large spoons of honey;
a few teaspoons of rose water (optional);
a few cups of natural Greek yogurt;
fresh figs, cut in half.
Create:
1. First, toast the nuts in a dry, small pan over medium heat until golden.
2. Heat the rose water and honey in a small saucepan, stirring constantly for about a minute, but do not let the mixture boil. Keep the mixture aside and let it cool.
3. Add yogurt and halved figs to a dessert serving container. Drizzle honey (and rosewater) sauce over everything and sprinkle with toasted nuts.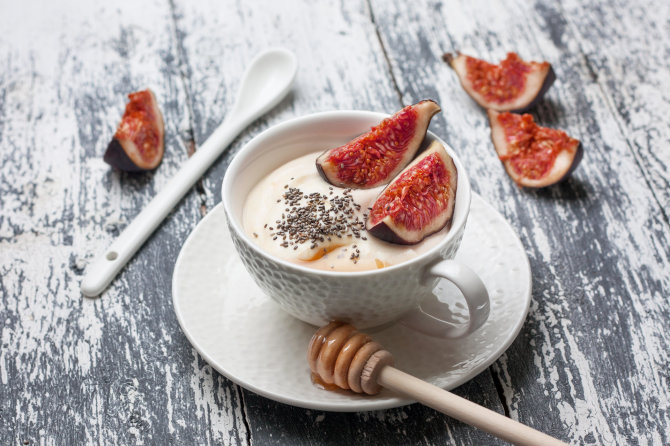 Vida Press photo/Yoghurt with honey and figs