This restaurant is not a new place. It opened its doors to visitors three years ago, but not all residents of the city have yet opened the restaurant. I recently found a place where I can enjoy great burgers and ribs. Because the restaurant is not located on the famous Vilnius Street or Laisves Alley, which everyone loves, but in another special place: after a cable car ride up the mountain – in the small district of Žaliakalnis, next to the current Church of the Resurrection. .
So upon entering, the first thing that greeted me was not the blaring music or noise, but the smell of steaming bread. I soon got used to it, and only after lunch did the smell please me for a long time. Therefore, I advise you not to come here in a tuxedo and a ball gown, because you will not find luxury here.
Hungry, I dug in and saw a menu hanging above the bar. To be honest, I was even surprised. The menu is very narrow: two types of hamburgers and ribs. On the other hand, a small selection of dishes speaks of good quality and refined taste. So I didn't hesitate to choose it – I noticed that all the men in the restaurant liked ribs, so I decided that ribs were for men. There are two types left hamburgers, but I'm not a vegetarian, so the BBQ pork and fries burger is mine. The list of recommended drinks is much longer: from beer to lemonade. My go-to is grapefruit lemonade.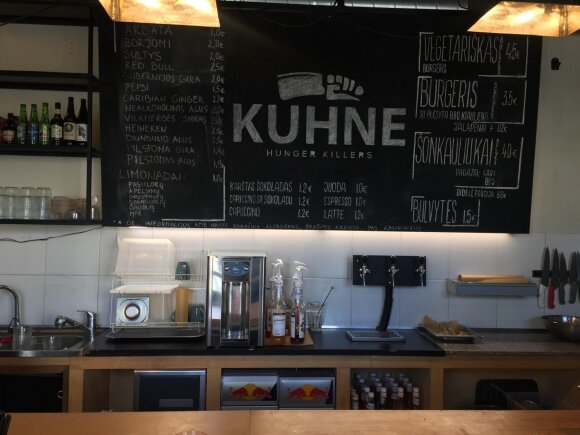 "Kuhne" dishes
© Personal album photo.
It really matters what and how you eat. Even though today's selection was neither diet nor healthy, I was excited to have the food prepared right in front of me so I could be sure of what was in my stomach. in a burger, and partially – hygiene. I should mention one more important thing – this process took no more than 7 minutes. I don't know if I went at a perfect time, after lunch, when everyone was full, or if the working girls were very quick and mastered the cooking technique. By the way, these working girls are very nice and friendly. So don't be afraid to ask. Literally, speed and focus are huge advantages when you're hungry and look like you're going to swallow an elephant. So, for all – 4.5 euros. More or less is up to you.
Self-service rules apply here. I grabbed a hamburger and fries from the wooden table and sat down on a high bar stool by the window. I think it always tastes better eaten this way. So I took bite after bite, watching the school children leave with their backpacks bulging with books, watching the passing cars with my eyes, and occasionally glancing at the church. Avant-garde images of J. Jablonski stared at my back from the other wall. I don't know what they mean. There is room for everyone's personal interpretation.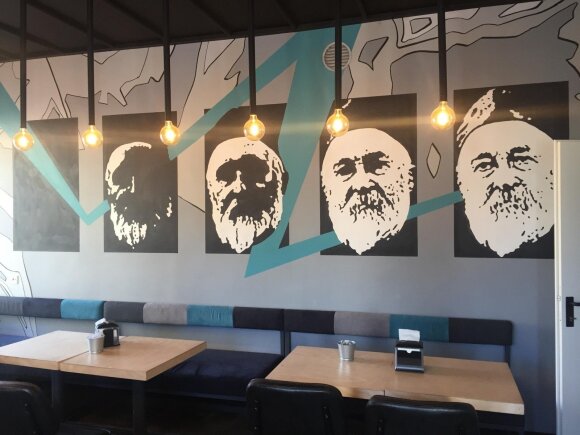 "Kuhne" dishes
© Personal album photo.
So, the environment hipster. But I didn't come to look out the window. So how does it taste? First of all, I want to say that I eat with my eyes. Homemade brioche the bun, the delicious fried potatoes sprinkled with cheese and the barbecue sauce on the side looked interesting. And the eyes did not deceive. Tasty! Burger! But this is completely different from what is offered by a kebab shop located between apartment buildings or the well-loved but boring McDonald's and Hesburger restaurants. It's the smoky flavor of the barbecue pork that makes it so special. The burger lived up to expectations. And a lot. And another recipe is their uniqueness. Also lemonade for one euro. But it is worth exactly one euro – it is sparkling water with selected syrup. The pink grapefruit lemonade was refreshing and took me back to my childhood, but if my taste buds are not mistaken, it was a little watered down. Next time I want to go for beer, beer, coffee, cocoa or hot chocolate.
So Kuhne wasn't fooled by their slogan hanging over the door – they're real hunger killers (L. hunger killers) and I come back here if I want a quick hunger pang or miss the smell of smoke. Only today I will not play with the geese of Užkalnis. Leave the taste of those poor geese to the sharp-tongued cafe. If you want to know, taste it. Tasty!
Snack bar "Kuhne", Zhemaichyu str. 29, Kaunas. Tel. (8-633) 20000. Hours of Operation: Monday through Friday 11:00 a.m. to 10:00 p.m., Saturday 12:00 p.m. to 10:00 p.m., Sunday 12:00 p.m. to 9:00 p.m. . Facebook profile.
Use of information published by DELFI on other websites, media or elsewhere, or distribution of our material in any form without consent is strictly prohibited and DELFI must be credited as the source if consent is obtained.